News > Business
More small rocket companies nab launch pad access in Cape Canaveral
March 9, 2023 Updated Thu., March 9, 2023 at 11:15 a.m.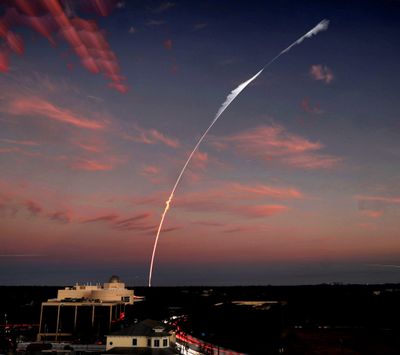 ORLANDO, Fla. — The Space Coast rocket dance card has a lot more potential partners after the Space Force announced it was opening up more launch pads to more small companies.
The Space Launch Delta 45 will allow four companies to set up shop at three of its unused launch pads at Cape Canaveral Space Force Station.
"Offering excess launch property to (commercial launch service providers) fosters development of new space launch systems and helps to ensure a strong space launch industrial base for the nation," according to a news release from the SLD 45 public affairs office.
Space Launch Complex 15 will go to ABL Space Systems based out of El Segundo, California, which has to date had one launch out of Alaska of its RS1 rocket that failed after liftoff in January. The launch site was used for Titan rockets from 1959-1964.
Space Launch Complex 14 was set aside for Stoke Space, a Kent, Washington-based company that's working to create a fully reusable rocket. SLC 14 was the launch site that sent John Glenn to space on the Mercury-Atlas 6 mission becoming the first American to orbit the Earth.
"We're standing on the shoulders of giants," said Stoke Space cofounder and CEO Andy Lapsa. "We're beyond humbled by the historic significance of LC-14. … As we bring LC-14 back to life and carry its legacy into the future, we will be sure to do so in a way that preserves its existing history and pays homage to those who came before us."
Space Launch Complex 13 will be shared between Phantom Space based out of Tucson, Arizona, with its Daytona rocket and Vaya Space based out of Cocoa, Florida, with its Dauntless rocket. LC 13 is the site of SpaceX's Landing Zones 1 and 2 for the return trips of its first-stage boosters. It was previously used for early Atlas rocket launches from the late 1950s into the 1970s.
The potential use of the new pads along what's known as Missile Row brings back even more life to the facility that has been welcoming new companies to join the likes of powerhouses SpaceX and United Launch Alliance.
Already the Space Force has an agreement with Relativity Space from Launch Complex 16. Relativity's 3D-printed Terran 1 rocket aborted its first-ever launch attempt on Wednesday. It will try again during a 1-4 p.m. launch window on Saturday.
Another launch pad at Canaveral was leased by Space Florida, the state's aerospace economic development agency, giving access to Space Launch Complex 46 to Astra Space, which had two launches in 2022 with its Rocket 3.3 that both ended up in failure because of issues with the second stage.
Firefly Aerospace, which had its first successful orbital flight in October in California, has a launch lease from Space Launch Complex 20.
SpaceX and ULA have their own major setups with scores of launches each year on the base while Blue Origin is prepping a major operation at Launch Complex 36 for its in-development New Glenn rocket.
The new agreements are for small-class rockets, but future agreements for medium, heavy and super-heavy launch vehicles could occur in the future, SLD 45 stated.
The pace of launches from the Space Coast has been growing each year with 2023 expected to support as many as 92 launch attempts, said SLD 45 commander Maj. Gen. Stephen Purdy.
His goal is to be able to regularly support two launches a week.
Local journalism is essential.
Give directly to The Spokesman-Review's Northwest Passages community forums series -- which helps to offset the costs of several reporter and editor positions at the newspaper -- by using the easy options below. Gifts processed in this system are not tax deductible, but are predominately used to help meet the local financial requirements needed to receive national matching-grant funds.
Subscribe now to get breaking news alerts in your email inbox
Get breaking news delivered to your inbox as it happens.
---