Sports > High school sports
S-R Showcase: Blake Buchanan's 'redemption tour' ends with Idaho state title, commitment to Virginia
March 9, 2023 Updated Fri., March 17, 2023 at 2:14 p.m.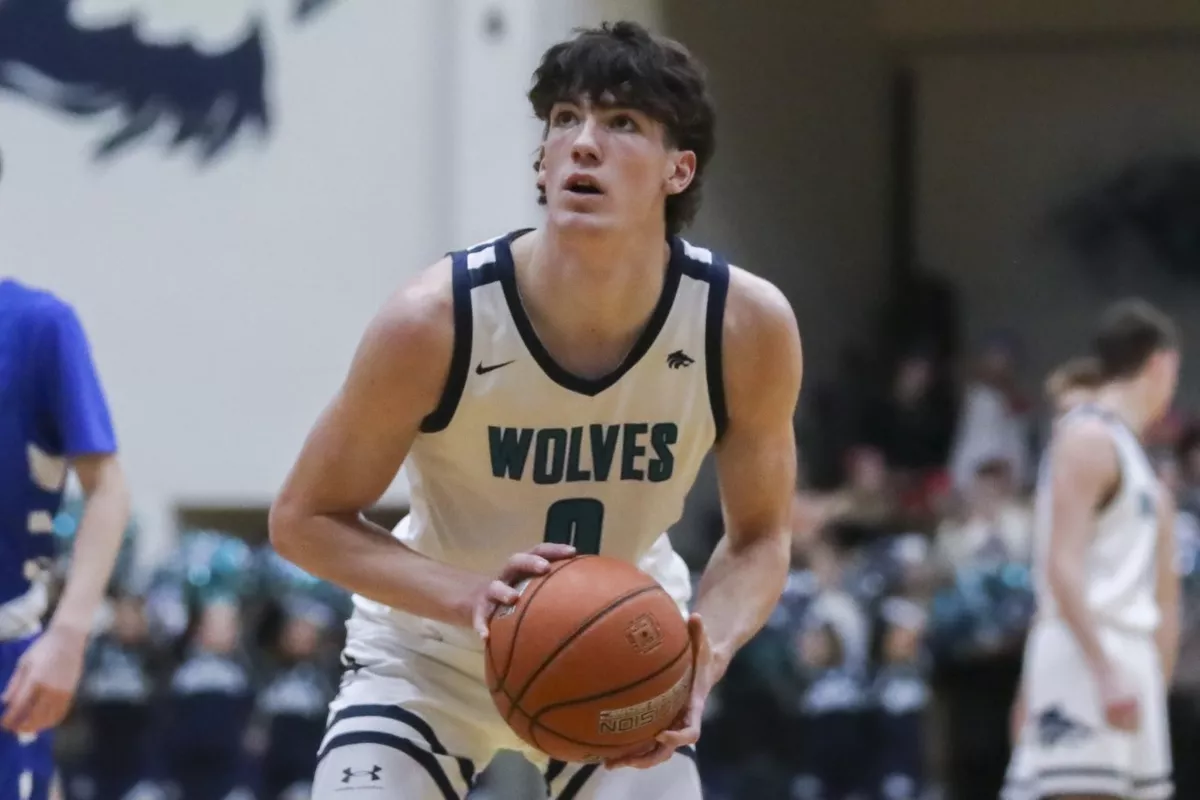 Lake City's Blake Buchanan readies for a free-throw attempt against visiting Coeur d'Alene on Jan. 28. (Cheryl Nichols/For The Spokesman-Review)
Blake Buchanan has big aspirations for his basketball career. But first he and his Lake City teammates had unfinished business.
The Timberwolves took care of that last Saturday, defeating Meridian 75-61 at Idaho Center in Nampa to complete the first undefeated season (26-0) and first 5A State title for the boys basketball program.
Buchanan, the 6-foot-10 senior post headed to the ACC and University of Virginia, led all scorers with 26 points and added 11 rebounds, three assists and two blocked shots.
The win comes a year after the top-seeded T-wolves were upset in the first round of the tournament.
"It was super emotional," Buchanan said. "After everything that this team's been through, to finally get it done, the way we got it done – it was super cool."
Meridian gave Lake City an early scare, leading 18-15 after the first quarter before wilting.
"That's probably been the biggest thing about our team, is we never get mad at each other," Buchanan said. "We never get frustrated when we're down."
Buchanan felt it was more than just the sense of accomplishment.
"I think it was just relief, you know, that we finally got it done."
Lake City lost to Meridian in Buchanan's sophomore year at state and had never beaten Madison before LC knocked them off in the first round.
"It was kind of like a redemption tournament for us," Buchanan said. "So yeah, kind of relief and just excited that, you know, 'We just did that.' Got the first one in school history."
The win was also the first title for veteran Lake City coach and former athletic director Jim Winger.
"The thing I keep telling people is these guys are not only the best team we've ever had at Lake City – they're also the best group of kids to be around," Winger said Saturday.
"They're a once-in-a-lifetime kind of high school team."
"That feels really good," Buchanan said of Winger's word. "The team that we have, guys that we have, how hard we work, how close we are with each other – it's pretty rare to find what we have. Sometimes you don't find guys who are all dedicated like we were.
"We all wanted the same goal, and so it's pretty cool that we got to experience it with these guys and these coaches."
Buchanan started his high school career at 4A Moscow and went to the state championship with the Bears, falling to Preston 59-43 in a game Buchanan scored nine points.
His family moved to Coeur d'Alene during the pandemic in order to increase the competition level and exposure for the growing big man.
"Making the decision (to move) was definitely the hardest part," Buchanan said. "Saying goodbye to (coach Josh) Uhrig – that was emotional just because everything he's done for me.
"Leaving my hometown – I grew up there for 16 years – that was super hard to leave my friends. It was super emotional – like, I was crying."
It helped that he knew and played with a lot of Spokane-area players from club ball.
"I knew people from AAU," he said. "I already had people that were gonna help me out up here. The transition wasn't very hard, it just was leaving Moscow. But I knew the goal and how much better it was going to be for me, once I got up here."
It hasn't been easy for Buchanan, who was 6-5 in eighth grade, to go from raw potential to heralded prospect.
"When I was an eighth-grader, I tried out for Eastern Washington Elite," he said. "I actually made the 'B' team. Ever since then, I had to kind of work harder to get to where I wanted. I think that was probably one of the best things for me is not making the top team and then being willing to work for it and kind of seeing where I'm at now.
"It just kind of helped sell me on where I had to work from eighth grade to now, just the improvement I've had to make."
Buchanan made a significant jump physically right at the start of high school, then again going into his junior season.
"I kind of started to figure it out," he said. "Junior year I started to understand I could hedge better, I could defend better."
Armed with the confidence that comes with being recruited by an ACC team, and the flexibility to do more on the court as a senior, Buchanan blossomed this season.
"This year was definitely the year I kind of figured out that I'm a super-good athlete," he said. "I can jump well, I can defend the ball well. I can guard 1 through 5.
"It was the first year I realized why people were telling me, 'You're a great athlete, just in a tall body.' "
He's proud of the progress he's made and the trust and confidence his high school coaches had in him.
"My sophomore, junior year I was strictly post. I'm gonna post up. I'm gonna stay in the paint – especially with the offense that we ran," Buchanan said. "I started to learn I needed to expand my game if I wanted to play at the next level and what I needed to do. … We started working on that and you work on it enough it becomes fluid and becomes the way you play. It comes naturally, not trying to force anything."
Still, there was the matter of winning a state championship and playing within a system with his teammates.
"(Winger) never told me what I can't do," Buchanan said. "I kind of knew my role, but I think once I started working on my game, it would be like, if you're not doing in practice, you shouldn't be doing a game.
"I started to do more in practice and then I started getting more of the green light to do it in a game. I had way more freedom this year than I've had the last few years."
After he plays in The Spokesman-Review Showcase on Tuesday and the Idaho state all-star game at North Idaho College on March 25, Buchanan is anxious to get to Charlottesville and start the next chapter.
"I'm stoked," he said. "I've got these two all-star games, and then after that all my training is just gonna be getting ready for Virginia. … It's gonna come I think faster than I think, so I'm gonna be super excited to get out there, getting to do what they want me to do and get into the college program."
Virginia coach Tony Bennett was on Buchanan from Day 1.
"They reached out the first day," Buchanan said. "I had a great phone call with Bennett that day. They stayed on me."
The coaching staff came out to Idaho to watch Buchanan twice in his junior year in the fall – once in a workout, then for a game.
"That just showed me that they were willing to fly the six hours to watch me practice for an hour, play a game for and hour and a half," he said. "It showed me where I was with them and how dedicated they are and how interested they are in me.
"Once I kind of figured out they were super interested in me, I was kind of showing the same amount of love as they're showing to me and I think that helped out a lot."
Buchanan had other offers but stuck with his original courter.
"Iowa kind of jumped on me late, and so did Gonzaga," he said. "I definitely think that Virginia recruited me harder and they showed up more."
Sometimes he finds himself thinking ahead and finding it a bit surreal that soon he'll be an ACC freshman.
"It's crazy to think about – just coming from an area that I'm coming from – just what I've accomplished and how hard I've had to work to come to this point," he said. "When I sit back and look at it, it's extremely cool. But I've got to keep working. Do what I'm doing."
But he's fired up for at least a couple of more high school basketball game to cap his career.
"I'm excited to play with some of the guys, some of my ex-teammates, my AAU teammates. It should be a lot of fun.
"I know Kase (Wynott) from (Lapwai, Idaho). (Lake City's) Kolton (Mitchell). I know (Freeman's) Boen (Phelps) – I played AAU with Boen. (Davenport's) Tennessee (Rainwater). I'm excited to get to play with 'T-See' and Boen again. … Just one last time."
Local journalism is essential.
Give directly to The Spokesman-Review's Northwest Passages community forums series -- which helps to offset the costs of several reporter and editor positions at the newspaper -- by using the easy options below. Gifts processed in this system are not tax deductible, but are predominately used to help meet the local financial requirements needed to receive national matching-grant funds.
Subscribe to the sports newsletter
Get the day's top sports headlines and breaking news delivered to your inbox by subscribing here.
---