News > Crime/Public Safety
Spokane Valley buying another $80,000 eye in the sky
Thu., March 9, 2023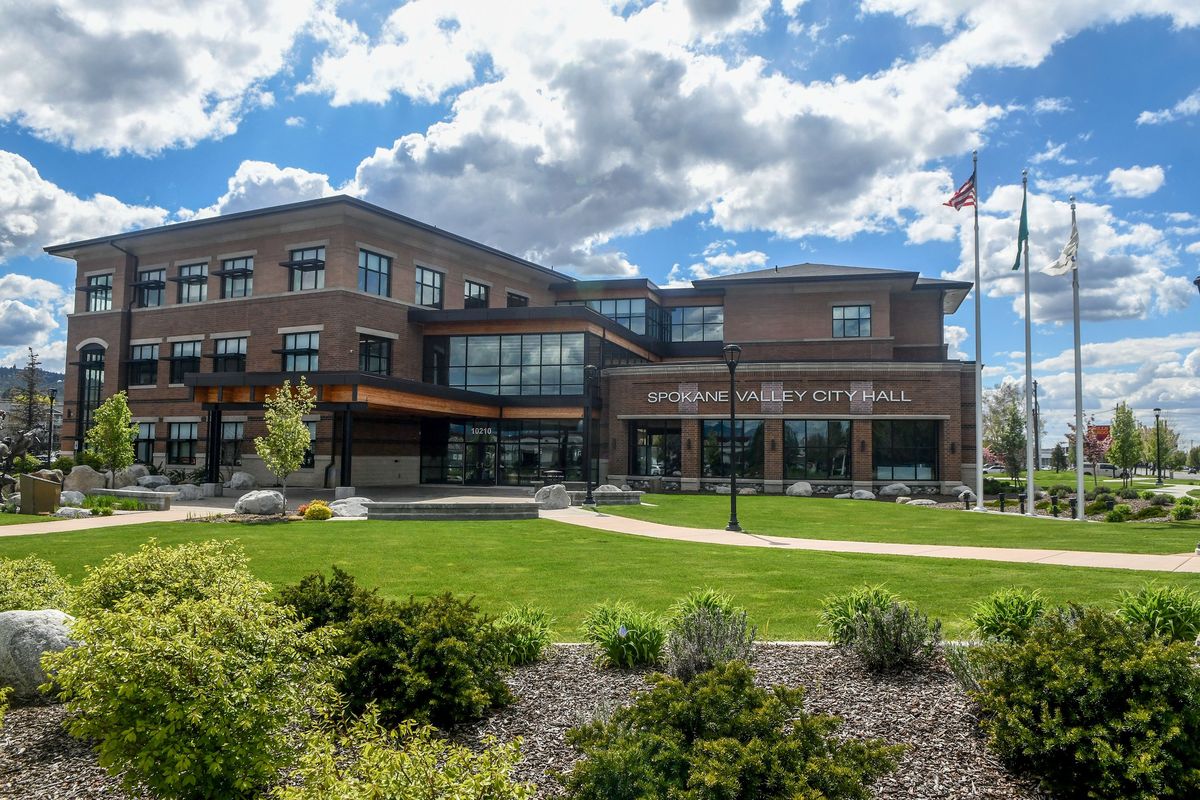 Spokane Valley City Hall is seen on May 11. The City Council this week agreed to purchase a second $80,000 mobile surveillance trailer.  (Kathy Plonka/The Spokesman-Review)
Spokane Valley is getting a new $80,000 mobile surveillance system.
The City Council on Tuesday unanimously agreed to buy the Spokane Valley Police Department a second camera trailer.
Local taxpayers won't have to cover the cost, at least not directly. Spokane Valley is using some of the $16 million it received through the American Rescue Plan, a $1.9 trillion federal stimulus bill aimed at helping the country recover from the COVID-19 pandemic.
Conceptually, camera trailers are simple.
Each has a 360-degree camera that sits on a tall pole. Police departments can tow them around to different locations. In addition to capturing video – which gets deleted after a few weeks – they serve as deterrents for would-be criminals.
Spokane Valley Police Department spokesman Mark Gregory said the trailers are low-maintenance and durable. While $80,000 sounds expensive, he pointed out that placing a mobile camera in a crime hotspot is far cheaper than paying an officer to be on site.
"To be able to put a deputy or anybody there for a 24-hour period is impossible," he said. "We don't have the staffing, plus the funding would be astronomical."
Camera trailers are becoming more mainstream. The Spokane City Council last month voted 5-2 in favor of leasing one. The Spokane County Sheriff's Office plans to buy some, too.
The Valley got its first trailer a few months ago, before other local law enforcement agencies.
"It's been incredibly successful," Spokane Valley Deputy City Manager Erik Lamb said.
Spokane Valley police Chief Dave Ellis said his department has placed the trailer in a few spots so far, including the HomeTowne Studios hotel and Müv Fitness.
"We're putting them in places where they're requested," Ellis said. "Every single comment that we've gotten back on it has been very positive, very supportive."
Ellis said the camera seems to be having a dramatic impact. He used Müv Fitness as an example.
In the 10 days before the police department brought the camera trailer to Müv, the gym had eight vehicle burglaries. Not a single burglary occurred during the trailer's 14-day stint on-site.
While the initial returns for the Valley have been strong, some have argued mobile surveillance systems may not be a good investment.
Spokane City Council President Breean Beggs, who in February voted against leasing a trailer, questioned whether the units were worth tens of thousands of dollars a year. He also said they look "police state-ish."
All seven Spokane Valley City Council members supported buying a second trailer.
City Councilwoman Laura Padden said she's usually wary of increased government surveillance.
"I think we have to be very, very vigilant on what we allow and what we don't," Padden said. "Where the exact line is, I don't know."
But Padden said the trailers aren't an egregious invasion of privacy. They're out in the open for everyone to see and marked with bright blue blinking lights.
"I guess in general, there's some places where I don't think we have an expectation of privacy," Padden said. "If I go to a shopping mall, a pretty public place, I'm not sure I should have an expectation of privacy there."
Ellis emphasized that the trailers are conspicuous by design. While they capture video, they're also meant to serve as deterrents.
"It's not a 'gotcha,' secret type situation," he said. "We want to be overt. We want to discourage crime."
Ellis said he spends a lot of time thinking about the tension between safety and privacy. He said the camera trailers are a "happy medium" between the two.
"I really want to balance those privacy concerns," he said. "I also want to protect the people that live in those neighborhoods."
Local journalism is essential.
Give directly to The Spokesman-Review's Northwest Passages community forums series -- which helps to offset the costs of several reporter and editor positions at the newspaper -- by using the easy options below. Gifts processed in this system are not tax deductible, but are predominately used to help meet the local financial requirements needed to receive national matching-grant funds.
Subscribe now to get breaking news alerts in your email inbox
Get breaking news delivered to your inbox as it happens.
---