A&E > Entertainment
Stream on Demand: 'Women Talking' comes to streaming ahead of Oscar ceremony
Thu., March 9, 2023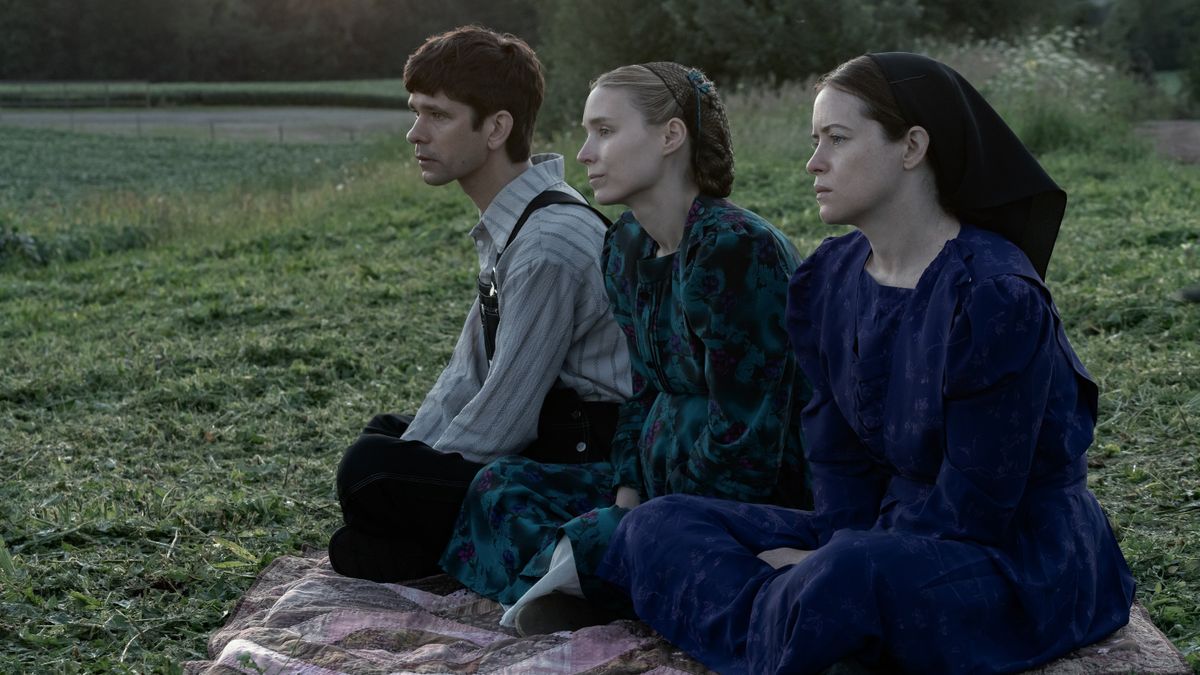 Ben Whishaw stars as August, Rooney Mara as Ona and Claire Foy as Salome in director Sarah Polley's film "Women Talking." (Michael Gibson)
What's new for home viewing on Video on Demand and Netflix, Hulu, Disney+, HBO Max, Amazon Prime and other streaming services.
Top streams for the week
"Women Talking" (2022, PG-13), Sarah Polley's screen adaptation of the novel by Miriam Toews gives voice to a group of women in an isolated Mennonite community who have gathered to decide their future in the wake of years of systematic abuse. It is a gentle and often poetically beautiful film, set against an idyllic, sun-kissed prairie landscape, for such a traumatic subject, and Polley lets the words and the passions of her ensemble carry the weight of their decision. Rooney Mara, Claire Foy, Jessie Buckley, Judith Ivey and Frances McDormand lead the superb ensemble. The film earned Oscar nominations for best picture and adapted screenplay. (Prime Video)
Idris Elba returns as the brilliant but tormented police detective in "Luther: The Fallen Sun" (2023, R), a feature-length sequel to the British crime drama that ended in 2019. The film opens with DCI John Luther in prison and a flamboyant serial killer (Andy Serkis) taunting him while terrorizing the city, which prompts Luther to escape to exact his own justice. (Netflix)
In a less serious vein, Mel Brooks brings a sequel 40 years in the making with "History of the World, Part II" (TV-14), a limited series sketch comedy that uses juvenile humor and raunchy jokes to lampoon historical events. Wanda Sykes, Nick Kroll and Ike Barinholtz cowrite and costar. You can also stream the original "History of the World, Part I" (1981, R). (Hulu)
In the second season of "Perry Mason" (TV-MA), the private eye turned struggling lawyer (Matthew Rhys) defends two Latino brother accused of murdering the son of an oil baron and ends up in the midst of a conspiracy involving the demolition of a neighborhood. New episodes on Mondays. (HBO Max)
Vicky Krieps won the acting award at Cannes for playing Empress Elizabeth of Austria in "Corsage" (Austria, 2022, not rated, with subtitles), a fictional drama about the beloved monarch as she turns 40. The offbeat, sometimes eccentric portrait explores her struggle with the restrictive expectations of her position and her desire to expand her world. (AMC+)
Netflix
Brad Pitt travels the world searching for a cure for the zombie virus in "World War Z" (2013, PG-13).
Hulu
Kerry Washington plays a single mother and Delroy Lindo is her father who moves in after being released from prison, in the sitcom "UnPrisoned: Season 1" (TV-MA).
HBO Max
A single mother (Daisy May Cooper) on the margins of society struggles to give her daughter a stable home in the British dramedy "Rain Dogs: Season 1" (TV-14).
Paramount +
A teenager (Peyton List) is stuck in the afterlife in "School Spirits: Season 1" (TV-MA), a high school drama with a supernatural twist.
Other streams
The limited series "The Confessions of Frannie Langton" (not rated) follows the odyssey of an enslaved woman (Karla-Simone Spence) from a Jamaica plantation to London. (BritBox)
The police sergeant (Conleth Hill) of a tiny Irish town unearths the secrets of his community while investigating his first murder in "Holding: Season 1" (not rated). (Acorn TV)
Sean Axmaker is a Seattle film critic and writer. His reviews of streaming movies and TV can be found at streamondemandathome.com.
Local journalism is essential.
Give directly to The Spokesman-Review's Northwest Passages community forums series -- which helps to offset the costs of several reporter and editor positions at the newspaper -- by using the easy options below. Gifts processed in this system are not tax deductible, but are predominately used to help meet the local financial requirements needed to receive national matching-grant funds.
Subscribe to the Spokane7 email newsletter
Get the day's top entertainment headlines delivered to your inbox every morning.
---