Sports > WSU basketball
Washington State's comeback bid falls short as Cougars fall 75-70 to Oregon in Pac-12 Tournament quarterfinals
March 9, 2023 Updated Sat., March 11, 2023 at 3:18 a.m.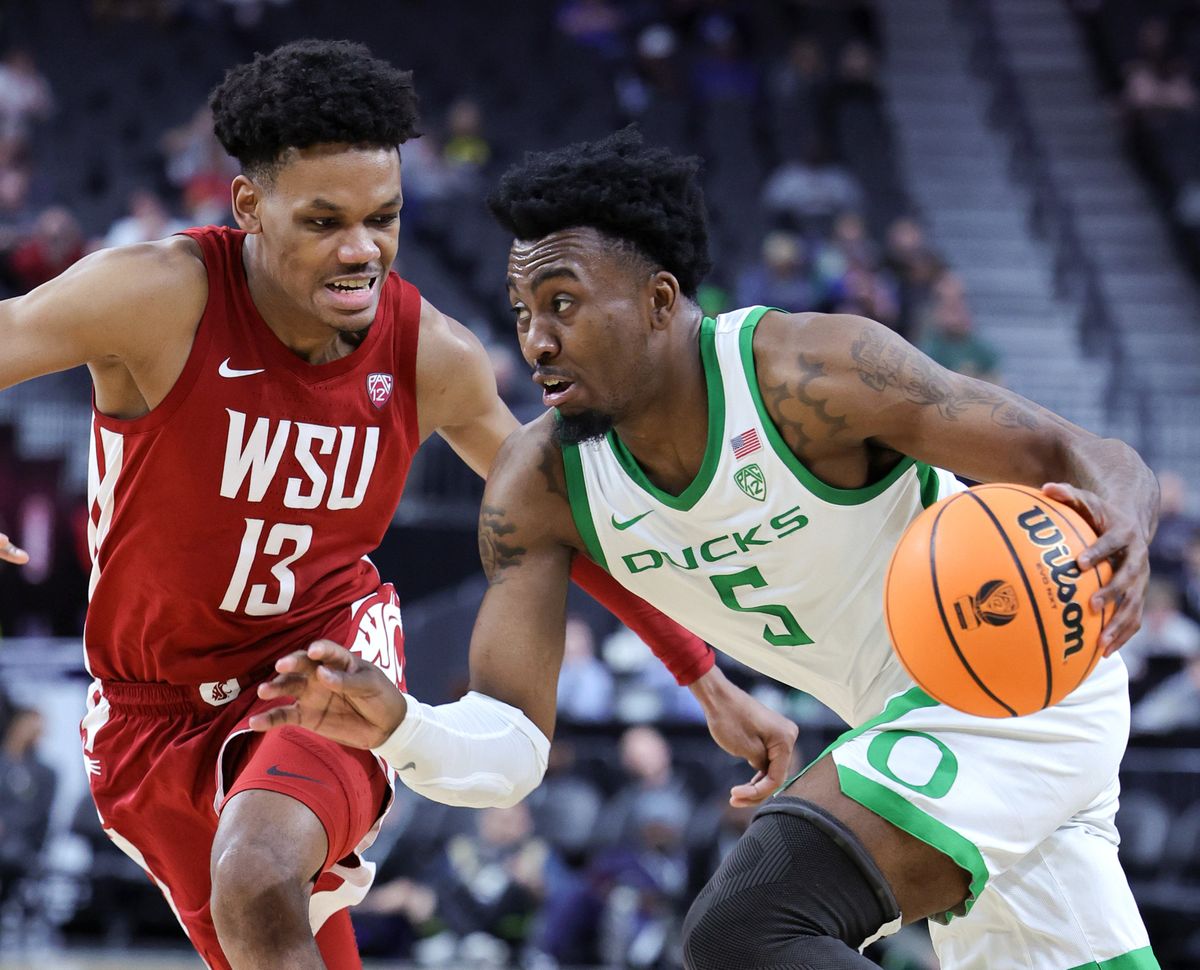 Oregon's Jermaine Couisnard drives against Washington State guard Carlos Rosario during Thursday's Pac-12 Tournament quarterfinal at T-Mobile Arena in Las Vegas. (Getty Images)
LAS VEGAS – Washington State ran out of magic – for a while, it seemed like they might have enough left in the tank. Fighting to stay alive in the Pac-12 Tournament and extend their exceptional winning streak, the Cougars mounted an improbable comeback.
But WSU fizzled out, just a bit too soon.
The fifth-seeded Cougs erased a sizable first-half deficit against No. 4 seed Oregon and turned the second half into a thrilling, back-and-forth affair. Down the stretch, however, WSU's mojo waned. The Cougars missed their last four shots and went the final 3 minutes, 36 seconds without a point, allowing the Ducks to eke out a 75-70 win on Thursday afternoon in the conference tourney quarterfinals at T-Mobile Arena.
"There was a momentum shift, and we kept punching," WSU coach Kyle Smith said. "I was proud of them. It would've been easy for them to go away … but we didn't. (Oregon) made some plays late to get the win."
The Cougars (17-16) had their winning streak stopped at seven games – one shy of a program record for most Pac-12 victories in a row.
They fell into a 19-point hole late in the first half as Oregon (19-13) dominated the paint and forced several extended WSU scoring droughts.
"No lead is safe with (WSU)," Oregon coach Dana Altman said. "They've proven that throughout the year."
WSU closed the first half on a 10-0 run, trimming the deficit to eight points at halftime. The Cougars stayed hot in the second half, connecting on three 3-pointers in the first 6 minutes to make it a one-possession game.
"We finally started hitting shots that we should have hit earlier," WSU forward DJ Rodman said. "Going down (19 points), it's kind of hard to come back, and we did it."
Cougars guard TJ Bamba scored five consecutive points to lift WSU to a 60-57 lead at the 8:26 mark – its first lead since 9-8 early in the game. The Cougars caught fire from beyond the arc and settled in on defense after a first half in which they had no answers for Oregon's interior scorers. The Ducks shot 13 of 17 from inside the arc in the first half.
The teams traded the lead five times in the final 6 minutes. Neither team led by more than three points during the anxious stretch.
WSU post Mouhamed Gueye's dunk with 3:36 left put WSU ahead by two points, but the Cougars lost steam. They didn't score again and committed two costly turnovers.
Oregon's 6-foot-11 N'Faly Dante converted a putback with 1:34 remaining to put the Ducks up by two points. After Bamba missed a 3, Dante blocked a layup attempt from Cougars guard Justin Powell with 31 seconds to go.
A Keeshawn Barthelemy free throw extended the UO lead to three points. Bamba committed a turnover, but Rodman recorded a chase-down block on what would have been a game-clinching layup from Rivaldo Soares, forcing UO to inbound the ball to seal the win. After three timeouts, the Ducks got the ball in safely and put away a tense game.
"We had our opportunities late," Smith said. "Oregon made plays late. Dante had a big shot-block. They made some free throws. Sometimes you gotta hat-tip, but I'm proud of the way our guys played. Hopefully, our season goes on."
The Ducks advance to the semifinals to face top-seeded UCLA. WSU will await Sunday's postseason selection show, hoping to receive a bid to the NIT.
Bamba scored a game-high 19 points as the Cougars shot 44.2% from the field and 11 of 23 (47.8%) from distance. WSU shot 56.5% from the field and 6 of 11 from beyond the arc after halftime.
Dante led Oregon with 16 points and 11 rebounds. Guards Jermaine Couisnard and Keeshawn Barthelemy added 17 points apiece. The Ducks shot 51.9% from the field in the first half and 37.9% in the second.
Gueye and Powell spearheaded WSU's effort in the second half. Playing through injuries, the two combined for 25 points and shot 9 of 12 from the field in the second half.
An All-Pac-12 first-teamer, Gueye played a limited role in the first half and went to the locker room 4 minutes before halftime. He stayed on the court for 19 minutes in the second half, finishing with 14 points.
"I don't know if it's his butt or lower back, or if there's some muscle stuff going on there," Smith said of the 6-11 sophomore. "He's been dealing with it, but he doesn't make any excuses. He's obviously playing with pain.
"He's so mentally tough. He wants to be there for his team. He has zero ego, as far as he wants to win. … So many guys that are in his position, that have pro aspirations, would not be wanting to lay it on the line. He's a stud and he lays it on the line."
Powell played 10 minutes in the first half. He emerged from the locker room after halftime with a wrap around his midsection, but he didn't come off the court in the second half. The junior totaled 15 points, shooting 3 of 4 from 3, and pulled down seven rebounds.
"I'm just going through some things, muscle-wise," he said. "Everyone at this point in the year is banged up.
"There's no excuse. You just gotta play through it. Coming out in the second half, we knew we had cut the lead a little bit and we needed to keep it going and pushing. We ended up doing that, but down the stretch, just couldn't get it done. But I'm proud of the way we fought."
Forward Andrej Jakimovski scored 10 points for WSU.
Local journalism is essential.
Give directly to The Spokesman-Review's Northwest Passages community forums series -- which helps to offset the costs of several reporter and editor positions at the newspaper -- by using the easy options below. Gifts processed in this system are not tax deductible, but are predominately used to help meet the local financial requirements needed to receive national matching-grant funds.
Subscribe to the sports newsletter
Get the day's top sports headlines and breaking news delivered to your inbox by subscribing here.
---