Sports > Seattle Seahawks
Commentary: Geno Smith's Seahawks deal is good — if he can repeat 2022 performance
March 10, 2023 Updated Fri., March 10, 2023 at 10:18 p.m.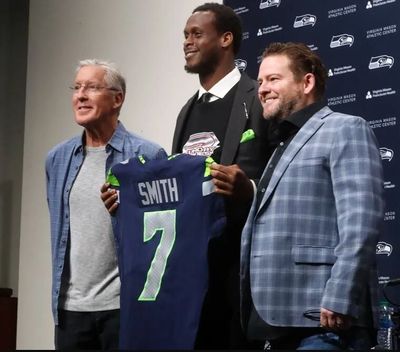 RENTON, Wash. – Seattle Seahawks general manager John Schneider conveyed the dream-world – some would say fantasy-world – ending to the Geno Smith saga Thursday while up at the lectern at Smith's news conference to commemorate his new contract.
"The ultimate goal is to have Geno holding the trophy with coach (Pete) Carroll," Schneider said. "That's the deal."
Of course, there are skeptics who will tell you that the very act of extending Smith with the three-year contract worth up to $105 million he received Tuesday sabotaged those efforts, one of two ways: either by tying up too much money at quarterback when a cheap rookie is there for the taking with their No. 5 overall draft pick; or by believing too ardently that Smith's breakout season at age 32 after six years as a backup can be replicated.
The Seahawks are banking heavily that they mitigated the first question by virtue of a clever contract that is team-friendly in the context of the quarterback market and not overly onerous if Smith should flame out, yet at the same time gives Smith incentive clauses that allow him to be paid commensurately with top-tier quarterbacks should his performance warrant it.
And that's really the lesson that comes out of this: For all the parsing of the salary-cap ramifications of Smith's deal, and the various potential escape clauses for the Seahawks, the contract will be a success only if 2022 doesn't turn out to be an illusion.
As such, Schneider and Carroll outlining why the Seahawks believe so strongly in Smith – and Smith explaining why such belief is warranted – constituted the crux of Thursday's event at the Virginia Mason Athletic Center.
"It's been so much fun to see this happen. He always knew; we just had to let it out," Carroll said, and then addressed Smith directly. "That was what you did. You always knew that you could do this, and it's why when it happened and the opportunity was there and you took over the reins of it, you handled it so flawlessly.
"We were grateful just to watch it happen. It was a blast. We need to win a couple more games, we know that. We need to do a little bit better, but we still did a lot, and you accomplished a tremendous amount."
What's clear is that both sides believe strongly that Smith's astonishing rise from long-term backup to prominence as a starter last season – so rare that Schneider acknowledged there were no comps to use in negotiations – can be best maximized and sustained in Seattle.
One day after the anniversary of the Russell Wilson trade, Schneider and Carroll discussed what an inspiration it was to watch Smith's emergence to fill what appeared to be a gaping quarterback hole. Smith spoke reverently about how much their belief in him made it possible after the trials and tribulations of his career.
"You think about the draft and how I had to sit and wait," Smith said. "And then I went to the Jets and things didn't work out. I had to bounce from team to team and try to find my way. And then I found this place, and it kind of changed me. Coach Carroll being so uplifting, so inspiring. He just forced me to believe in myself. And that, in tune, kind of brought us to today."
That, and an NFL-best 69.8 completion percentage, 4,282 passing yards (758 more than Wilson had in Denver) and 30 touchdown passes. And yet Smith's production and effectiveness waned in the second half of the season, which provides the seeds of outside doubt and the source of motivation for Smith.
"I'll be much better! Can't wait," Smith tweeted Tuesday. When asked about that Thursday he smiled and said, "Shoot, I was throwing yesterday and the ball was coming out pretty good, so I think that's it.
"Honestly, just being around this organization, the type of coaches we have, the type of players on this team, the leadership from top to bottom, it's all about getting better and all about competing every single day. I think that breeds excellence. So I believe that although we did some great things last year, the sky's the limit for what we can do this year, and I think we can improve on it in so many ways. That's really what I look forward to."
Smith believes the continuity of being in the same offensive system, this time able to study his film from last year both good and bad without the uncertainty of fighting for a job, should help him in 2023. But he vowed to maintain the scrappy outlook of a guy vying for playing time.
"I would think the mentality has to stay the same," he said. "I have to have that mentality every day that I've got to go earn it, and there's nothing more than that. … I have to have that chip on my shoulder, that edge, because that's what makes me a better player."
Smith was seemingly mindful of the delicate balance facing NFL teams that can be hamstrung when their quarterback's salary eats up a disproportionate amount of the cap, thus making it hard to build a championship-caliber team around him. The Seahawks believe they didn't box themselves in that corner with this deal, of which only $27.3 million is fully guaranteed. Smith, by betting on himself with the incentive-laden deal, still left himself a path to a far greater payday.
"I just believe in my ability," he said. "I believe that with the guys around me, with the coaches that we have, I think the future is very bright for us. And so with the contract and the incentives, it's just a way for both parties to make it work. It allows the team room and space to do what they need to do, but it also gives me an opportunity to be one of the top 10-paid quarterbacks, which is something that I believe I am. And so with all those things, I think it worked out pretty great."
That won't be known definitively until Smith shows that last season wasn't a fluke.
Local journalism is essential.
Give directly to The Spokesman-Review's Northwest Passages community forums series -- which helps to offset the costs of several reporter and editor positions at the newspaper -- by using the easy options below. Gifts processed in this system are not tax deductible, but are predominately used to help meet the local financial requirements needed to receive national matching-grant funds.
Subscribe to the sports newsletter
Get the day's top sports headlines and breaking news delivered to your inbox by subscribing here.
---