News > Spokane
Spokane City Council President Breean Beggs will not seek re-election
March 10, 2023 Updated Fri., March 10, 2023 at 10:28 p.m.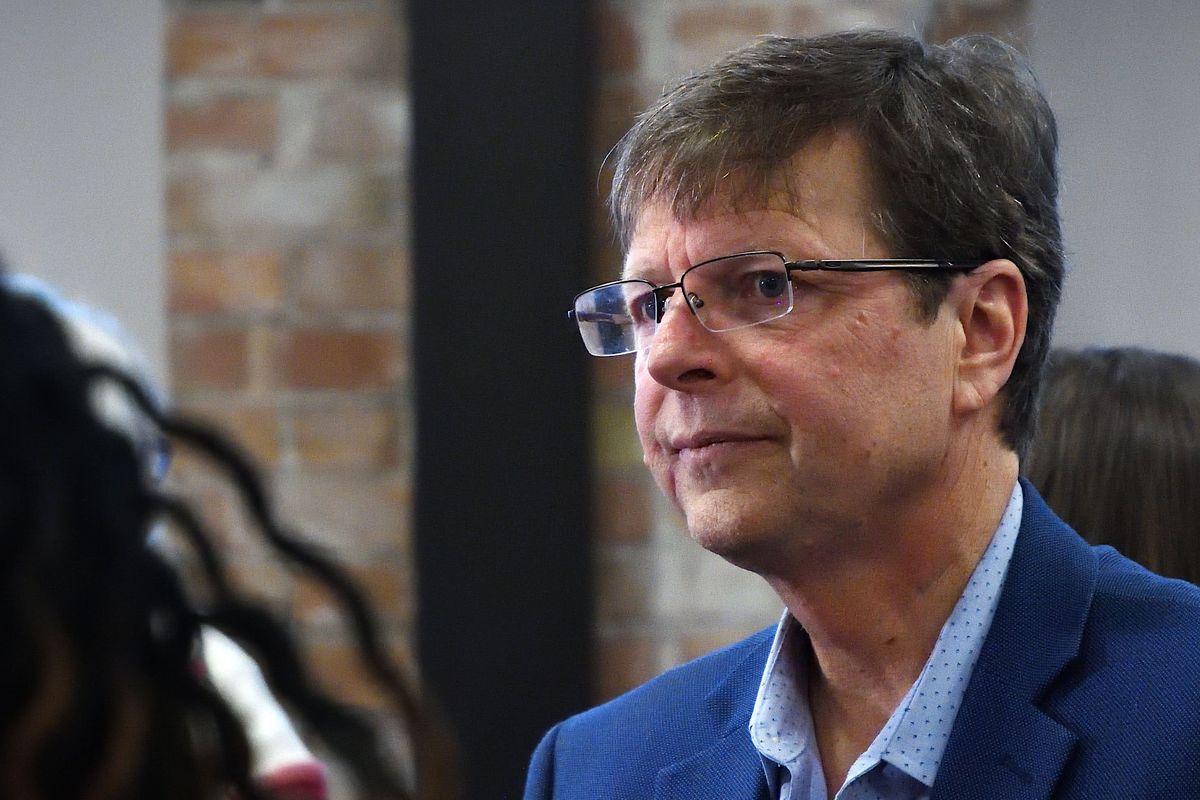 Spokane City Council President Breean Beggs is endorsing City Councilwoman Betsy Wilkerson for his seat instead of running for re-election. (Colin Tiernan/The Spokesman-Review)Buy a print of this photo
Spokane City Council President Breean Beggs will not be seeking re-election, he announced formally Friday.
Beggs, who talked publicly about his 2021 cancer diagnosis and treatment, said he is in good health and is not leaving the public square, but is not certain what his next steps will be.
For the better part of two decades, the Whitworth University graduate and private civil rights attorney has been involved in criminal justice advocacy even before taking an official position at Spokane City Hall.
Beggs took over in 2004 as executive director of the Center for Justice, the now-defunct nonprofit that assisted low-income clients with legal issues often involving civil rights. Two years later, the firm signed on to represent the family of Otto Zehm, the mentally disabled man who died of asphyxiation at the hands of Spokane police following an unprovoked and violent encounter with Officer Karl Thompson.
Beggs also pushed for the creation of an ethics commission in Spokane and later an independent ombudsman to oversee the actions of the city's police department. In his practice, he also fought against the fines that kept inmates in the Spokane County Jail awaiting trial.
He left the Center for Justice in 2010, and in 2014 ran unsuccessfully for Spokane County prosecutor, making part of his platform the implementation of a slate of reforms in the criminal justice system under the heading "Smart Justice."
Beggs was first appointed in 2016 to fill a vacancy on the City Council and won re-election in 2017. In 2019, in the middle of his first full term, Beggs was elected as council president.
During his time on the council, Beggs argued the city should take steps to limit the transport of coal and oil by rail through downtown following disastrous derailments in other parts of the Pacific Northwest. He also continued pushing for independence for the police ombudsman in contracts with the Spokane Police Guild, and has recently advocated for changes to the office of the city attorney to make it more independent of the mayor's office.
When he was sworn in as council president, the remaining council members were tasked with filling his vacated seat representing District 2, which included most of the city south of the Spokane River. Beggs helped recruit political newcomer and longtime Spokanite Betsy Wilkerson to fill that role, and she was appointed in 2020.
With Beggs standing nearby, Wilkerson announced Friday that she would be running to replace Beggs once again, this time as council president.
"I think she would be fabulous in this position," Beggs said in a Thursday interview. "Everybody loves Betsy. She can really bring the community together in ways that, even though I've aspired to, I can't."
Beggs said a number of factors influenced his decision not to run for re-election. He expects that Mayor Nadine Woodward will lose her seat to Lisa Brown and the challenge of navigating an at-times fraught relationship between City Hall and City Council will be lost.
"I like to be challenged," Beggs mused.
The left-leaning Beggs was elected to council president the same year the right-leaning Woodward was elected mayor, and the two have clashed frequently on everything from police reform to homelessness and the use of city assets.
Beggs, along with a council supermajority, has often overridden mayoral vetoes.
One reason not factored into his decision, he said, was the increasingly toxic tenor of local politics.
"I had that conversation with myself in April," he said. "Am I tired from all of the criticism from people who have never met me? But my conclusion is no, I'm not retiring from public life."
Still, Beggs noted there is a real trend of local politicians facing increasing criticism and burnout.
While Beggs said he was not ready to discuss his next steps, he noted that he was considering "five or six" different options.
Local journalism is essential.
Give directly to The Spokesman-Review's Northwest Passages community forums series -- which helps to offset the costs of several reporter and editor positions at the newspaper -- by using the easy options below. Gifts processed in this system are not tax deductible, but are predominately used to help meet the local financial requirements needed to receive national matching-grant funds.
Subscribe now to get breaking news alerts in your email inbox
Get breaking news delivered to your inbox as it happens.
---