'Unrivaled, unparalleled' storm hits California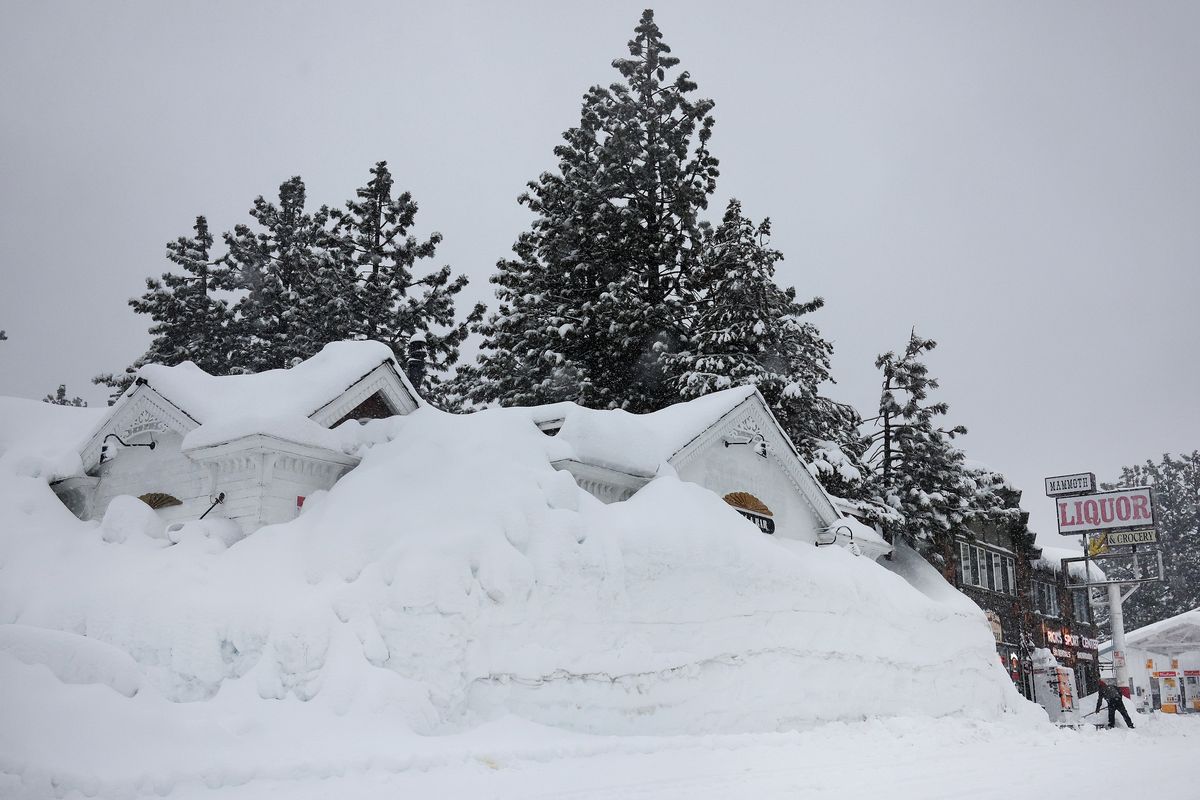 FRESNO, Calif. – At least two people have died as the first of two atmospheric river storms descended Friday on California, prompting widespread evacuation orders as it flooded creeks and rivers and dropped warm, heavy rain atop the state's near-record snowpack.
One person, who has not been identified, was killed when a portion of a roof collapsed at a coffee distribution warehouse in Oakland, authorities said. He was a worker at the facility, where at least one other employee was injured in the collapse.
The California Governor's Office of Emergency Services did not immediately confirm details of the second death. Director Nancy Ward said approximately 9,400 people are under evacuation orders statewide, and about 54,000 are without power.
The OES has readied high-water vehicles, search-and-rescue teams, fire resources and other emergency operations to respond to areas most vulnerable to flooding and overtopped rivers, Ward said.
President Joe Biden approved an emergency declaration request from Gov. Gavin Newsom, authorizing the Department of Homeland Security and the Federal Emergency Management Agency to support state and local responses to the storm.
Newsom proclaimed a state of emergency in 34 counties, activating the California National Guard and other state agencies to respond to storm-related emergencies.
"California is deploying every tool we have to protect communities from the relentless and deadly storms battering our state," Newsom said. "In these dangerous and challenging conditions, it is crucial that Californians remain vigilant and follow all guidance from local emergency responders."
By Friday morning, the "Pineapple Express" storm – which is gathering warm, subtropical moisture from Hawaii – had made landfall in several communities as it carved a path from the Central Coast toward the southern Sierras.
"This is an unrivaled, unparalleled weather event not experienced in several decades," Kris Mattarochia, science and operations officer with the National Weather Service in Hanford, said during a briefing in Fresno. "There will be high water in areas that are usually not impacted. So everyone needs to be ready. … Combined with snow melt, the Kings River, along with smaller streams like Mill Creek, will be pushed to limits which are unimaginable."
At least 13 areas of the state's river systems were forecast to flood, including the Russian River at Hopland, the Salinas River at Bradley and Spreckels, the Carmel River at Robles Del Rio, the Merced River at Stevinson, the Cosumnes River at Michigan Bar, the Eel River at Fernbridge, the Pit River at Canby, the Sacramento River at Tehama Bridge and Ord Ferry, and Bear Creek at McKee Road.
Nearly 30 river systems were above "monitor stage" Friday, indicating the potential for overtopping and flooding in low-lying areas, according to the National Weather Service.
Major flash flooding was reported in the Tulare County area of Springville – where images of severe roadway flooding had been shared to social media – and in Kernville, where the roaring Kern River surrounded some houses and mobile homes, spurring an evacuation order.
In San Luis Obispo County, emergency crews rescued two people and a dog who were stranded on an island near Niblick Bridge in Paso Robles, officials said. Elsewhere in the county, people sandbagged the doors of low-lying businesses along San Luis Obispo Creek, where the churning brown water was rising.
"Hopefully, we're as prepared as we can be," said Gina Wigney, 27, an employee at a property management company where the doors were blocked with sandbags, tarps and wood barriers.
In January, the creek flooded and covered the road, inundating the business. Wigney said the water was about 5 inches deep inside last time and damaged furniture and drywall. After that flood, she helped pull out the soaked carpet, which was replaced with new tile.
"Hopefully, it's not going to get too crazy like last time," Wigney said. "It's kind of scary."
The California Department of Transportation has asked the public to limit nonessential travel during the peak of the storm in affected areas and to be extremely cautious if travel is necessary. As little as 1 foot of water can sweep a car off the road, the agency warned.
Nearly 90 flood watches and advisories were in effect across the state, including urgent flash flood warnings in portions of Tulare, Fresno and San Luis Obispo counties. Evacuation warnings were in effect for dozens of communities as reports of rapidly rising rivers, streams and creeks rang out.
"A dangerous excessive rainfall event is underway across much of Central California," the weather service said.
Rainfall totals of up to 9 inches are possible in many areas, with the highest flood risk in coastal areas from Salinas to San Luis Obispo and throughout the Central Valley.
In Santa Cruz County, the San Lorenzo River had crested Friday morning, prompting evacuation orders for Felton Grove, Paradise Park and Soquel Village due to flooding.
County officials shared video of significant flooding along Main Street in Soquel, advising residents north of Bates Creek they cannot pass.
"After a while, you've just got to laugh, otherwise you're just gonna have horrible mental health," said Cindi Busenhart, a stranded resident of Soquel.
She lives near Bates Creek, where a portion of the road collapsed Thursday night. She and all of her neighbors are for the most part stuck – unable to drive in or out, depending on friends and relatives on the other side to help with transporting people, food and goods.
"I don't know how long it's gonna take before they can actually, like, fix it. … I mean, the creek is just raging," she said. "It didn't take a little bit of a road out. It took a massive amount of the road out. So it's definitely going to impact the residents here because there's no way out."
Flash flood warnings were in effect in San Luis Obispo County, where isolated rainfall totals of up to 15 inches were possible and streams near Cambria and San Simeon were already reaching concerning levels.
In the Merced County town of Planada, officials went door to door to many homes Wednesday and Thursday to warn of possible disaster.
The town was almost entirely flooded after a levee broke in January.
"People are full of fear," County Supervisor Rodrigo Espinosa said Thursday as he returned from watching crews lay sandbags at nearby Bear Creek. He hoped that the sandbags, debris clearance and other infrastructure improvements would prevent a worst-case scenario.
And in Fresno, officials warned residents to be prepared for rainfall that would test the limits of the county's water management systems.
"The soils are so saturated from all the rain we've received, it will not take much at all for those trees or power lines to perhaps fall across roadways, fall on top of homes, fall on top of other infrastructure," Mattarochia said. "We're going to have enhanced wind gusts, and we're going to have enhanced rainfall rates, which can exacerbate the situation over some of these hot spots, like Mill Creek, like Kings River.
The county had previously set up a shelter for evacuees at Reedley College, but because of its proximity to the Kings River, officials decided to move it farther inland to the Sanger Community Center.
"We want everyone to know that this is not a normal situation. This is something that is completely outside the realm of even possibilities that we can imagine as meteorologists," he said.
Indeed, the incoming storm will fall atop soaked soils and some of the deepest snowpack California has recorded, including historic snowpack in the San Bernardino Mountains, where many residents were trapped for days.
At least 13 people have been found dead in the wake of the snowstorms, and on Friday, residents and officials were bracing for the arrival of rain.
"It's just going to make the snow heavier," said Rich Eagan, a spokesman for the county's incident command team. "It's also adding weight to the roofs."
There have been multiple roof collapses in the area, and with about an inch of rain forecast for some parts, Eagan said it would be "a miracle" if there aren't more.
The state has seen a spate of roof collapses from heavy snow, including a grocery store providing crucial supplies in Crestline. The roof of a Dollar General store in Amador County reportedly collapsed Thursday night.
Several of the state's rivers flooded in January, when a series of nine back-to-back atmospheric rivers sent water rushing over levees and onto properties and roadways. The storms contributed to nearly two dozen deaths, including people trapped by floodwaters and killed by falling trees.
Officials are hoping to prevent a repeat of that deadly scenario and were making strategic releases from the state's swelling reservoirs to make room for incoming flows. At Lake Oroville, California's second-largest reservoir, officials had increased releases from the Hyatt Power Plant and were planning to open the main spillway Friday afternoon – marking the first use of the spillway since April 2019.
Operators also were ramping up releases from Lake Shasta, Millerton Lake and Folsom Lake, among others, to prevent overtopping. Folsom Lake primarily acts as a flood-control system for the Sacramento area.
The threat won't ease when this storm moves out this weekend. Another atmospheric river is expected to follow early next week, and there is a potential for a third around March 19, according to state climatologist Mike Anderson.
In Fresno on Friday morning, Clovis resident Sheri Sinclair said rain had started flooding her yard. She was picking up sand bags from the city, which she planned to place around her house.
"This is unprecedented – a once-in-a-lifetime thing – and we need to heed the warnings," said Sinclair, 62.
Sinclair said she has plenty of food and a pump to help empty her yard. But she feared the storm could be even worse than the ones in January.
"This is gonna be bad," she said.
---