News > Pacific NW
Leprechauns, shamrocks and Irish spirit fill downtown Spokane
March 11, 2023 Updated Sat., March 11, 2023 at 9:20 p.m.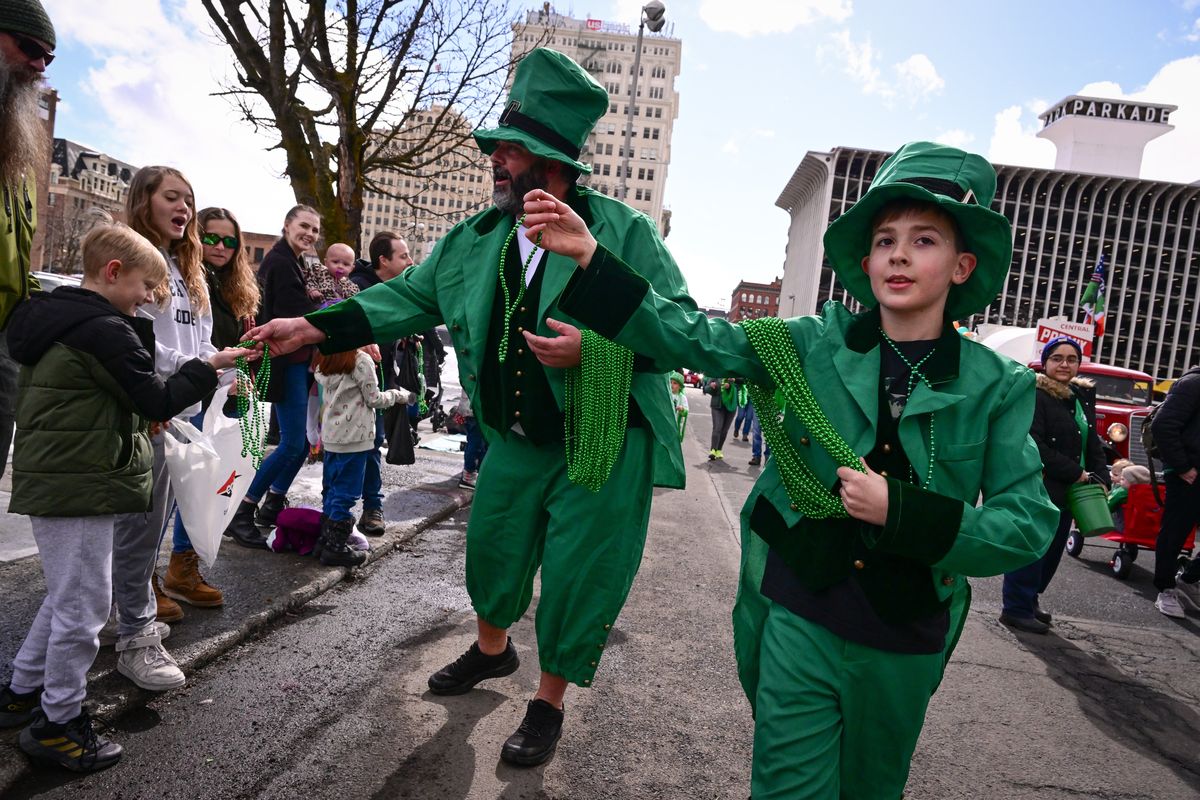 Jim Cameron Jr., left, and his son Jim Cameron III hand out beads to parade goers Saturday during the 43rd annual St. Patrick's Day Parade in Spokane. (Tyler Tjomsland/The Spokesman-Review)Buy a print of this photo
A sea of green descended upon downtown Spokane on Saturday.
Thousands of people donning green leprechaun hats, green beaded necklaces and green shamrock designs returned to the sidewalks to watch the 43rd annual St. Patrick's Day Parade.
"It's one big event that we do here that everyone tends to show up for in town," said Jordan Martin, an Irishman who wore beads around his neck and a black Guinness cap.
Floats, trucks and even horses decked out in green slowly meandered through downtown, starting on Washington Street near Riverfront Park and ending near City Hall.
A David's Pizza fire engine and several concrete and asphalt trucks followed a procession of bagpipers and drummers from Spokane County Firefighters Pipes and Drums.
Adults watched from the edge of the streets with some drinking adult beverages on patios at O'Doherty's Irish Grille and Flatstick Pub. Many children were the closest to the action as they collected candy from parade participants or, at times, frantically picked up pieces that had fallen on the street.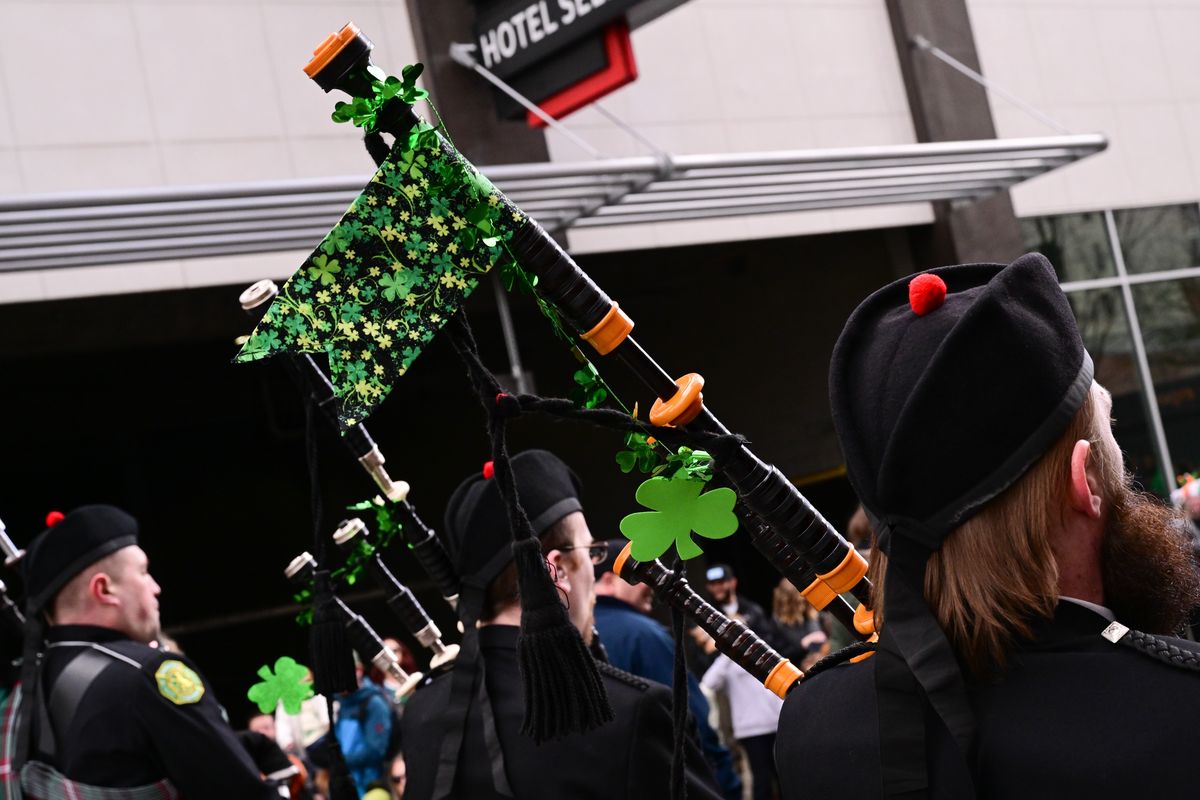 Bagpipers adorned their instruments with Irish decor during the 43rd Annual St. Patrick's Day parade on Saturday, March 11, 2023, in Spokane, Wash. (Tyler Tjomsland/The Spokesman-Review)Buy a print of this photo
Martin said attending the parade is a tradition in his family. He said watching his niece and nephew have fun Saturday took him back to fond parade memories he had as a youth.
His niece and nephew had collected a full bag of candy by the time the parade ended. Arlow Bowers, Martin's nephew, had Swedish Fish and Skittles in his small bucket.
Martin said they planned to continue the tradition by going home for corned beef and cabbage.
Ryan Burdick's 5-year-old son also racked up a huge bag of candy.
"He got too much," Burdick joked.
Meanwhile, Jade Inderrieden, 8, was one of a herd of Girl Scouts who walked in the parade.
"There was a lot of people cheering, and then I got to go with an older Girl Scout and we handed out stuff," she said.
Inderrieden's mother, Kelly, said she and her other three daughters watched the parade as they do every year.
"It's fun, and then this year was extra special because she was in it," Kelly Inderrieden said.
The pandemic forced the parade, organized by the Friendly Sons of St. Patrick, to cancel for two years before returning last year.
Danielle Neal said Saturday was probably the 15th St. Patrick's Day Parade she and her family attended, but they had not been in a few years.
"We're excited to be able to be here again," Neal said.
A group of tradespeople, including Spokane Tradeswomen and Southwest Carpenters' Local 59 union, carried a banner in the parade honoring Ana Vetter, who died Tuesday building a hotel at the Spokane Tribe Casino. The group wore bands around their arm that said, "Ana," in pink letters.
Sloan Duncan, a journey-level carpenter with Local 59, helped carry a Local 59 banner behind the Vetter banner. She met Vetter in 2018, and the two became friends.
Duncan said Vetter knew she wanted to be a carpenter even before she finished her preapprencticeship. She called Vetter a "wonderful person" and "hard worker" who "knew her craft extremely well."
"She loved being a carpenter," Duncan said. "She loved her work."
Local journalism is essential.
Give directly to The Spokesman-Review's Northwest Passages community forums series -- which helps to offset the costs of several reporter and editor positions at the newspaper -- by using the easy options below. Gifts processed in this system are not tax deductible, but are predominately used to help meet the local financial requirements needed to receive national matching-grant funds.
Subscribe now to get breaking news alerts in your email inbox
Get breaking news delivered to your inbox as it happens.
---