Sports > Outdoors
A day in the life of a fish and wildlife biologist
Sun., March 12, 2023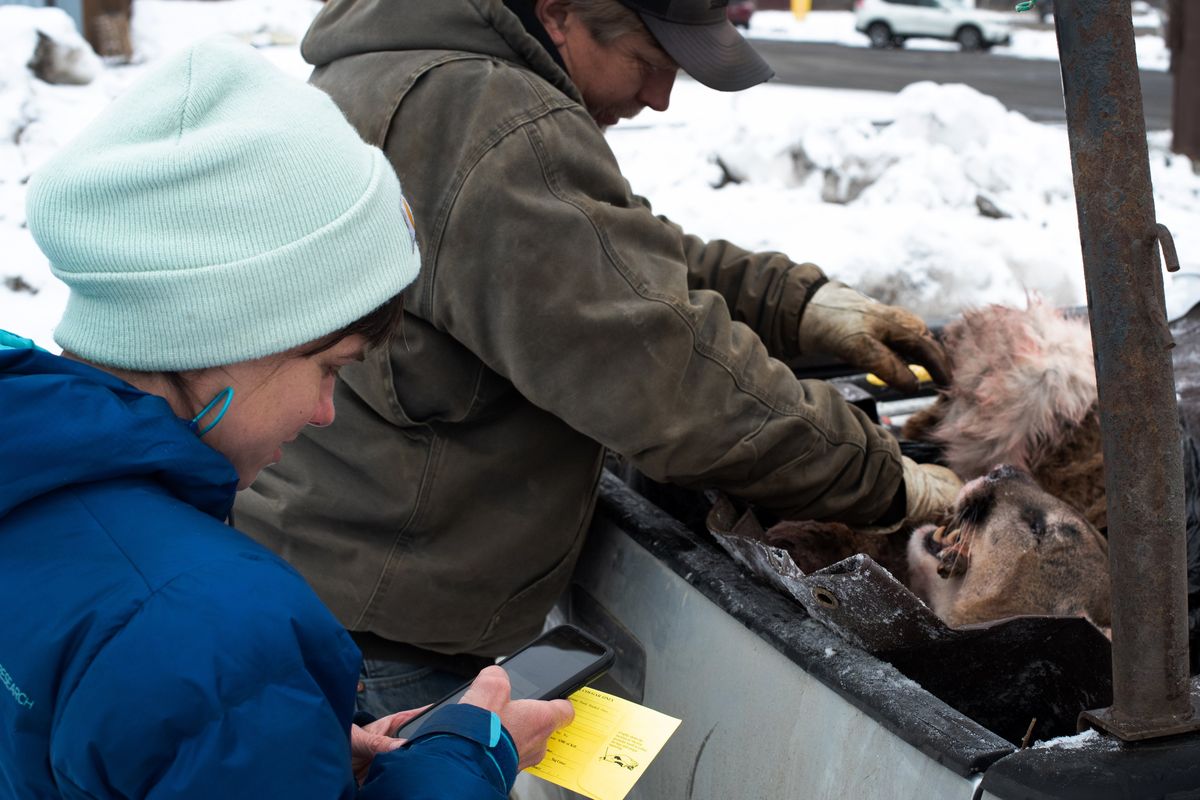 Annemarie Prince, left, a biologist with the Washington Department of Fish and Wildlife, collects information about a dead cougar in Stevens County on Jan. 23. (Eli Francovich/The Spokesman-Review)
In a broad, snow-kissed valley near the impossibly wide Columbia River two biologists hunt for disease amidst signs of slaughter. It's late January and Annemarie Prince and Ben Turncock, two Washington Department of Fish and Wildlife biologists, are digging through the corpse of a deer looking for its lymph nodes. It's bloody and smelly work since he deer most likely was killed by coyotes, an animal not known for tidy eating habits.
The task is made more difficult by the fact that the lymph nodes are small, bean-sized organs, located near a deer's brain. Despite the organ's diminutive stature, they're a vital detection tool for biologists trying to locate chronic wasting disease.
While chronic wasting disease hasn't been detected in Washington, the neurological disease has steadily marched west and has been confirmed in Idaho and western Montana. Recent deer culls in Slate Creek, south of Grangeville, Idaho, have found CWD in 12% of the 164 animals tested.
Washington wildlife officials have ramped up their efforts to detect the disease in hopes of slowing its spread, if it does make it to Washington.
As part of that effort, Prince and Turnock jumped into their truck and drove from Colville to the homestead after the landowner reported a dead white-tail deer. In addition to collecting the lymph nodes, Turnock and Prince conduct an investigation of sorts, trying to determine what killed this particular animal and, roughly, when. Much like detectives on a murder scene, they look for telltale signs, bite marks, blood spatters and of course the perp's paw prints. In this case, they believe it was most likely coyotes.
All of which is just another day in the life of a wildlife biologist, Prince said.
Prior to the CWD investigation, they met up with a hunter who'd legally killed a cougar. They took a tooth from the big cat and chatted with the man about what he'd been seeing in his neck of the woods. The tooth sample will be analyzed to see the animal's age and general body condition.
Later, they spent 20 minutes digging through a Department of Transportation carcass pit, a macabre dumping ground where road-killed animals are left. There they collected three more lymph node samples.
One commonality throughout the day? The landowners and hunters they interacted with are polite and helpful, a fact that flies somewhat in the face of more heated anti-department rhetoric.
"Most of the landowners we talk to are nice like that," Prince said. "Despite the rhetoric out of northeast Washington."
Local journalism is essential.
Give directly to The Spokesman-Review's Northwest Passages community forums series -- which helps to offset the costs of several reporter and editor positions at the newspaper -- by using the easy options below. Gifts processed in this system are not tax deductible, but are predominately used to help meet the local financial requirements needed to receive national matching-grant funds.
Subscribe to the sports newsletter
Get the day's top sports headlines and breaking news delivered to your inbox by subscribing here.
---