News > Pacific NW
WSU women's fans celebrate in Pullman, while Zag fans on spring break hope for deep run on Selection Sunday
March 12, 2023 Updated Sun., March 12, 2023 at 9:52 p.m.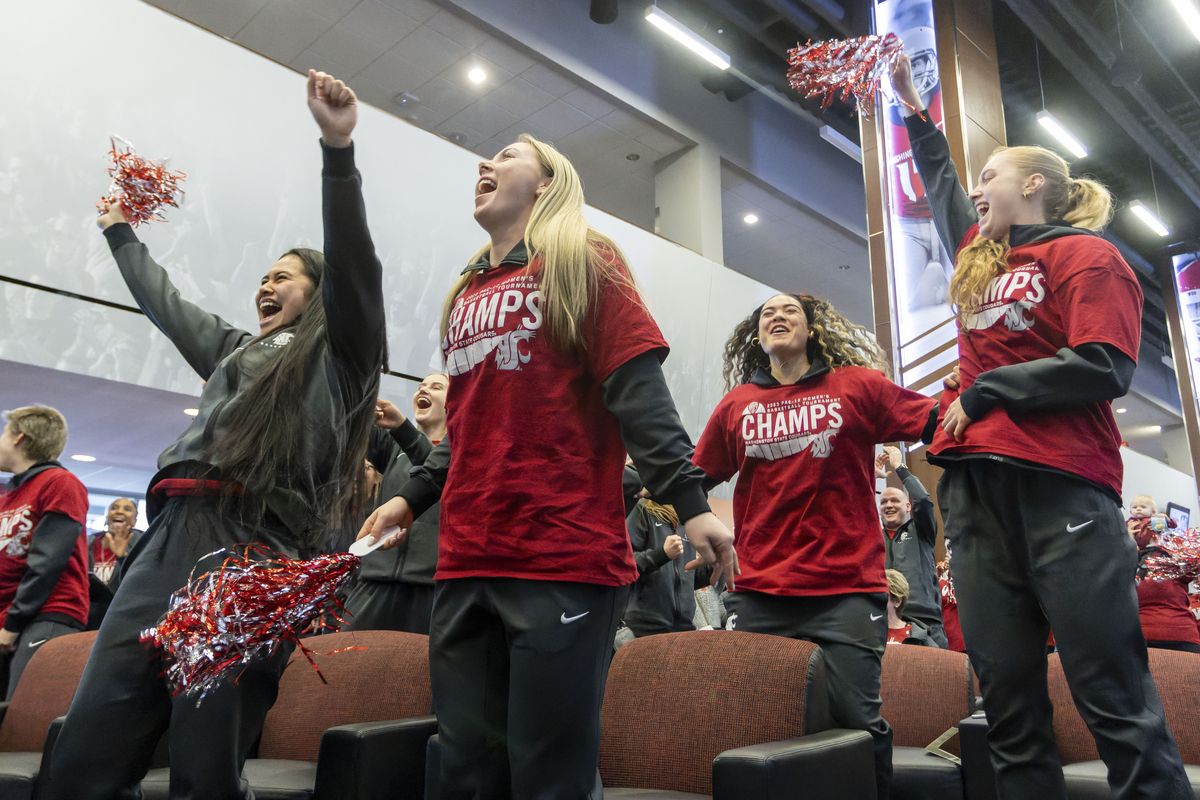 Members of the Washington Sate University women's basketball team celebrate during an NCAA Tournament selection watch party on Sunday at Gesa Field in Pullman. The team will play Florida Gulf Coast in the first round on Saturday. (Geoff Crimmins/For The Spokesman-Review)
An eruption of cheers, hugs and red and white pompom-waving was the scene when the Washington State University women's basketball team and its fans saw their school's name flash across the ESPN screen Sunday.
It showed the team, fresh off their PAC-12 tournament title win, will play as a fifth seed against 12th-seeded Florida Gulf Coast University in the first round of the NCAA Tournament Saturday in Philadelphia.
"I just can't wait to see how far they go," said John Denherder, one of the couple hundred Cougars fans who showed up to the tournament selection watch party at Gesa Field in Pullman.
"Really rooting for them to get past the first round of the tournament this year and break another record," Denherder said.
Selection Sunday drew many interested observers in the Inland Northwest on Sunday, with the WSU women and both the men's and women's teams at Gonzaga University finding out their NCAA Tournament draw. Later Sunday, local basketball fans learned the WSU men would take on the Eastern Washington University Eagles in the first round of the NIT.
With spring break beginning at Gonzaga, and a 25th consecutive berth for the men assured, the mood was more subdued in Spokane. But fans of the WSU women's team are hoping to see the squad win their first NCAA Tournament game on Saturday.
"I'm just super excited for the team and how well they've done this season," Denherder said. "I've seen a lot of growth."
The players walked into the watch party room Sunday and were greeted by screaming Cougars fans, many donning the school's crimson colors, as well as cheerleaders and band members.
The players, wearing gray Cougars athletic clothing and matching gray and black Nikes, formed a line and were introduced one by one.
WSU forward Ula Motuga said she did not know how many fans to expect at the party, but said it was awesome to see the large turnout.
"Everything that we've achieved this year, all of our success obviously is for each other, but more importantly it's for the community," she said. "I'm just happy that fans were able to come and enjoy this moment with us. They deserve it more than anyone else."
Charlisse Leger-Walker, the Pac-12 tournament's Most Outstanding Player, said the past two selection shows were "nothing like today," noting fans could not attend one of them because of the pandemic.
"Coming out today and turning the corner and seeing how many people are behind us and behind our team, it's amazing," she said.
Denherder said the team's fan base is growing.
"It's energizing to be around people and to be supporting these women who have worked so hard," he said.
Sue Durrant, who coached the team in the 1970s and earl '80s, said the fifth seed – the team's highest ever – was well deserved.
"They're playing well and they play well away from home, so I think our chances are pretty good," Durrant said.
"I think it's a long time coming," she added. "It's very nice to see them do so well this year. It means a lot to the program and to the university and to the supporters here."
Meanwhile, WSU Athletic Director Pat Chun called WSU "one of the best damn teams in the country."
"I know we got weeks left in our season," he said. "I know that we're excited to get back on the court."
A few hours earlier, and up the road about an hour at the home watering hole for Zag fans, Jack & Dan's Tavern, regulars were buzzing with Selection Sunday analysis as a KHQ-TV crew set up shop.
"It's anyone's game," attorney and Gonzaga alumnus Bob Fischer said of the competition. "There's so much parity here."
While the women Cougars were celebrating their highest seed in the tournament, Gonzaga's third seed was lower than in previous years. They'll play Grand Canyon University in the first round of March Madness on Friday.
"With No. 1 you always have a target on your back. No. 3 puts us in the pack," he said. "I think we do a nice job with Grand Canyon. I think ultimately, we meet TCU and then on to UCLA."
The response was much quieter on Gonzaga's campus, as a slow trickle of students strolled through a mostly vacant campus ahead of spring break. Among the few students on campus, Tate Beasley, 20, said she's hopeful for both the men's and women's teams this year as she was preparing for a run near Mulligan field.
"I know this season they had some rough games, but they pulled through, especially against Saint Mary's," Beasly, a sophomore, said of the men's team. "They are an underdog. I think they fight better when they have to prove themselves."
Two of Beasley's friends are on the women's team, said Beasley, herself a runner on the track team.
"They've improved a ton on the team," she said of the women. "I just want to see them go as far as possible."
Later, it was announced the women would play Ole Miss, also on Friday, as a No. 8 seed in the tournament.
At the nearby John J. Hemmingson Center, guest services employees Karianne Bolma and Cassie Dimaio said they think this year's competition is going to be more intense than previous years.
"From what I hear is that it's gonna be somewhat of a tossup because all of the teams are really competitive this year," said 23-year-old Bolma, a graduate student.
"I just hope to see us get past the first round," said 20-year-old Dimaio, a junior.
Local journalism is essential.
Give directly to The Spokesman-Review's Northwest Passages community forums series -- which helps to offset the costs of several reporter and editor positions at the newspaper -- by using the easy options below. Gifts processed in this system are not tax deductible, but are predominately used to help meet the local financial requirements needed to receive national matching-grant funds.
Subscribe now to get breaking news alerts in your email inbox
Get breaking news delivered to your inbox as it happens.
---