Sports > Gonzaga basketball
Gonzaga-Grand Canyon matchup a family affair for Roger Powell Jr., Bryce Drew
March 13, 2023 Updated Mon., March 13, 2023 at 8:44 p.m.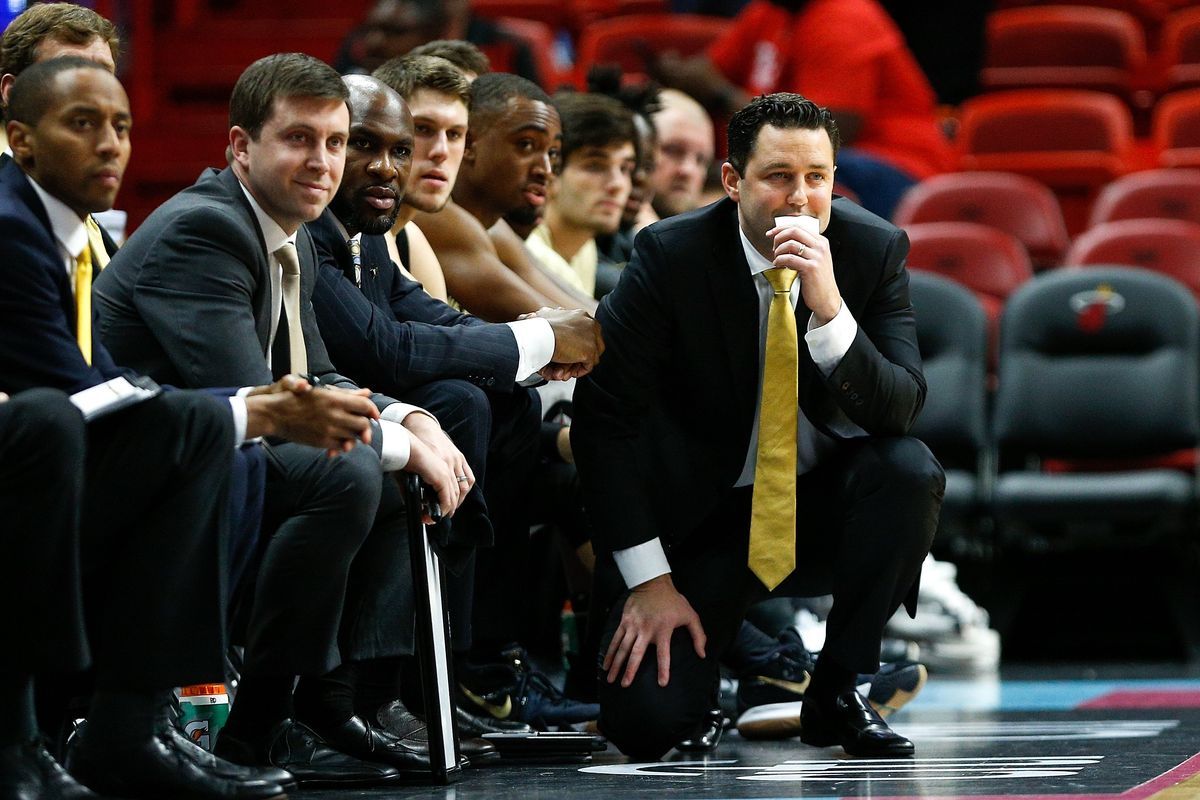 Gonzaga assistant coach Roger Powell Jr., third from left, and Grand Canyon head coach Bryce Drew, right, look on while on the staff of Vanderbilt on Dec. 1, 2018. (Getty Images)
Gonzaga assistant coach Roger Powell Jr. and Grand Canyon head coach Bryce Drew do what close friends do. They call each other and send text messages. Their families vacation together at Disneyland. Powell's 9-year-old son, Liam, and Drew's son, Bryson, are best friends.
Last week in Las Vegas, Powell and Drew had two good reasons to celebrate as Gonzaga won the West Coast Conference tournament and Grand Canyon claimed the Western Athletic Conference tournament four days apart at the same venue, Orleans Arena.
"We were together at the WCC tournament," said Powell, an assistant on Drew's staff at Valparaiso and Vanderbilt before joining Gonzaga's program four years ago. "We went to dinner. They stayed at the hotel and our kids had a sleepover when we were in Vegas.
"We're like family."
As Selection Sunday approached, Powell and Drew began to wonder: What if Gonzaga and Grand Canyon matched up in the NCAA Tournament? Drew, whose brother Scott is the head coach at Baylor and beat the Zags in the 2021 national championship game, had another first-round possibility to consider: What if Grand Canyon faces Baylor?
When third-seeded Gonzaga and No. 14 Grand Canyon appeared in the same bracket on the television screen, Powell's reaction was muted. "Oh boy," he said, "but then, hey, it's exciting. I'm excited for Bryce that he's in. He did a great job getting them there."
"It's bittersweet, having to play them," Drew said. "It's basically the same (as facing Baylor) because Roger is like a brother. We're super close, everything in life. I told him no matter what, we're going to be friends."
Same goes for Liam and Bryson.
"They just came to our game in Las Vegas," Drew said. "Liam stayed the night in our hotel room. I'm sure for the game they'll be cheering for their dads and after the game they'll be playing and laughing together."
Powell tweeted a picture of GCU celebrating its WAC championship Saturday night with the following words: "Put some respect on his name!! Bryce Drew!!!"
"And the next day," Powell said, "I'm watching film to get ready to play them."
Powell knew about the Drew family from his days as a standout forward at Illinois. He played against Valparaiso, coached by Homer Drew, father of Bryce and Scott.
The connection grew tighter when Powell, after a short NBA stint, played professionally overseas and became friends with Casey Shaw, a 6-foot-10 forward who was in the same league in Italy. Shaw's wife, Dana, is Bryce's sister.
That started the ball rolling on Powell, at age 28, leaving behind a lucrative pro career to join Bryce when he succeeded Homer as Valparaiso's head coach in 2011-12.
"I was making great money, I could have had a chance to get back into the NBA, but my heart was into mentorship and working with young athletes," Powell said. "Dana and Casey were the ones that kind of connected us.
"So I started talking to Bryce, it was Skype in those days, and the relationship grew. I was always close to the family through Dana and Casey and I always had great respect for Homer. My wife (Tara) told me, 'You'd be a great coach.' I said, 'No way, I make too much money, but at a place like Valpo I'd consider it.' "
That was two years before Powell joined Drew's staff.
"It's kind of a surreal thing," Powell said. "Coaching college kids is the perfect place to mentor and work with kids. I told my agent and he said, 'Are you crazy?' I said, 'I guess, but this is my heart.' "
Drew is thankful Powell chose with his heart over his wallet.
"I think he felt a calling to get into coaching," said Drew, who hit one of the most memorable shots in tournament history 25 years ago, a 3-pointer at the buzzer on a well-designed inbound play by his dad as Valparaiso beat Mississippi 70-69. "He was definitely in the prime of his career. That desire to help young men trumped his desire to make a lot more money."
Valparaiso won four regular-season and two Horizon League tournament titles and played in two NCAA tournaments in Drew's five seasons. Drew then accepted the job at Vanderbilt and, with Powell and Shaw as assistants, made the Big Dance in his first season before the team struggled with injuries the next two years.
Drew, with Shaw as an assistant, has guided Grand Canyon to two NCAA Tournaments in his three seasons. The Lopes faced adversity with the loss of WAC preseason player of the year Jovan Blacksher Jr. to a season-ending knee injury in January, but they won their last six, including four straight to claim the WAC Tournament.
"Bryce is a hard-nosed coach, great X's and O's guy, players' coach, played at a high level and knows the game inside and out, very passionate," Powell said. "I remember talking to him when (Blacksher's injury) happened and he was like, 'Gosh, can I catch a break.' I just told him to stick with it, you guys will be fine.
"Shoot, they went on this run and it's been awesome."
A sizable group of former Valparaiso and Vanderbilt players and staff are planning to attend Friday's game in Denver. Homer Drew will be on hand to watch GU-GCU and Scott's Baylor squad face UC Santa Barbara on Friday morning at Ball Arena.
Powell has no regrets about his decision to take a big pay cut and join the coaching ranks in 2011-12. In 12 years, he's been to seven NCAA tournaments, including all four seasons with the Zags and three with Drew at Valparaiso and Vanderbilt.
"It's crazy to experience that," Powell said. "Some people never get an opportunity to win a championship. Family, basketball, mentorship and winning, that's what we know."
Powell and Drew have spoken a couple of times since Selection Sunday.
"We were like, 'Can you believe this?' but it is what it is," Powell said. "And I talked to Casey and told him, 'Don't stay up late (preparing), get some rest,' just joking around."
Local journalism is essential.
Give directly to The Spokesman-Review's Northwest Passages community forums series -- which helps to offset the costs of several reporter and editor positions at the newspaper -- by using the easy options below. Gifts processed in this system are not tax deductible, but are predominately used to help meet the local financial requirements needed to receive national matching-grant funds.
Follow along with the Zags
Subscribe to our Gonzaga Basketball newsletter to stay up with the latest news.
---