News > Religion
100-year-old Holocaust survivor visits Spokane to share his story
March 14, 2023 Updated Wed., March 15, 2023 at 9:44 p.m.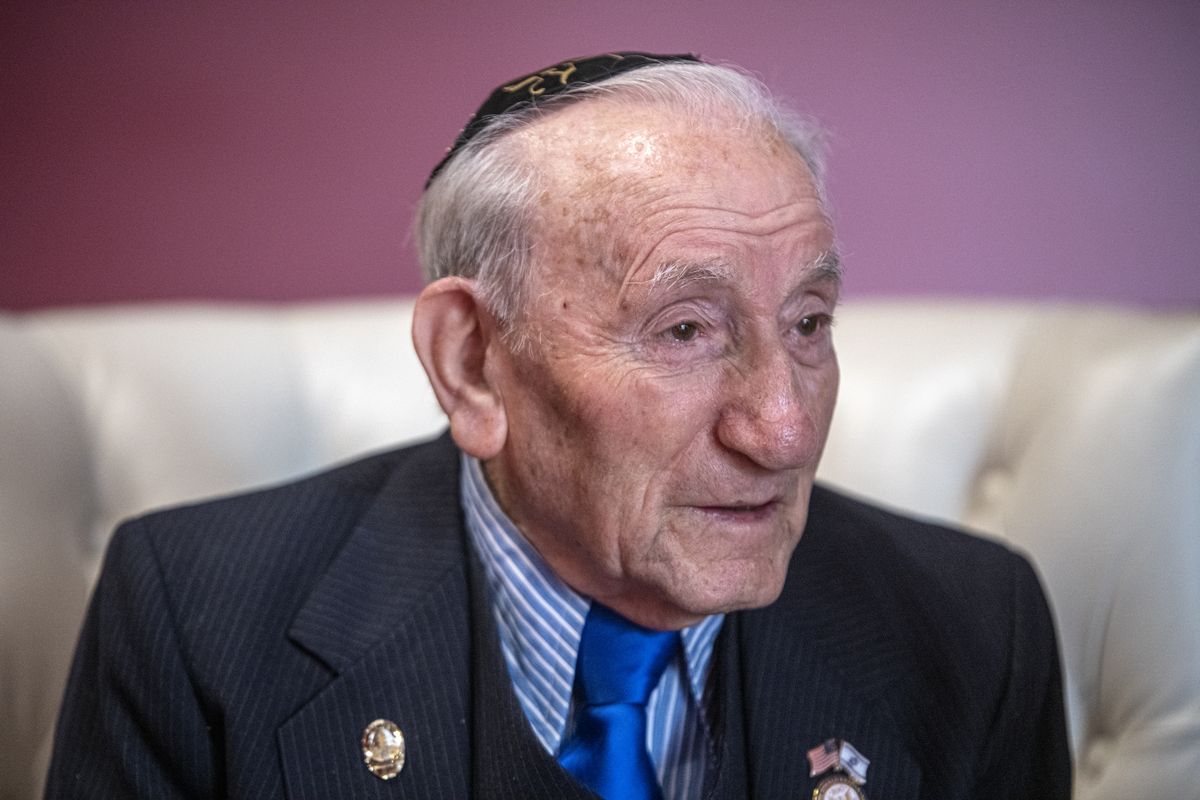 Joseph Alexander tells his story during an interview Monday at the Davenport Grand Hotel in Spokane. Alexander was a young teen living in Poland when he was imprisoned in a dozen Nazi concentration camps. At the age of 21, he was at Dachau when American soldiers liberated the concentration camp. (Jesse Tinsley/THE SPOKESMAN-REVI)
Joseph Alexander was having a happy childhood until 1939 when the Germans arrived in his hometown of Kowal, Poland.
He spent the next few years surviving the Holocaust.
From 1939 to 1945, Alexander lived in 12 concentration camps. He narrowly avoided the gas chamber. He lost his mother, father, brother and two sisters – all of his immediate family.
Now 100, Alexander wants to share his experience as widely as possible so future generations won't forget the atrocities committed by Adolf Hitler and the Nazis. Alexander told his story Monday night during an event at the Spokane Convention Center. The event was organized by Chabad of Spokane County.
Shortly after the Germans showed up in Kowal, Alexander and his family fled to Blonie, Poland, where two of his aunts lived. In Blonie, the Germans forced him to work.
Alexander, then a teenager, helped build a canal while standing in frigid water without boots. He got blood poisoning – a serious infection – in his legs.
Life only got worse from there.
The German military took Alexander and his family to the Warsaw Ghetto, where they lived with thousands of other Jews.
"The ghetto life was terrible," Alexander said in an interview Monday before the event. "People would die every day, on the streets, on the sidewalk, everywhere."
After about five months in the ghetto, Alexander's father paid off some guards. The bribe allowed Alexander, his brother and a sister to escape back to Kowal.
It was a brief respite. After a short time with his siblings in Kowal, he never saw any of his family members again.
Alexander spent the next few years in concentration camps.
He remembers nearly starving and eating scraps of bread, coffee and potato-skin or spinach soups.
"From that food we were getting, you couldn't survive," Alexander said, explaining that civilians gave prisoners additional food that kept them alive.
The work changed at different camps. Alexander helped build dams, railroads, cobblestone streets, airports, sewers and roofs.
"It was very hard work," he said.
Alexander saw death everywhere. Prisoners in the concentration camps died so quickly that the Germans would merge two or three of the camps together as the populations fell.
At one point, Alexander remembers being crammed into a cattle train with hundreds of other Jews. Roughly a third of the people on the train, deprived of food and water, died during the three-day trip. The rest of them got off at Auschwitz.
Dr. Josef Mengele, a Nazi nicknamed the "Angel of Death" for the horrific experiments he conducted on prisoners, sorted the arrivals into lines. Mengele put Alexander in the line bound for the gas chambers, but it was night and he managed to run to the other line unseen.
"If I didn't get back to the other side, I wouldn't be here now," he said.
Many of the prisoners at Auschwitz and Birkenau had lost the will to live, Alexander said.
"I saw people run into the electric fence to get electrocuted," he said. "I saw people beaten to death, because they gave up."
Over the next couple of years, Alexander spent more time in the Warsaw Ghetto and other concentration camps, including Dachau. U.S. troops liberated him while he was in the midst of a death march.
Alexander spent four years in Europe after the war before coming to America on May 30, 1949.
He worked as a tailor for six months in Harrisburg, Pennsylvania, before moving to Southern California to be near his lone surviving family member – a cousin. He kept working as a tailor, married and had two children.
Alexander, who has a sharp mind and walks without a cane, has told his story thousands of times. He started telling it at schools in 1997 and has now spoken at hundreds of events throughout the world.
Despite losing his family and experiencing the horrors of the Holocaust firsthand, Alexander says he never thought of giving up.
"I never lost faith," he said, "I never stopped believing in God."
Local journalism is essential.
Give directly to The Spokesman-Review's Northwest Passages community forums series -- which helps to offset the costs of several reporter and editor positions at the newspaper -- by using the easy options below. Gifts processed in this system are not tax deductible, but are predominately used to help meet the local financial requirements needed to receive national matching-grant funds.
Subscribe now to get breaking news alerts in your email inbox
Get breaking news delivered to your inbox as it happens.
---