Sports > Gonzaga women
Reserves helped Gonzaga women overcome injuries, stay atop West Coast Conference
March 14, 2023 Updated Thu., March 16, 2023 at 1:19 p.m.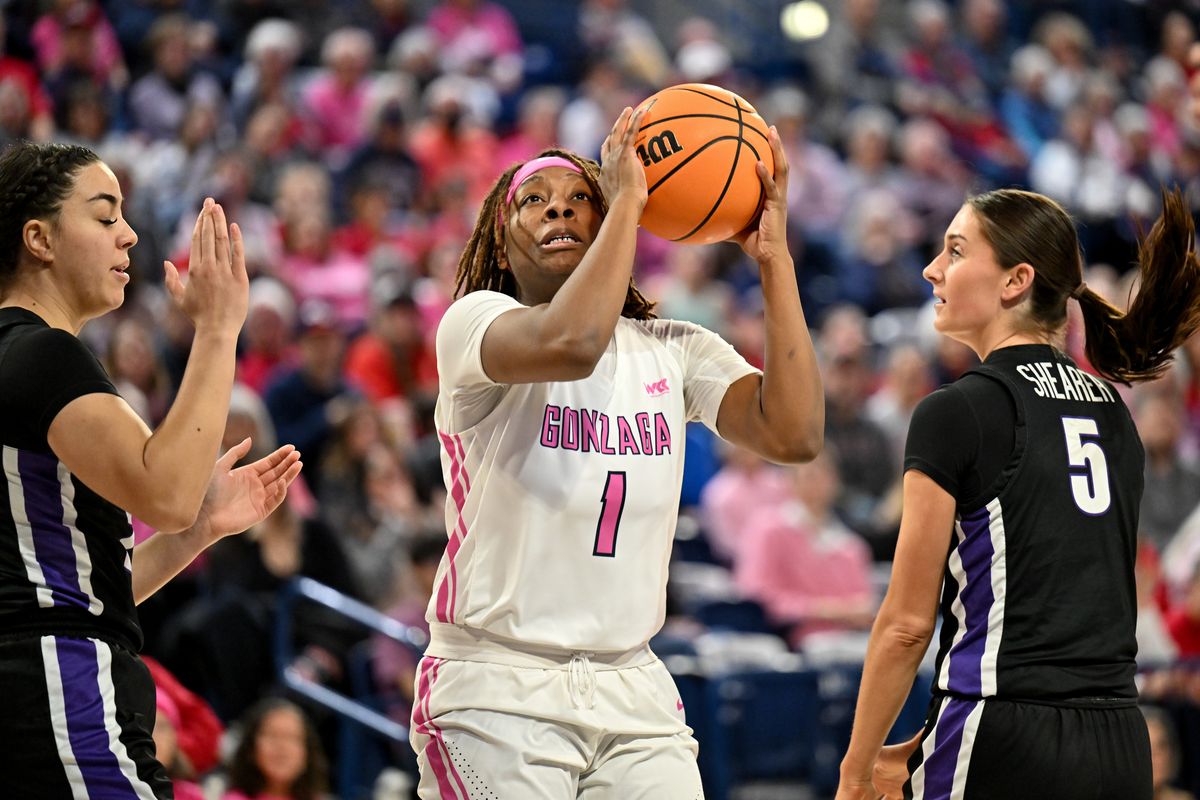 Gonzaga forward Destiny Burton looks for an opening against Portland during a West Coast Conference game on Feb. 11 at McCarthey Athletic Center. (Tyler Tjomsland/The Spokesman-Review)
When the Gonzaga women's basketball season began, Calli Stokes and Payton Muma were coming off redshirt seasons and just hoping to get some court time.
Esther Little had played little the previous year, and Destiny Burton was a newcomer via the transfer portal, not sure whether she could make the transition from junior college ball.
Five games into the season, they got much more than they expected – and so did the Zags.
All four players made critical contributions during the bulk of the season, helping Gonzaga finish the regular season 27-3 overall and atop the West Coast Conference by two games.
With the Zags back at full strength and heading to the NCAA Tournament , they will probably seeing reduced roles. But all are seeing the experience as an investment for the future – their own and the program's.
"I think the word I would use is 'grateful' for the opportunity," said Little, a versatile 6-foot-2 guard from Ipswich, England.
Little played in 15 games last year, but that added up to just 71 minutes of playing time, seven rebounds and three points.
Things didn't change this year, at least not at first. Then came the mid-November injuries to starting guard Kayleigh Truong and Maud Huijbens, illnesses to others, and suddenly Little was getting double-digit minutes for the first time in her collegiate career.
On Dec. 4, the Zags were down to seven players, playing at then-No. 2 Stanford and needing a big contribution from Little.
She came through, getting four rebounds and two assists in 27 minutes.
Later, as the lineup fluctuated, Little found her niche on defense. She finished the regular season with 84 rebounds and 15 blocks.
"With all the injuries, I didn't know what to expect every time a game came around," Little said. "I was just trying to fulfill the role that was needed … but defense is something I take a lot of pride in."
Little's offense shined when the Zags needed it most. In a crucial WCC game at Portland on Jan. 14, she had a career game with 12 points and nine boards as GU took over first place.
Burton's experience was more abrupt. After two years at a community college in Texas, she was expected to back up Yvonne Ejim, Eliza Hollingsworth and Huijbens in the frontcourt.
After a slow start much like Little's, the 6-foot Burton found herself in the starting lineup at Stanford after Hollingsworth missed the trip due to an illness.
"Stanford was a good step to build my confidence, know that coach looked at me to be physical," Burton said. "And I was able to push past that loss and play in these other games."
Burton is averaging two points and two boards, but came up big on Jan. 26 against Loyola Marymount after Hollingsworth suffered a concussion 5 minutes into the game.
Burton's eight points and two boards went far in helping Gonzaga hold off the Lions 66-55.
Last year, Stokes and Muma were best known for their end-of-the-bench antics that helped energize teammates and entertain the Kennel crowd.
Both players expected more and got it.
With Kayleigh Truong out, Muma played a crucial role in giving Kaylynne Truong a breather while bringing energy off the bench.
"I knew I had to step forward and help 'Lynne' out – 1 minute or 5 minutes, I was going to do everything I could," said Muma, who is averaging 1.4 points and has 25 assists.
"I think being comfortable is something I grew in as a player," Muma said.
No player had to step out of her comfort zone more than Stokes. Officially a guard, Stokes also saw action inside when Huijbens and Hollingsworth were both out.
"I definitely didn't expect it, and I don't wish that my teammates got hurt," Stokes said. "I'm just grateful for the opportunity to step up."
By season's end, Stokes was averaging 18½ minutes and almost four points and four boards. But much of her contribution never showed up on the stat line – it was her hustle plays and steals that made a difference.
"I was just being ready for what needed me to do, that was the biggest thing," Stokes said. "I was just grateful for that, and I think I've improved quite a bit.
"I was super excited for the opportunity to make the most of it."
Local journalism is essential.
Give directly to The Spokesman-Review's Northwest Passages community forums series -- which helps to offset the costs of several reporter and editor positions at the newspaper -- by using the easy options below. Gifts processed in this system are not tax deductible, but are predominately used to help meet the local financial requirements needed to receive national matching-grant funds.
Subscribe to the sports newsletter
Get the day's top sports headlines and breaking news delivered to your inbox by subscribing here.
---