News > Pacific NW
Retired Post Falls coach returns after chemo to lead all-star team: 'If I got to coach this team all the time, I'd come out of retirement for good'
March 14, 2023 Updated Fri., March 17, 2023 at 2:13 p.m.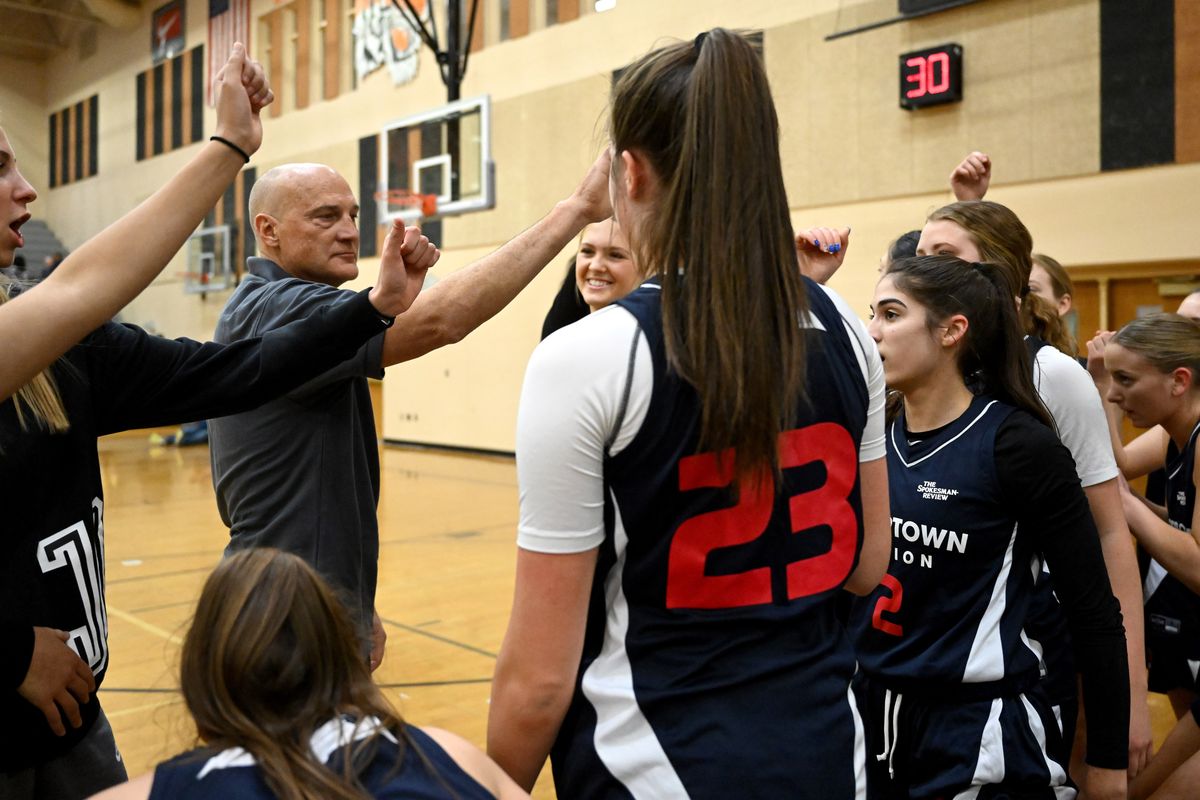 Marc Allert, former head coach at Post Falls High School, recovered from having a rare blood disease to coach the Region girls team during The Spokesman-Review High School Showcase basketball game Tuesday at Lewis and Clark High School. (Colin Mulvany/The Spokesman-Review)Buy a print of this photo
Having recovered from chemotherapy, a longtime Post Falls coach took a break from retirement Tuesday for an all-star game at Lewis and Clark High School.
This was the fourth time Marc Allert coached the Region team at the Jack Blair Memorial Girls All-Star Game, organized this year as part of The Spokesman-Review High School Basketball Showcase.
The game pits the best players from the Eastern Washington and North Idaho region against Spokane metro athletes.
"If I got to coach this team all the time, I'd come out of retirement for good," Allert, 59, joked.
Allert taught and coached in Post Falls for 32 years before retiring at the beginning of the school year.
Last year, he was diagnosed with a rare blood disease called amyloidosis, which causes a buildup of proteins in the bloodstream and affected his blood pressure.
Six months of chemotherapy eliminated most of those proteins.
"My numbers are pretty much back to normal," he said. "Things are on the mend now and getting better."
One of his former players, Capri Sims, played on the Region team.
"It was unfortunate what happened, but I'm glad he was able to coach this game," said Sims, a Post Falls senior. "I'm excited to play with him one last time, especially before I go to college."
Allert misses coaching more than teaching.
"Being retired has been all right. I highly recommend it," he said.
Allert coached boys basketball before becoming the girls head coach in 2011. He led the team to state titles in 2013 and 2018, and is a six-time Inland Empire League Coach of the Year and two-time state coach of the year.
But for him, the highlight was building relationships with the players and coaching his daughters.
"He always told me to be confident and just play as I play," Sims said.
She pushed herself this year, because she knew that's what he would have done if he was still coaching.
Like the rest of the athletes, this was Sims' first all-star game.
"It's exciting to be playing with some of my rivals instead of playing against them," she said.
The last all-star game was in 2018, when event runner Ron Adams retired after 25 years. The Spokesman-Review had planned to relaunch the game in 2020, but it was canceled by the start of the COVID-19 pandemic.
Allert said the all-star game is about having fun and showcasing talent.
"Obviously, in the back of your mind you want to win because you're competitive, but it's really not the main goal."
Brynn McGaughy, a forward and sophomore from Colfax High School, said Allert wasn't strict when they practiced over the weekend.
"He told us to work hard and have a good time," she said.
By night's end, Region pulled far ahead of Metro, winning 103-66.
Allert said he is happy to see the all-star game brought back.
"To keep it going and let people see the talent that is out there, I think it's a great deal," he said.
Local journalism is essential.
Give directly to The Spokesman-Review's Northwest Passages community forums series -- which helps to offset the costs of several reporter and editor positions at the newspaper -- by using the easy options below. Gifts processed in this system are not tax deductible, but are predominately used to help meet the local financial requirements needed to receive national matching-grant funds.
Subscribe now to get breaking news alerts in your email inbox
Get breaking news delivered to your inbox as it happens.
---