S-R Showcase: Colfax's Brynn McGaughy leads Region to big win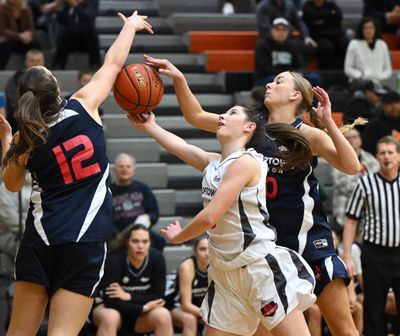 There must be something in the water in the hometowns of the Region all-star players as eight of its 14 players are over six-feet tall – while only one of the Metro players could say the same.
The Region team used its height and length to befuddle the Metro team who couldn't slow down Region for the two 20-minute halves.
Region won the 26th-annual Jack Blair Memorial girls all-star game 103-66 on Tuesday at a packed Lewis and Clark High School.
"I love the support," Colfax sophomore Brynn McGaughy said. "It always helps us play and a dry crowd makes it hard to perform, but when there's a bunch of people it's so much more fun to play."
It was the second consecutive win for Region, but only its fifth win in 19 tries since 2001.
The game hadn't been played since 2019 due to co-founder Ron Adams stepping down and then because of the pandemic.
"There are a lot of good players and have been for years," Region coach – and former Post Falls head coach – said. "A lot of good players come out of the Spokane area, and to get this thing back and let the kids showcase their talents, it is awesome. And I'm glad they've got this going again, to get it back is, I think, a huge benefit for Spokane."
Metro tried to work the perimeter, making five 3's, but the lid on the bucket was rarely lifted.
The boards were also controlled by Region with its size posing a problem for Metro there as well.
Metro coaches Mike Arte and Jim Redmond – former Gonzaga Prep and Lewis and Clark head coach respectively – tried to work through their designed sets, but it was a slogfest for most of the contest.
It was a relaxed performance for the Region team who had control of the game from the tip. A lot of it came from knockdown shooting from behind the arc, but also solid defensive rotations that kept Metro from getting easy looks.
"Put on a show, that's what people came to see you do," Allert said. "When you have talent like that, it's easy to just watch."
Region hit 12 3's and found a lot of space to operate in the paint on dribble drives.
A lot of that was funneled through McGaughy who was named MVP with a game-high 21 points.
Gonzaga Prep senior Lucy Lynn led Metro with 15 points.
"Just how smooth and effortless things are for (McGaughy), you can tell she understands the game," Allert said. "I think sky's the limit for her. She's not only a good player but being 6-3 and being able to handle the ball like that, you don't see that very often."
At halftime, Metro spent its break doing layup lines, trying to find some rhythm while Region was huddled up, laughing and watching McGaughy try to dunk.
"My job was to stay out of the way and not screw them up in two hours," Allert said. "Basically, they just kind of did their own thing, we put in one little set thing that we hardly ever needed to run."
For the first part of the second half, Metro tried to pressure Region from the inbound, scraping back into the contest.
They pulled within 15, but it was all Region the rest of the way who continued to extend its lead as the press break was solved.
Brynn McGaughy spent the pregame and the halftime periods attempting dunks and receiving alley oops from her teammates.
In-game, the sophomore from Colfax converted two alley-oops, one off the backboard from Kennewick junior Haylee Johnson and another from senior Madi Symons in the first half.
Turns out the one from Johnson was drawn up by the two during intermission.
"Honestly, I kind of just told them to lob it to me anytime, I'll go up for it," McGaughy said. "That's kind of my specialty. I like jumping and going up for those."
With McGaughy being a sophomore, expect to see her two more times flashing the play that is making her one of the top recruits on the west coast.
"It's just crazy how good a team can be," McGaughy said. "All these girls are going to go places. It's so cool, I know the next batch of girls are going to be even better and I'm excited just to see my development and theirs too."
---