Sports > High school sports
S-R Showcase: Lake City's Blake Buchanan named MVP of Denny Humphrey all-star game
March 14, 2023 Updated Tue., March 14, 2023 at 10:31 p.m.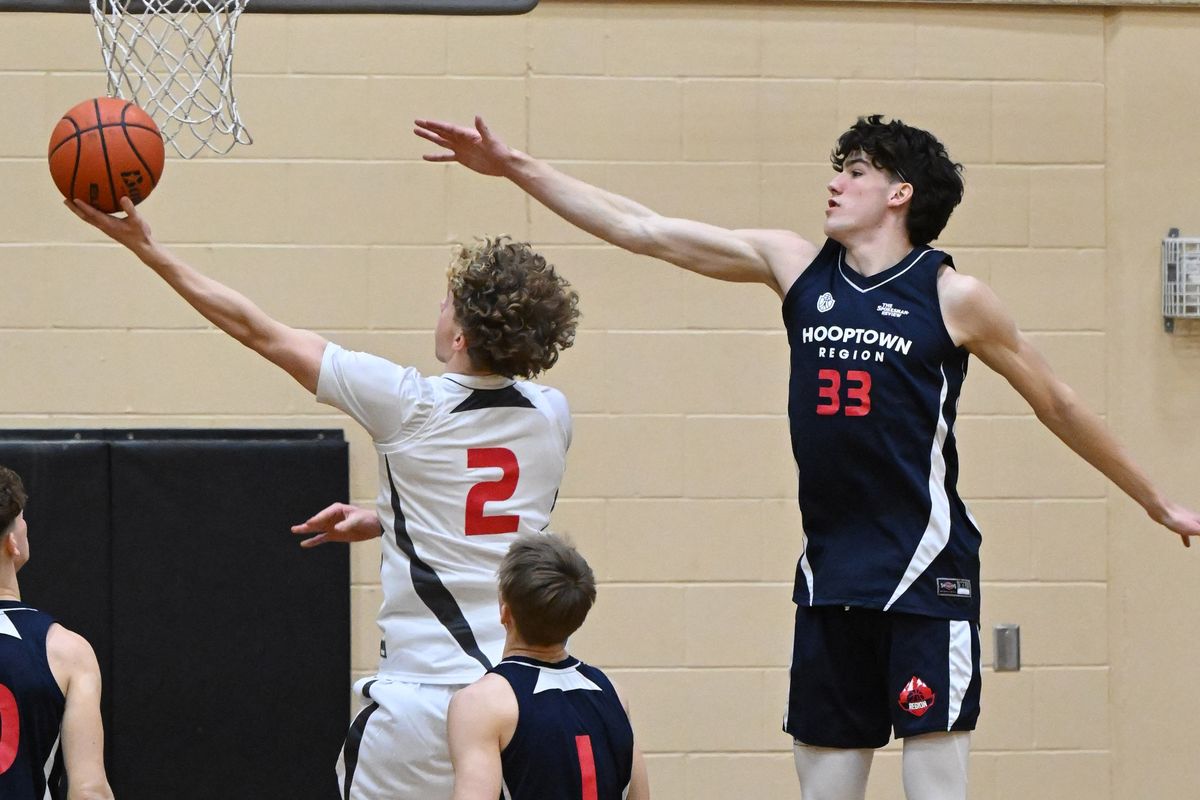 Metro guard Ryan Lafferty shoots a layup as Region forward Blake Buchanan defends during the Denny Humphrey Memorial All-Star Game Tuesday in Spokane. (Colin Mulvany/The Spokesman-Review)
While the Jack Blair Memorial All-Star Game for girls is in its 26th year, the Denny Humphrey Memorial All-Star Game for boys is in its first iteration.
In the inaugural boys game on Tuesday, the Region squad held off a late Metro push to win 112-100 at Lewis and Clark High School.
The 112 points are the second most in the history of high school all-star games in Spokane, falling just short of the 116 former Gonzaga player Jami Bjorklund and Metro scored in the 2004 girls game.
The youngest player in the boys matchup, Rogers sophomore Dujuan Haney, scored the first points of the showcase, but after those first two points, it was all Region, as its athleticism was on full display.
Lake City's 6-foot-10 senior Blake Buchanan and Davenport senior Tennessee Rainwater caused the most problems for Metro.
Buchanan was a mismatch every minute he was on the court and Rainwater found the smallest of gaps and sprinted through it to find the rim.
Buchanan was named MVP, finishing with a game-high 19 points on six dunks and a 3-pointer.
Rainwater added 18 points.
"It's a pretty talented group, on both sides," Region head coach Ron Cox – former Lakeside and Tekoa-Oakesdale coach – said. "Some of the things that happened in the course of this game was pretty amazing, it has been fun to be involved with."
"It was a lot of fun playing against the same guys who I compete with in AAU," Buchanan said. "It was fun to get going with them."
One of the most crowd-pleasing plays was a Rainwater alley-oop .
The Metro also had its moments.
Gonzaga Prep senior Jamil Miller attempted a windmill dunk on a breakaway, but slightly mishandled the ball on the final movement into the hoop.
He followed that up with a couple of dunks in the second half, including a one-handed putback that caused every player on both benches to stand up.
The Bullpups standout finished with 18 points. Mt. Spokane's Ryan Lafferty's scored 16 points and won the most inspirational award.
The game featured 22 dunks .
Buchanan said the goal was to put on a show and just go at it without going too hard and risk injury in an exhibition matchup.
Cox had a few sets drawn up for his boys, but they decided to improvise, which turned out to work well.
"I had a couple of sets that we added and they're like, 'Ehh, you know, I think we're just going to play'" Cox said. "And so we said 'OK, let's go with it.' There wasn't a lot of coaching over here."
Region had more fast-break points and quicker transitions back on defense to slow down Metro.
Region once led by 30 points, but saw its lead dip to 17 with 3 minutes left and 10 with 2 minutes left
.
"It's been pretty special," Cox said. "The Jack Blair has been pretty special for the girls and it's nice to have a guys showcase. It's a nice that they're pairing them together and it's going to make it a lot of fun every year."
Local journalism is essential.
Give directly to The Spokesman-Review's Northwest Passages community forums series -- which helps to offset the costs of several reporter and editor positions at the newspaper -- by using the easy options below. Gifts processed in this system are not tax deductible, but are predominately used to help meet the local financial requirements needed to receive national matching-grant funds.
Subscribe to the sports newsletter
Get the day's top sports headlines and breaking news delivered to your inbox by subscribing here.
---