Sports > NCAA basketball
Four Cinderellas who could bust NCAA women's tournament brackets
March 15, 2023 Updated Wed., March 15, 2023 at 9:40 p.m.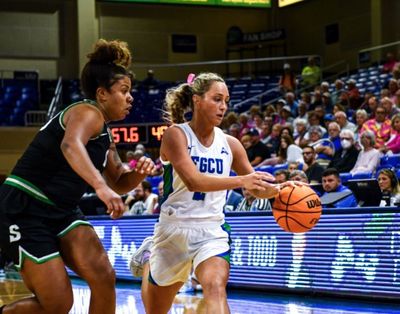 Few things in college basketball are more exciting than watching a midmajor school knock off a national powerhouse (or two). While Cinderella runs haven't historically occurred as often in the women's tournament, recent increases in parity suggest that's changing. Just ask South Dakota and Creighton, No. 10 seeds last season that advanced to the Sweet 16 and Elite Eight, respectively.
Who is going to be this year's version of South Dakota and Creighton? Keep these potential bracket-busters in mind while gearing up for March Madness.
(The chances of reaching the Sweet 16 are based on the results of the Her Hoop Stats prediction model and 20,000 tournament simulations. The historical chances of a given seed reaching the Sweet 16 reflect how often that seed has made it to the Sweet 16 in the history of the women's tournament.)
1. No. 11 seed Middle Tennessee State
Chance to reach the Sweet 16: 26.6%
Historical chance for a No. 11 seed to reach the Sweet 16: 10.2%
The Her Hoop Stats prediction model loves the Blue Raiders, and it's easy to see why after a quick review of their résumé. The Conference USA champions cruised to a 28-4 record, including 3-0 against teams with Her Hoop Stats ratings in the top 65. The Blue Raiders spent five weeks in the AP Top 25, including a No. 25 ranking in the first poll of March. Perhaps most eye-opening was MTSU's dominant 67-49 victory over then-No. 18 Louisville on Dec. 4, a statement win that served notice about what this mid-major program could do against power conference competition.
The Blue Raiders are effective on both ends of the floor, ranking in the Her Hoop Stats top 20 in offensive and defensive ratings. They're one of nine teams that meet those criteria, an exclusive group that includes the tournament's four No. 1 seeds. The Blue Raiders' balanced scoring attack features four players averaging double figures – Conference USA first-team selections Savannah Wheeler (15.1 points per game) and Courtney Whitson (10.4), conference tournament MVP Jalynn Gregory (13.7) and two-time C-USA sixth player of the year Kseniya Malashka (15.2). The defensive effort is led by fifth-year guard Alexis Whittington, a lockdown defender whose impact is reflected less in traditional defensive statistics and more in her ability to limit offensive opportunities.
Their many scoring options, potent defense and proven ability to beat strong competition should make the Blue Raiders a tough out for No. 6 Colorado in the round of 64.
2. No. 12 seed Florida Gulf Coast
Chance to reach Sweet 16: 26.5%
Historical chance for a No. 12 seed to reach the Sweet 16: 3.1%
Consisting almost exclusively of shots within 10 feet of the rim and 3-pointers, the Florida Gulf Coast shot chart this season is an analytics aficionado's dream. The Eagles' offense led Division I in 3-point rate for a fourth consecutive year, with over 47% of its scoring attempts coming from beyond the arc. The Eagles attempted 26 midrange jumpers all season, per CBB Analytics; Iowa's Caitlin Clark alone put up 110 such shots. Optimal shot selection is one thing, but knocking down those shots is another. Coach Karl Smesko's squad did both, ranking second in points per scoring attempt (1.18) and effective field-goal percentage (57.6%). It all resulted in a 32-3 record and a sixth straight Atlantic Sun Conference Tournament championship.
But will it add up to a Cinderella run, starting against No. 5 seed Washington State? The Eagles pulled off a first-round upset against Virginia Tech (another No. 5 seed) last March and, despite the loss of two-time Her Hoop Stats Becky Hammon Award winner Kierstan Bell, are arguably an improved team. They've seen upticks in several metrics, including scoring margin per 100 possessions.
Led by ASUN player of the year Tishara Morehouse, Florida Gulf Coast's multitude of options on offense has wreaked havoc on opposing teams. The Eagles are the only Division I team with four players shooting over 40% from beyond the arc (games versus Division I opponents only, with a minimum 50 3-point attempts). While a heavy reliance on the 3-point shot can be a double-edged sword, the Eagles' proficiency from long distance means you can never count them out of any game.
3. No. 9 seed South Dakota State
Chance to reach Sweet 16: 24.7%
Historical chance for a No. 9 seed to reach the Sweet 16: 2.1%
South Dakota State is a trendy upset pick – and for good reason. Tied for the nation's third-longest active winning streak at 21 games, the Summit League champions went 21-0 against conference opponents, with an average margin of victory of nearly 28 points. While cynics might discount such dominance in a mid-major conference, the Jackrabbits also performed well against the country's seventh-toughest nonconference schedule. They earned wins over four teams in the top 65 of the NET – Louisville (No. 20), Mississippi State (No. 39), Northern Iowa (No. 62), and Kansas State (No. 65) – and suffered single-digit losses to Creighton (No. 18) and UCLA (No. 22).
Even in its 18-point loss to top-seeded South Carolina, South Dakota State was effective on defense, holding the Gamecocks to their second-lowest scoring output of the season. Perhaps most impressive, the Jackrabbits, the nation's No. 1 team in defensive rebounding rate, held South Carolina to its second-lowest offensive rebounding rate this season (35.4%).
Loaded with experience – three of their starters have played a combined 15 seasons in Brookings – the Jackrabbits are poised to replicate their 2019 Sweet 16 run. South Dakota State is led by one of the country's most efficient scorers, two-time Summit League Player of the Year Myah Selland (15.7 points and 6.2 rebounds per game). Sophomore guard Haleigh Timmer (12.3 points) has been the team's most consistent scorer, putting up double digits in 17 consecutive games.
Experience combined with quality performances against a difficult nonconference schedule is a good recipe for a Cinderella run, and the Jackrabbits could be a second-round nightmare for No. 1 seed Virginia Tech. First up: No. 8 seed Southern California.
4. No. 10 seed Princeton
Chance to reach Sweet 16: 8.7%
Historical chance for a No. 10 seed to reach the Sweet 16: 5.0%
Defense wins Ivy League championships, but will it translate into a Sweet 16 appearance for Princeton? The Tigers, winners of four straight Ivy League Tournament titles, have ranked in the country's top five in scoring defense in each of the past three seasons. Led by two-time Ivy League Defensive Player of the Year Ellie Mitchell, Princeton limited opponents to 52.5 points per game, fifth in Division I. The Tigers' stingy defense nearly propelled them to a Sweet 16 berth last season, losing a 56-55 heartbreaker at No. 3 Indiana in the second round.
A similar performance will be difficult without 2022 Ivy League Player of the Year Abby Meyers, who transferred to Maryland. The Tigers still have four starters from last year's squad, including junior Kaitlyn Chen. The 5-foot-9 guard elevated her game in Meyers' absence, scoring 15.9 points per game on her way to conference player of the year honors. Despite attempting four more field goals per game and shouldering more of the offensive load this season, Chen's field-goal percentage improved by five percentage points.
With such a reliably effective defense and Chen firing on all cylinders, it's hard to pick against coach Carla Berube's squad, which starts with No. 7 seed N.C. State and could face No. 2 Utah in the second round.
Local journalism is essential.
Give directly to The Spokesman-Review's Northwest Passages community forums series -- which helps to offset the costs of several reporter and editor positions at the newspaper -- by using the easy options below. Gifts processed in this system are not tax deductible, but are predominately used to help meet the local financial requirements needed to receive national matching-grant funds.
Subscribe to the sports newsletter
Get the day's top sports headlines and breaking news delivered to your inbox by subscribing here.
---