News > Nation/World
French protesters hit streets as pension bill nears showdown
March 15, 2023 Updated Wed., March 15, 2023 at 12:58 p.m.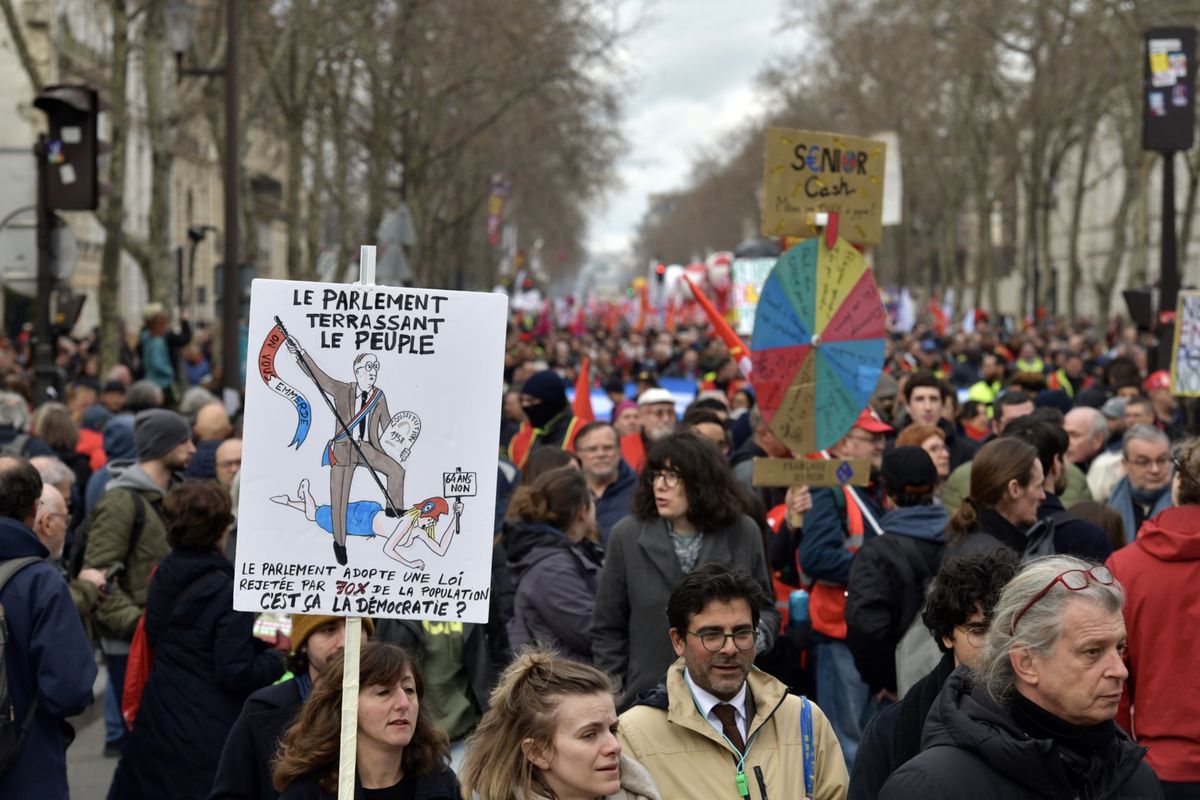 A demonstrator with a placard reading "Parliament Slaying The People" at a protest during a national strike against pension reform, in Paris, France, on Wednesday, March 15, 2023. French unions are holding mass strikes and protests against President Emmanuel Macron's plan to raise the retirement age, seeking to put pressure on lawmakers as the parliamentary process reaches its climax.   (Nathan Laine/Bloomberg)
French unions are holding mass strikes and protests on Wednesday against President Emmanuel Macron's plan to raise the retirement age, seeking to put pressure on lawmakers as the parliamentary process reaches its climax.
The demonstrations coincide with a meeting by a joint committee that is drafting a bill for a final vote on Thursday in both houses of parliament. The committee maintained the reform's core principle of raising France's minimum retirement age to 64 from 62.
Walkouts led to rail disruption, with as many as three-fifths of commuter trains on routes serving the Paris region canceled, according to operator SNCF. However, subway services in the capital are running almost as normal on most lines, according to transportation company RATP. Only a handful of international Eurostar services have been scrapped.
Airlines were ordered by the aviation authority to cut 20% of flights at Paris's Orly airport. Fuel deliveries from French refineries, including those owned by TotalEnergies and Exxon Mobil, have been affected by strikes for days.
Perhaps the most visible sign of the protests is trash in the streets of cities including Paris, where some 7,000 tons of waste have been left to pile up by striking garbage collectors in recent days, leading to a public spat between the government and Socialist Mayor Anne Hidalgo. The CGT FTDNEEA union has extended the walkout until Monday.
Meanwhile, provisional government figures showed a sharp decline in the number of public sector workers on strike on Wednesday.
Government spokesman Olivier Veran insisted following a weekly cabinet meeting that changes are necessary to preserve the pension system as the overall population ages.
"More than ever, the government is trying to find a natural majority that can support this urgent reform, which is crucial for our country," he said, echoing comments by Prime Minister Elisabeth Borne.
Former President Francois Hollande warned that years of efforts to attract foreign investment to France could be put in jeopardy if the strikes and protests were to continue.
"The risk is if there was a continuation of the conflict beyond the vote, even if the risk is low, it could effectively dissuade investors from coming and give an image of France that is consistent with some stereotypes," he said in an interview on Bloomberg TV.
Hollande urged Macron, his former economy minister, to have a dialogue with unions about his most controversial measure: raising the retirement age.
The joint parliamentary committee, which has a largely pro-government composition, is expected to produce a unified bill relatively smoothly. However, Thursday's vote at the National Assembly will be perilous since Macron lost his absolute majority there in elections last year.
His party has tried to secure the support of the conservative Republicains, who have traditionally backed increasing the retirement age. But forecasts indicate a tight count, putting the whole reform at risk of defeat if it goes to a floor vote.
"We are convinced that there is a majority for the text," Labor Minister Olivier Dussopt told CNews TV. "We will have a majority on Thursday."
Still, the government could head off a vote if it calculates that the risks of defeat are too high and instead use a constitutional provision known as article 49.3 to bypass parliament. Yet doing so could further stoke the anger of protesters, while also exposing it to the risk of a no-confidence vote.
Laurent Berger, the head of the CFDT union, urged Macron not to use the legislative workaround and said his union's support of future strikes depends on how the bill is passed.
Polls suggest a majority of French people oppose the plan despite concessions offered by the government during parliamentary debate and measures to mitigate the impact on women with children and those with long careers.
However, people increasingly expect the pension reform to go ahead irrespective of the backlash. An Elabe poll of 1,003 adults for BFM TV on March 9-10 showed 78% expect the bill to pass, up 14 points in a week. A march on Saturday rallied the smallest number of people yet.
"The government is clearly not listening to people's anger but we must continue to protest because the reform is so harsh and unfair," said Maria da Costa, a 61-year-old city of Paris employee. "If we give up, Macron will feel empowered to come up with more and more reforms that will only make our lives more difficult."
Local journalism is essential.
Give directly to The Spokesman-Review's Northwest Passages community forums series -- which helps to offset the costs of several reporter and editor positions at the newspaper -- by using the easy options below. Gifts processed in this system are not tax deductible, but are predominately used to help meet the local financial requirements needed to receive national matching-grant funds.
Subscribe now to get breaking news alerts in your email inbox
Get breaking news delivered to your inbox as it happens.
---