A&E > Food
In the Kitchen With Ricky: They may be Irish in name only, but these potato shaped candies sweeten a St. Patrick's celebration
Wed., March 15, 2023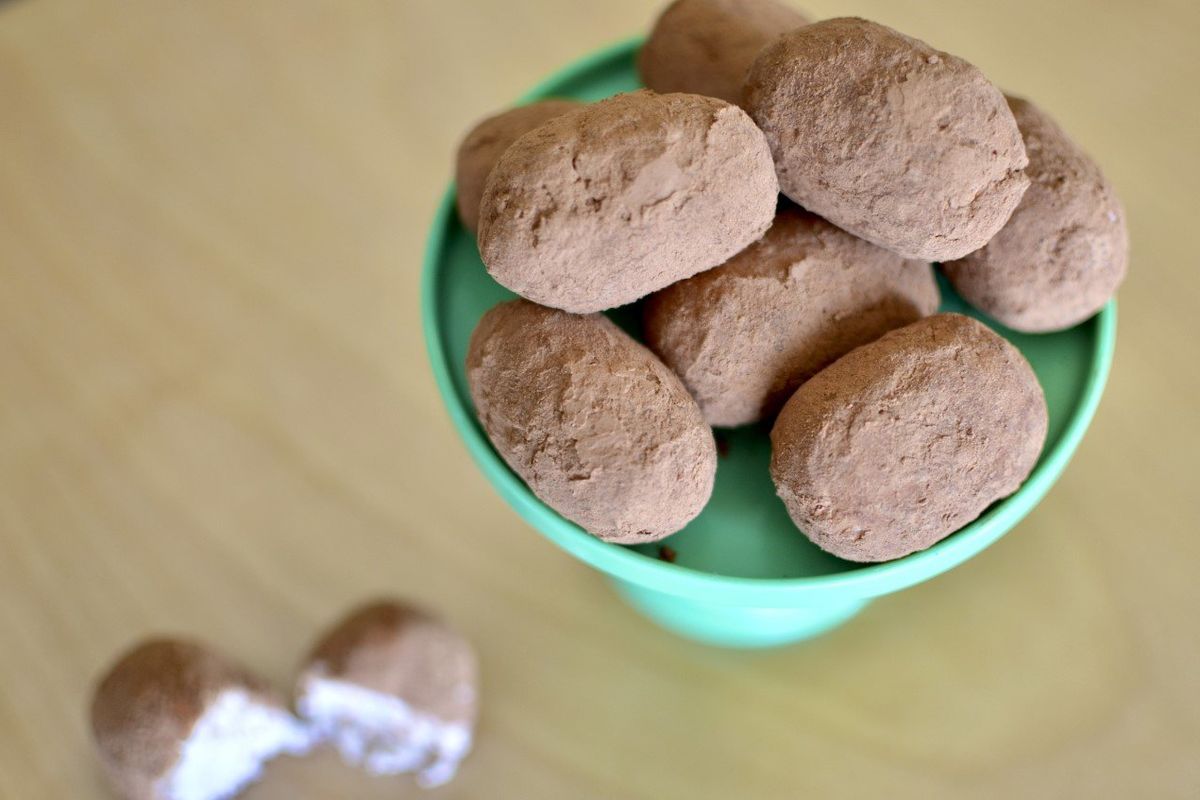 Irish Potato Candies have a misnomer for a name. Still, they make for a sweet treat to enjoy around St. Patrick's Day.
Irish Potato Candy is neither Irish nor made of potato, however in recent years, some producers of this confection have added some boiled, mashed and cooled potato to the mix to make an honest promise of the name. It was mainly created because it looks like small potatoes and is mostly consumed around St. Patrick's Day.
These are a sweet confection comprised of a coconut fondant filling and traditionally rolled in cinnamon. They can contain nuts, and if you decide to add in nuts, almonds or walnuts would be recommended . The recipe below does not include nuts, but if you want to add then, it would be about ⅓ of a cup of roughly chopped and lightly toasted nuts for the following batch size.
The candy is believed to have been invented in Pennsylvania, and Oh Ryan's of Boothwyn, Pennsylvania, claims to be the largest producer of the confection. This is not something that I grew up eating or having lots of experience with, but I've always wanted to make them, so I figured it would be something to share with you .
My overall take on them is that they are for those who love candy and feeding their sweet tooth . I decided to add a bit of cinnamon to the fondant (cream) mix itself and then roll them in a mixture primarily of unsweetened cocoa powder with a little cinnamon in it. To me, this adds a little bitterness to balance the sweetness .
They are fun to make, and I can see the kids having fun with this recipe. For springtime, I could see making eggs and rolling them in a powder created by finely grinding up freeze dried berries or fruits. This would be a fun and colorful take and the brightness from the fruit would help balance out the fondant's sweetness.
Irish Potato Candy
4 tablespoons unsalted butter, softened
4 ounces cream cheese, softened
1 teaspoon kosher salt
1 teaspoon vanilla extract
1 tablespoon cinnamon, divided
3 cups powdered sugar
3 cups unsweetened coconut flakes
3 tablespoons unsweetened cocoa powder
In the bowl of a stand mixer, or in a medium mixing bowl if using a handheld mixer, combine butter, cream cheese, salt, vanilla and 1 teaspoon of the cinnamon.
Combine ingredients until no lumps remain, and be sure to scrape down the sides until it fully is incorporated.
Slowly add in the powdered sugar, mixing well between each addition.
When fully combined, add in coconut flakes and mix until a stiff dough is created.
Place the mixture into the refrigerator, to cool and stiffen for about 20 to 30 minutes. This makes it easier to work with when shaping the potato pieces.
While mixture cools, combine the cocoa powder with the remaining 2 teaspoons of cinnamon in a medium bowl.
Once coconut mixture has chilled, use a tablespoon to portion pieces of candy. Roughly shape these into a ball and then elongating them into potato-like shapes.
Place them into the cocoa mixture and roll around, until covered. Shake off excess cocoa and place onto a parchment lined tray.
Once all candy has been formed, place them into the refrigerator to cool and fully set.
You can serve these straight from the fridge, or I prefer taking them out at least 30 minutes beforehand to soften them up a bit.
Yield: About 30 pieces
Local journalism is essential.
Give directly to The Spokesman-Review's Northwest Passages community forums series -- which helps to offset the costs of several reporter and editor positions at the newspaper -- by using the easy options below. Gifts processed in this system are not tax deductible, but are predominately used to help meet the local financial requirements needed to receive national matching-grant funds.
Subscribe to the Spokane7 email newsletter
Get the day's top entertainment headlines delivered to your inbox every morning.
---