Sports > NCAA basketball
'It's good to have people who have been there': Washington State brings experienced lineup to NCAA Tournament
March 15, 2023 Updated Thu., March 16, 2023 at 1:17 p.m.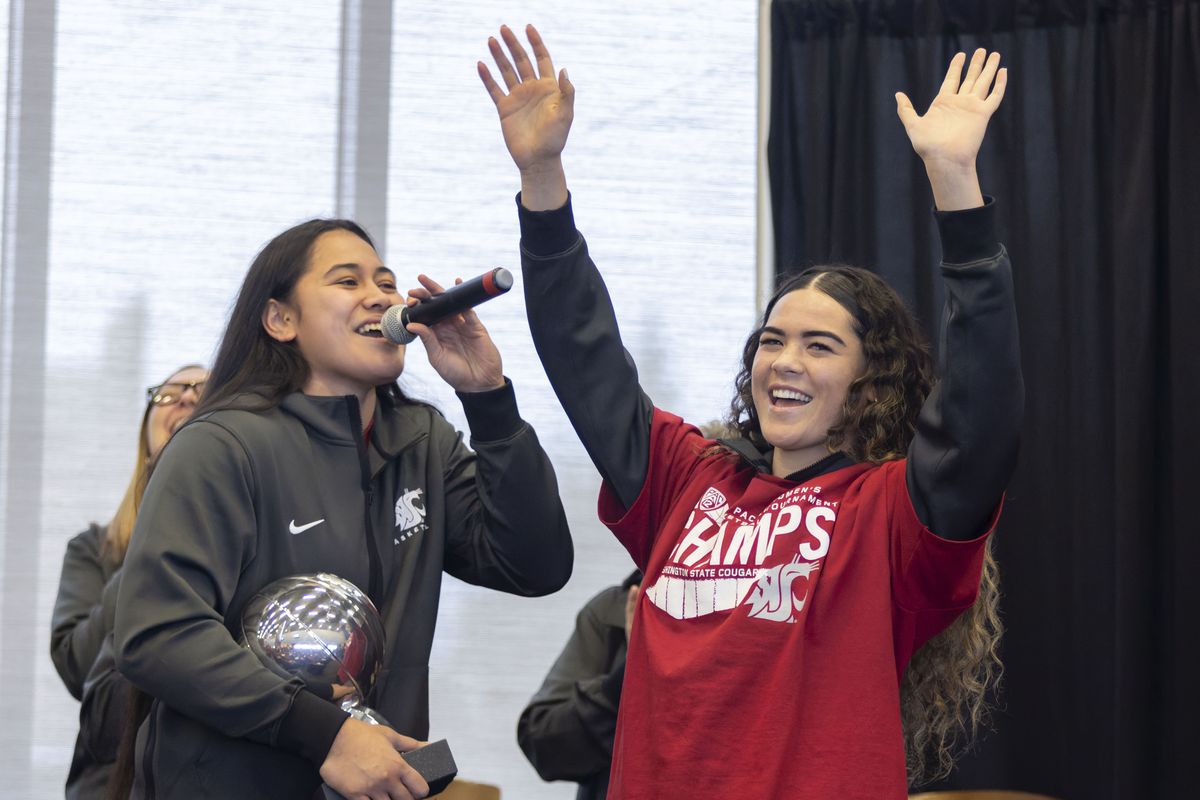 Washington State guard Charlisse Leger-Walker, right, is introduced by teammate Ula Motuga during an NCAA tournament selection watch party on Sunday at Gesa Field in Pullman. (GEOFF CRIMMINS)
Making their third consecutive NCAA Tournament appearance, the Washington State Cougars have experience on their side.
Fifth-seeded WSU (23-10), seeking its first NCAA Tournament win in program history, brings a seasoned starting lineup to Villanova, Pennsylvania, for its first-round matchup against 12th-seeded Florida Gulf Coast (32-3). Tipoff is set for 11:30 a.m. from Finneran Pavilion. The game will air on ESPNU.
"It's good to have people who have been there, who have done it before," Cougars coach Kamie Ethridge said Tuesday.
"I just trust our seniors, the upper class – the players that have been through this experience two years now and going on three – that they won't get overwhelmed."
Four WSU players – guards Charlisse Leger-Walker and Johanna Teder, forward Ula Motuga and center Bella Murekatete – started in the team's past two NCAA Tournament games.
The ninth-seeded Cougars lost 57-53 to No. 8 seed South Florida in 2021 in Austin, Texas. Eighth-seeded WSU fell 50-40 last year against No. 9 seed Kansas State in Raleigh, North Carolina.
"It was probably a little too early for us to really succeed in the NCAA Tournament two years ago," Ethridge said. "It was too new. We were too young. Last year, we weren't quite built good enough. We didn't have the depth."
Leger-Walker scored a combined 38 points in those games, shooting 11 of 36 from the field. Teder scored 16 points against USF but was held scoreless versus Kansas State. Motuga is averaging 4.5 points and 11 rebounds in NCAA tourney games. Murekatete totaled six points and eight rebounds in the 2021 game but dealt with foul trouble last year and went scoreless. Guard Tara Wallack, a starter this year, played 22 minutes off the bench in last year's NCAA tourney game.
"It just feels like we have a little bit more stability (now)," Ethridge said. "We're playing at a high level. Our defense is better than it's been in the past. Our rebounding is better. Those are things that translate to success in the NCAA Tournament."
The Cougars have "grown up" this year, Ethridge added. They put together their best season in program history – and one of the most impressive seasons in school history.
WSU swept through the Pac-12 Tournament earlier this month to claim its first conference title. The team achieved a program-best win total, earned its highest NCAA tourney seeding in four appearances, reached an all-time high in the AP poll (No. 23), beat a top-three opponent for the first time – the list of accomplishments goes on.
The Cougars' standout players, Leger-Walker and Murekatete, should be expected to perform with more poise and consistency in their third tourney.
Leger-Walker has been a star since her true freshman season, but she's reached another level as a junior.
The New Zealand native, a three-time All-Pac-12 performer, claimed conference tournament MVP honors after averaging 19 points per game and shooting 45.6% from the field over four games in Las Vegas. On Wednesday, Leger-Walker was named to the AP's All-America team as an honorable mention. She leads the Cougars with 18.1 points per game overall , adding averages of 5.7 rebounds and 4.2 assists while shooting a career-best 40.7%.
Murekatete, a fourth-year Cougar, developed into one of the Pac-12's top post players. An all-conference honorable mention player, Murekatete averaged 16.3 points and 7.3 rebounds at the Pac-12 Tournament.
"I hope that experience, having been there, that leadership from the upper class can comfort the younger players," Ethridge said. "We certainly have our focus and minds right to put ourselves in a great position to compete well and win the game on Saturday.
"We're going to count on our players to stay true to what they've been all year, and that's a really seasoned team that has handled distractions and (road games) and anything that might come up."
Considering the travel, media obligations and structured schedules, the first week of the NCAA Tournament can be "overwhelming and exhausting," Ethridge said. But for most of the Cougars, it's nothing new.
"We've got seniors, we've got upperclassmen, so they're pretty chill," Ethridge said. "Their schedules never get overwhelming. They understand time management better. They don't get emotionally involved in things they can't control.
"What we're trying to do is keep our players focused in the routine of how they handle scouts, how we practice. Our day-to-day existence (will be) how we've done it all year on the road. They've been unbelievable with that (WSU is 14-5 outside of Pullman). We're going to trust that – that they're going to keep the focus and do the same thing this weekend."
The Cougars flew to Philadelphia on Wednesday morning, giving the team plenty of time to settle in, adjust to the change in time zone and prepare for Florida Gulf Coast, which has won 14 consecutive games. FGCU, the nation's top 3-point-shooting team in makes and attempts, is making its ninth NCAA tourney appearance since 2012.
"They are always under-seeded," Ethridge said of the Eagles. "Anyone that knows women's basketball knows what a job (21st-year FGCU coach Karl Smesko) does there. His winning percentage I think is 85%. This is a tradition-rich program that is about winning. So, it's a really difficult matchup for us, but you just have to except it. In the NCAA Tournament, it's not like anyone's got an easy way."
Local journalism is essential.
Give directly to The Spokesman-Review's Northwest Passages community forums series -- which helps to offset the costs of several reporter and editor positions at the newspaper -- by using the easy options below. Gifts processed in this system are not tax deductible, but are predominately used to help meet the local financial requirements needed to receive national matching-grant funds.
Subscribe to the sports newsletter
Get the day's top sports headlines and breaking news delivered to your inbox by subscribing here.
---