Sports > Gonzaga women
Tougher schedule could aid Gonzaga women in NCAA Tournament
March 15, 2023 Updated Thu., March 16, 2023 at 1:18 p.m.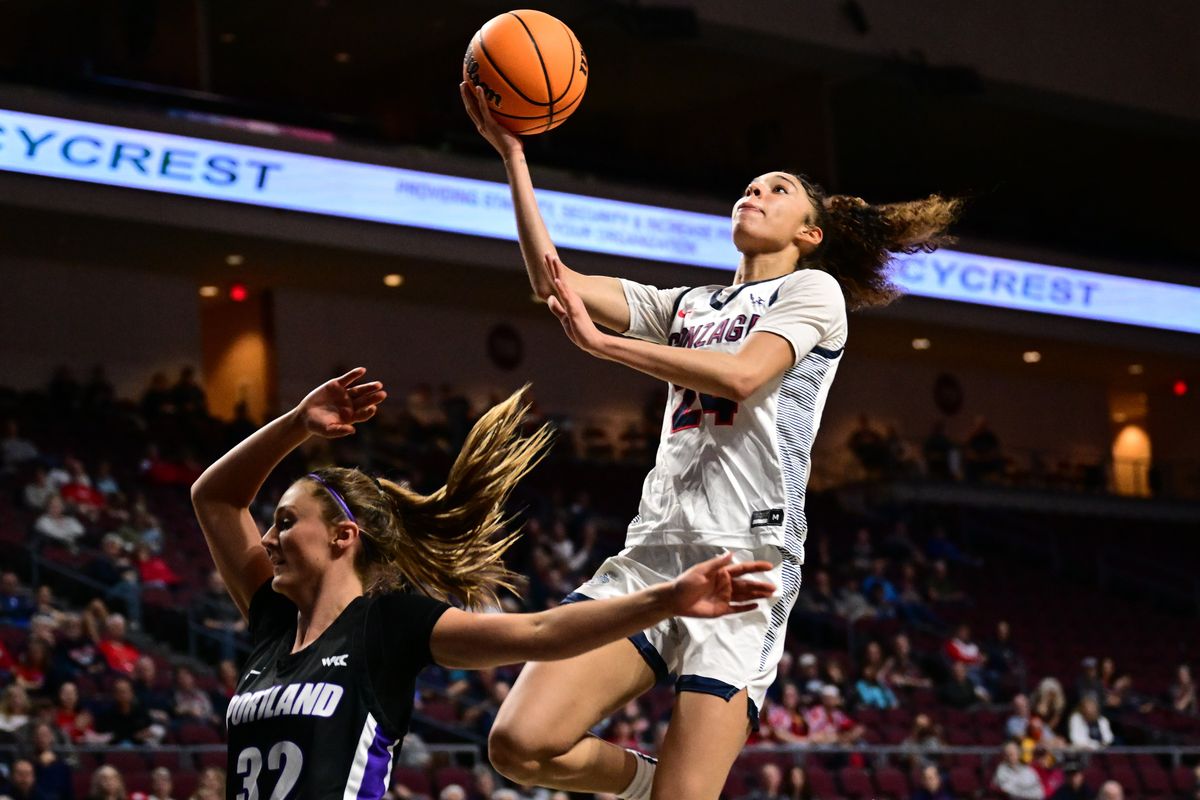 Gonzaga Bulldogs guard McKayla Williams (24) reaches for a layup against Portland Pilots guard Kelsey Lenzie (32) during the second half of a WCC tournament championship basketball game on Tuesday, March 7, 2023, at the Orleans Arena in Las Vegas, Nev. The Portland Pilots won the game 63-60. (Tyler Tjomsland/The Spokesman-Review)
STANFORD, Calif. – The bar is set rather high at Gonzaga, where the women have dominated the West Coast Conference and have annual expectations of making a run to the Sweet 16 in the NCAA Tournament.
But for the second straight year, and despite a 28-4 record, the Zags are stuck on the 8-9 line for seeding. If they get past Ole Miss Friday night, they'll likely face a daunting assignment two days later against No. 1 seed Stanford on the Cardinal's home floor.
Barring a remarkable performance this weekend, the Zags will fall short for the eighth year in a row.
The reasons are varied. They include some failures on the court and a pandemic that cost the Zags their best chance to host first- and second-round games, but mostly it's because of the company they keep.
Asked on Selection Sunday whether she thought it fair that teams from Power Five conferences and the Big East took 34 of the 36 available at-large berths, Fortier paused.
"Oh, gosh," she said. "I wish we could come up with some sort of metrics to level out the playing field and make it just the best teams, period."
But isn't that the idea of the NET rankings? Fortier wasn't sure.
"I don't know if they've nailed it or not," she said. "I'm not in one of those conferences. So I'm always rooting for the other teams. Fair or unfair, nowadays that's just what it is."
The NCAA won't share its recipe for picking teams and seeds, but the main ingredient is strength of schedule – your own, your opponents' and even their opponents' schedules.
"I've sat in meetings and done some training, so I can have an insider view on what they've looking for," Fortier said. "We thought we'd have a better NET than that, based on how we scheduled."
That was also bad luck. Wins over Louisville and Tennessee in the Bahamas meant less because both teams underperformed.
"We have to figure out a way to work through the system, trick the system or just get better," Fortier said.
The Zags also need their conference to get better.
Fortier routinely defends the quality of WCC, but it ranked only ninth this year in strength of schedule. Only three years ago, it ranked seventh and, according to Fortier, beat "multiple teams in the top 100."
"Our conference is capable of that," Fortier said.
That wasn't the case this year. The WCC went 54-48 against nonconference foes – not a bad mark, at first glance. But only 25 of those games were against Power Five programs, with a record of 4-21. Half of those wins were supplied by Gonzaga.
More to the point, many WCC teams boosted their overall record with games against low-tier Division 1 schools. Pepperdine played no games against Power Five programs; instead, the Waves filled the calendar with teams like UC Riverside, Concordia and UC Riverside.
"We've scheduled the best we can, and we're pushing the conference to schedule appropriately," Fortier said.
Of course, Gonzaga can't force that wish on its conference colleagues, and the problem is worsened by the departure of BYU.
Gonzaga made the Sweet 16 on three occasions under Fortier's predecessor, Kelly Graves. The path was eased, however, because the school was allowed to bid to host first- and second-round games.
That changed in 2014, when the NCAA allowed only the top 16 teams to host. A year later, Fortier's first team went to Corvallis, Oregon, as a No. 11 seed and knocked off George Washington and host Oregon State to reach the Sweet 16.
They haven't been back since. Injuries in 2016 kept them out of the NCAAs entirely, and they were outmatched in first-round games the next two years by Oklahoma and Stanford, respectively.
Injuries to Jill Townsend and Laura Stockton likely cost them home games in 2019, but they nearly overcame them anyway. Tied with host Oregon State late in a second-round game, they lost by six points.
The pandemic robbed what was probably Fortier's best team, but the Zags fell short again in 2021 when they were upset as a No. 5 seed by Belmont.
The Zags were competitive last year, but a talented Louisville squad, backed by 12,000 fans, was too much to overcome.
Determined to get off the 8-9 line, Fortier said several times that the Zags scheduled appropriately: three games against an elite field in the Bahamas, the annual game against Stanford and a couple of difficult contests at Wyoming and Stephen F. Austin.
But there was also that game against Queens University of Charlotte, which finished 338th in NET out of 361 teams in Division 1.
And there was no game against Washington State.
"It just didn't work out," Fortier said when asked about that omission.
Nonconference scheduling is tricky because Power Five programs are reluctant to play in the Kennel and seeing their resume damaged by a loss to a midmajor.
That puts the onus on Gonzaga to beef up the schedule.
With everyone expected to return next year and Stanford playing in Spokane, expect GU to work harder to renew the series with WSU and find a quality tournament on Thanksgiving weekend.
Local journalism is essential.
Give directly to The Spokesman-Review's Northwest Passages community forums series -- which helps to offset the costs of several reporter and editor positions at the newspaper -- by using the easy options below. Gifts processed in this system are not tax deductible, but are predominately used to help meet the local financial requirements needed to receive national matching-grant funds.
Subscribe to the sports newsletter
Get the day's top sports headlines and breaking news delivered to your inbox by subscribing here.
---