Sports > NCAA basketball
Analysis: UCLA tops a quartet of Final Four sleepers for the NCAA women's tournament
March 16, 2023 Updated Thu., March 16, 2023 at 9:05 p.m.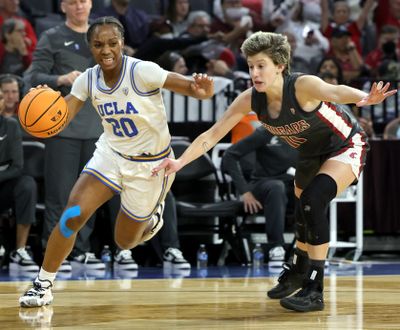 In the past 20 seasons, just 12 teams seeded outside of the top two lines have made it to the NCAA women's Final Four. In four of those tournaments, multiple teams seeded No. 3 or below made it to the final weekend. With the heightened parity in the women's game this season, it wouldn't be surprising to see it happen again in 2023.
Among the No. 3 and No. 4 seeds, there are some obvious picks to make a deep run in March. Based on 20,000 tournament simulations using the Her Hoop Stats prediction model, No. 3 seed LSU and No. 4 seed Tennessee each have better than a 14% chance of reaching the Final Four. In fact, the Tigers and Vols both check in ahead of No. 1 seed Virginia Tech in their chances to make the trip to Dallas.
Who else outside the top eight overall seeds could make a run to this year's Final Four? Keep an eye on how these teams fare in March.
UCLA
Any team not named South Carolina in the Gamecocks' region counts as a nonobvious Final Four pick this season. The No. 4 Bruins, however, might have the best chance in Greenville 1 to take out the top seed.
Rewind to Nov. 29. UCLA made the trip to Columbia, S.C., to play the defending national champions. The Bruins played the Gamecocks tighter in Colonial Life Arena than any other team this season, eventually falling by nine points. UCLA led South Carolina by three points with just fewer than 8 minutes remaining before the Gamecocks held the Bruins scoreless for more than 3 minutes to take control of the game.
Cori Close planned masterfully in the first meeting to exploit South Carolina's only real weakness: its perimeter shooting. The concentration of UCLA's defensive effort in the paint combined with the Bruins' prowess on the offensive glass allowed them to keep the game close. They hung with the country's best offensive rebounding team in that matchup, trailing the Gamecocks by just two (15-13) in second-chance points. As a relatively young squad, UCLA couldn't finish off the upset. After three more months of collegiate experience and a win over No. 1 seed Stanford in the Pac-12 Tournament, the nation's top-rated recruiting class might be able to finish the job in March.
Villanova
Villanova may have fallen to U-Conn in the Big East Tournament championship game, but the Wildcats earned the praise of Huskies coach Geno Auriemma.
"When you have the best player on the floor, you're a hard team to beat," Auriemma said of the Wildcats.
Villanova will have the best player on the floor in most, if not all, of its remaining games this season with the nation's leading scorer, Maddy Siegrist. The two-time Big East Player of the Year has topped 20 points in every outing this season, something that hasn't been done since at least 2010 by anyone other than Kelsey Plum in her National Player of the Year season at Washington in 2017. She scored 50 points in a game this season, and as a 6-foot-2 three-level scorer, Siegrist may be the hardest individual defensive matchup in this year's tournament.
The Wildcats dropped games against Baylor, Creighton and Iowa State during a seven-game stretch earlier this season. Since then, sophomore Lucy Olsen has emerged as a consistent second scoring option, and Christina Dalce has increased her production on the defensive end. Villanova is playing its best basketball as a result and hasn't lost to a team other than Connecticut since Dec. 18.
Iowa State
Every national champion since 2010 has ranked in the top 10 in Her Hoop Stats offensive and defensive ratings. All but four Final Four teams in the same span have ranked in the top 20 for both metrics. No. 5 seed Iowa State meets those criteria and is a top-10 team in Her Hoop Stats' overall rankings.
While the defense holds its own, the Cyclones are fueled by their offense and in particular their 3-point shooting. Iowa State makes more than 35% of its points from 3, the fourth most of any top-50 team by Her Hoop Stats rating in the country. Fifth-year senior Ashley Joens leads the effort on the perimeter with 2.8 made 3-pointers per game, which represents nearly 40% of her 21.5 points per outing this season.
The Cyclones are 8-1 when shooting 40% or better from deep this season and are coming off a hot shooting stretch at the Big 12 Tournament.
Texas
The 2020-21 Arizona Wildcats, one of the dozen teams outside of the top two seed lines to advance to a Final Four in the past 20 years, laid the blueprint for how No. 4 seed Texas could emerge from the Seattle 4 region. Arizona's Her Hoop Stats offensive rating in 2021 (46th) is by far the worst of any team to reach a Final Four since at least 2010, but the Wildcats' top-five defense carried them to the national championship game.
The Longhorns' defense is also elite this season, and their offense is comparatively better at 28th in Her Hoop Stats offensive rating. Arizona had Aari McDonald to fuel its 2021 NCAA Tournament run. Texas has Rori Harmon, one of four players averaging at least 10 points, five rebounds, five assists and two steals per game this season. The sophomore point guard's 7.3 assists per game ranks fourth nationally.
Texas falls in a region where No. 1 seed Stanford has looked vulnerable, losing two of its past three games and struggling on offense.
Local journalism is essential.
Give directly to The Spokesman-Review's Northwest Passages community forums series -- which helps to offset the costs of several reporter and editor positions at the newspaper -- by using the easy options below. Gifts processed in this system are not tax deductible, but are predominately used to help meet the local financial requirements needed to receive national matching-grant funds.
Subscribe to the sports newsletter
Get the day's top sports headlines and breaking news delivered to your inbox by subscribing here.
---