Be ready, Spokane's Singing Server launches new album and tour
March 16, 2023 Updated Sun., March 19, 2023 at 8:56 p.m.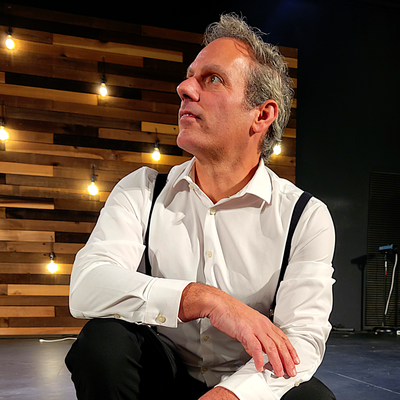 He's done gigs aboard the General Jackson Showboat on the Nashville River, opened for Brad Paisley, and auditioned for "America's Got Talent" and "The Voice," but last year, singer Adriano Ferraro pondered giving up music for good.
"I was horribly discouraged," he said. "I was at the crossroads of discouragement and giving up."
Yet on Saturday, he debuts a new album and launches a multi-venue tour. It turns out that losing one of his biggest fans became the catalyst for reigniting his passion for music and performance.
Ferraro's brother, Tony, died in June.
"I was a caregiver for my brother and as he was dying, his final words to me were 'be ready,' " Ferraro recalled. "He always believed in me and my music."
The musician felt his brother was encouraging him to be ready for the next stage of his career.
"I began writing songs," Ferraro said. "I began living and dreaming again."
Ferraro got his musical start in the high school choir at Gonzaga Prep. He'd always loved to sing but felt his chronic asthma hampered his vocal talent.
At 17, he suffered an attack while jogging and instead of reaching for his inhaler, he decided to walk it out.
"Enough was enough. I heard it was possible to outgrow it," he said. "Gradually it got less and less and it was never an issue again."
A music scholarship took him to Cornish College of the Arts in Seattle where he earned his bachelor's degree. After saving up money, he boarded a Greyhound bus to Nashville, where he worked as a musician for seven years.
When he returned to Spokane, he went back to work at Ferraro's Italian Restaurant in Spokane Valley where he'd serenade guests on their birthdays. The diners loved his voice and the Singing Server was born.
"My Uncle Pat (owner of two Ferraro's restaurants) wired the Valley restaurant so I could use a headset and sing inside and outside on the patio," he recalled.
His Singing Server story caught the attention of "America's Got Talent" and Ferraro auditioned and made it to the preliminaries in 2011, but over time performing opportunities waned.
"It was hard to make a living, so I became an in-home caregiver," said Ferraro.
And then his brother's dying words generated fresh inspiration. He recorded his new album "Be Ready" at SkyTree Studios in North Spokane and released each song as a single via social media and streaming services.
He said the heartbeat of the inspirational album is to encourage listeners to be ready to live and dream again.
"In the song 'Give It Your All' I repeat the chorus in Italian," he said. "It's a little Italian lesson in the middle of the chorus."
But his favorite track is "My Brother." The song evokes the memory of being with his brother, Tony, as he died.
"Singing to him, seeing no fear in his eyes, seeing his faith …" Ferraro said.
The album debuts Saturday, but it's already reinvigorated his career. He recently auditioned for "The Voice" via Zoom.
"I have a special invitation next year for 'The Voice,' " he said. "I did two rounds on Zoom with them and the tip they gave me was to sing everywhere I can this year. They gave me permission to audition with any song from my album."
Ferraro said he's looking forward to his upcoming concert dates and to performing with backup vocalist Inez Rahma.
"I'm turning 50 in April," he said. "I was dreading it, but now with this new album, I'm looking forward to it as if I'm 21."
Cindy Hval can be reached at dchval@juno.com.
Editor's note: This story has been updated to reflect the correct title of the song "My Brother."
Local journalism is essential.
Give directly to The Spokesman-Review's Northwest Passages community forums series -- which helps to offset the costs of several reporter and editor positions at the newspaper -- by using the easy options below. Gifts processed in this system are not tax deductible, but are predominately used to help meet the local financial requirements needed to receive national matching-grant funds.
Subscribe now to get breaking news alerts in your email inbox
Get breaking news delivered to your inbox as it happens.
---