100 years ago in Spokane: Northwest deltoids no match for Hollywood? In LA, stars were reportedly unimpressed with Spokane's 'most beautiful arms'
Fri., March 17, 2023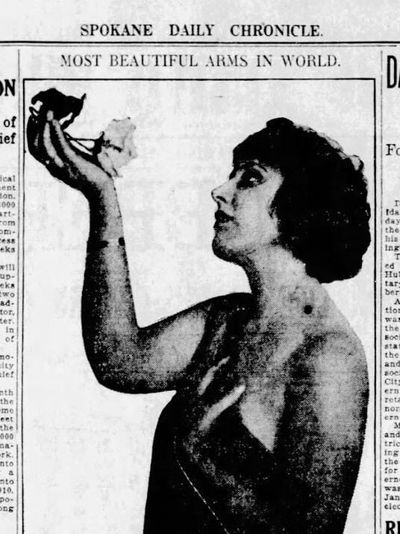 Readers of this column might remember the item a few weeks ago in which the Los Angeles newspapers claimed that Veta L'Ehmann of Spokane had "the most beautiful arms in the world."
Now, "some of the famed movie stars at Los Angeles" were disputing that claim.
The L.A. newspapers were now proposing a national contest to settle the issue.
You might call it an "arms race."
This new development prompted the Spokane Daily Chronicle to run another photo of L'Ehmann, showing off her bare arms and shoulders. L'Ehmann was a competitive swimmer, which may have accounted for her shapely arms.
From the dust storm file: A freak dust storm – turned mud storm – turned Lewiston dark for a full 10 minutes at 2 p.m.
"As darkness crept into the streets, the skies took on a deep red orange hue, so impressive that many pedestrians denied themselves shelter that they might enjoy the scene," a correspondent said. "Then, seemingly in an instant, hail began falling, small but of pebble-like firmness, while a minute later, rain resumed supremacy, the orange skies flashed back to yellow."
The rain was filled with dust, now transformed into mud. The mud "coated auto tops and streaked windows in such a way as to hide their brightest displays."
When it dried, it left a "layer of such firmness and uniformity on the sidewalks and pavements" that it resembled "a first-class job of whitewashing."
Local journalism is essential.
Give directly to The Spokesman-Review's Northwest Passages community forums series -- which helps to offset the costs of several reporter and editor positions at the newspaper -- by using the easy options below. Gifts processed in this system are not tax deductible, but are predominately used to help meet the local financial requirements needed to receive national matching-grant funds.
Subscribe now to get breaking news alerts in your email inbox
Get breaking news delivered to your inbox as it happens.
---