Sports > NCAA basketball
After showing 'glimpses of greatness' for three years, Washington State center Bella Murekatete realizes potential
March 17, 2023 Updated Fri., March 17, 2023 at 11:43 p.m.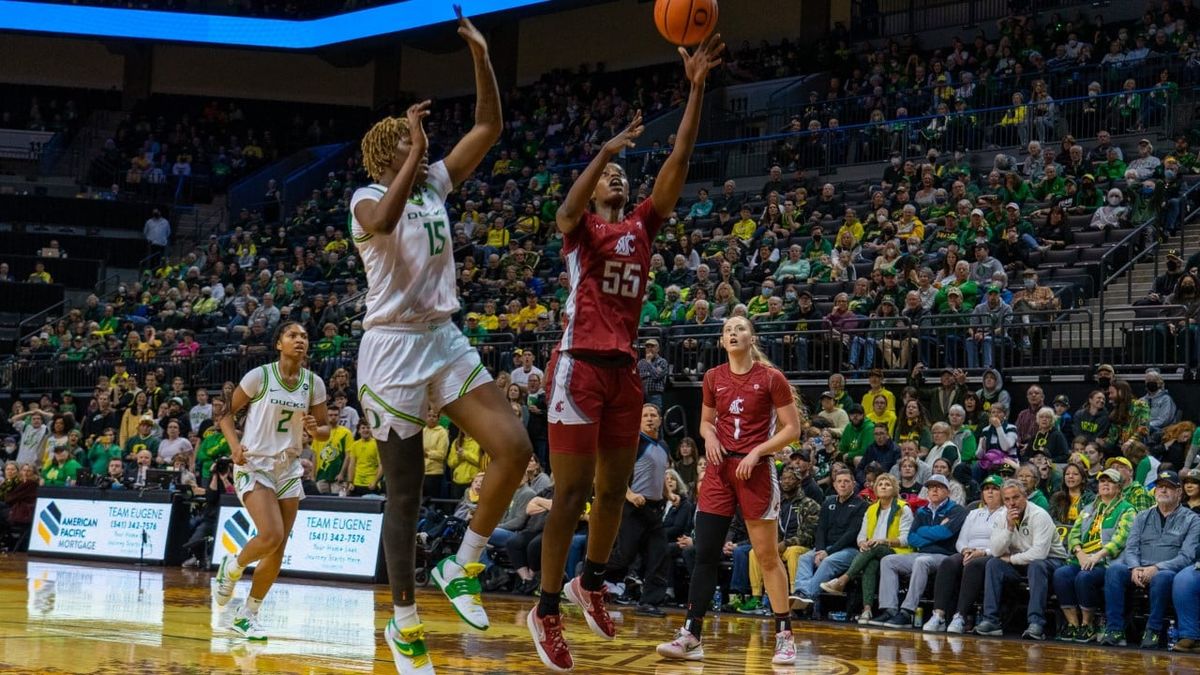 Washington State center Bella Murekatete attempts a shot during a Pac-12 game against Oregon on Jan. 15 at Matthew Knight Arena in Eugene. (WSU Athletics)
VILLANOVA, Pennsylvania – Coach Kamie Ethridge remembers when "the light bulb went on" for Washington State center Bella Murekatete.
In April 2022, shortly after the Cougars' season concluded with a first-round loss to Kansas State in the NCAA Tournament, Ethridge said Murekatete became "much more consistent in her work ethic, discipline and being accountable to how good she wants to be."
It took some time for Murekatete to realize her potential, but she has developed into a star for WSU, which is making its third consecutive appearance in the NCAA Tournament. The fifth-seeded Cougars (23-10) meet No. 12 seed Florida Gulf Coast (32-3) at 11:30 a.m. Saturday at Finneran Pavilion.
"(Coaches) believed in me, showed me the type of player I could be," Murekatete said Friday. "I believed in that and put the work in."
Throughout her first three years with the program, Murekatete had flashed "glimpses of greatness," Ethridge said, but she hadn't dedicated herself fully to the craft.
"Bella's always been the most talented player in the gym," Ethridge said earlier this week. "Her work ethic wasn't as high as her talent level. Her first three years were really just a battle between coaches and Bella a little bit on her consistency, coming into the gym and working at a level that was required to really gain control of her game."
For example, the Cougars used to "Bella-proof" the weight room, Ethridge said. That meant they would train as a group, so no one could slack off.
"That was really to keep control of Bella, because she might go get a drink and by the time she got back, she missed a rep or an entire set," Ethridge said. "It was constantly that Bella was in and out of doing what she was supposed to be doing. … That was kind of the level of Bella – off and on. Some days great, some days not. Until last year in April."
Ethridge noticed a shift in Murekatete's attitude. She'd become more diligent, eager to raise her game and transform into one of the Pac-12's top post players.
"Bella became responsible for Bella," Ethridge said. "She sought out weight workouts, did every rep, did extra cardio to the level that was necessary. She did workouts that we would provide on her own … without anyone in the gym. Those were things she wasn't ready for in her first three years. It made all the difference in the world – her work ethic, conditioning, her strength, her competitiveness, her 'I want to be great.'
"What you see are many, many more glimpses of what she's capable of. It's been a steady rise since last April. Because of that, she's even gonna get better. Every single time she steps in the gym, she's better. … She says she wants to be great, so she wants to be held to that standard. That's the best thing a coach could ask for."
Born in Rwanda, Murekatete moved to North Idaho at age 14 and enrolled at Genesis Prep in Post Falls. She dominated as a Class 1A-Division II player and was recruited to WSU by Ethridge's predecessor, the late June Daugherty.
"The previous staff had Bella on campus I'm sure 10 times, at least," Ethridge said. "They'd done a tremendous job of developing a relationship. We weren't sure she was going to like us when we came into the picture (in 2018), but we got her and her host family on campus … got to know them and continued to sell Washington State. We're just really fortunate she took a chance on us."
Murekatete remained committed to WSU and became the first Rwandan native to play women's college basketball when she joined the team for the 2019-20 season.
"They just told me their vision and I just really believed them," Murekatete said after a game at this year's Pac-12 Tournament, which WSU won. "(Ethridge was) telling me how good I could be. They have been painting this picture in my head. I kept believing, knowing that my moment was going to come."
Raw but undeniably talented at 6-foot-3, Murekatete earned a starting job as a true freshman. She averaged 5.2 points and 4.1 rebounds as a freshman and gradually improved her numbers.
"If the walls of Bohler (Gym) and Beasley (Coliseum) could talk, they'd tell you that Bella has come a lot further than what she was as a freshman," senior forward Ula Motuga said. "Freshman Bella was still very new to basketball, but she was so wide-eyed and ready to learn."
As a sophomore, Murekatete averaged 8.5 points and 6.7 rebounds per game and finished second in the Pac-12 with 38 blocks. She helped the Cougars secure an at-large bid to the NCAA Tournament – their second berth t in program history and first in 30 years.
After suiting up for Rwanda's national team in summer 2021, Murekatete made another jump during her junior year. She was named the conference's co-most improved player after averaging 10.6 points and 7.0 rebounds and finishing with 50 blocks for another NCAA tourney-qualifying WSU team
.
Local journalism is essential.
Give directly to The Spokesman-Review's Northwest Passages community forums series -- which helps to offset the costs of several reporter and editor positions at the newspaper -- by using the easy options below. Gifts processed in this system are not tax deductible, but are predominately used to help meet the local financial requirements needed to receive national matching-grant funds.
Subscribe to the sports newsletter
Get the day's top sports headlines and breaking news delivered to your inbox by subscribing here.
---