News > Nation/World
Calif. firefighters were already strained. Then came rain and snow.
March 17, 2023 Updated Fri., March 17, 2023 at 7:16 p.m.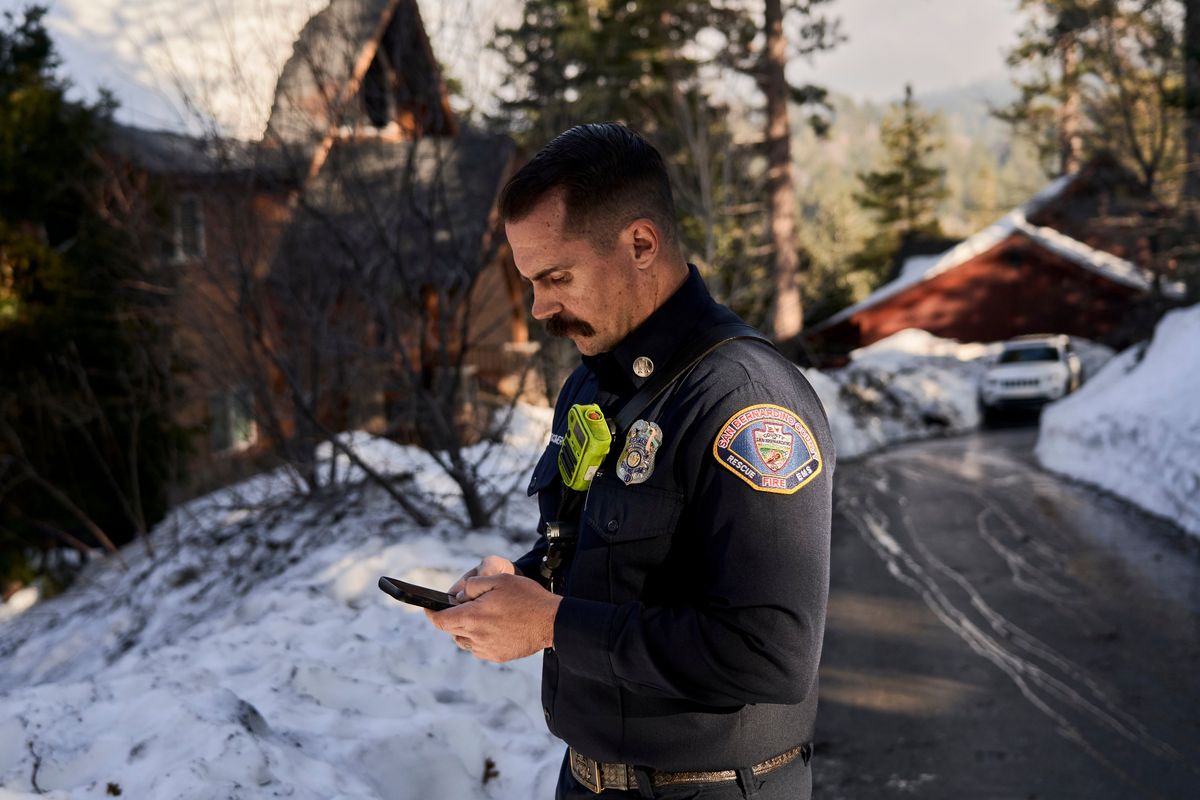 Capt. Jared Newcomer of the San Bernardino County Fire Department uses his cellphone while visiting a residential neighborhood in Twin Peaks, Calif., on Monday. (Philip Cheung/For The Washington Post)
CRESTLINE, Calif. – Capt. Jared Newcomer and his crew were exhausted. Emergency calls from residents stuck in their homes were stacking up. And his crew's usual firetrucks couldn't make it through streets piled high with snow.
Firefighters like Newcomer and his team are more accustomed to battling wildland blazes around California's rugged San Bernardino range than dealing with blizzards. But with historic back-to-back snowstorms pummeling the region, they had to improvise.
They turned their few available snowcats, which have tracks instead of wheels, into all-in-one units, each doing the job of an ambulance, fire engine and tow truck. The impromptu rescue vehicles became Newcomer's Swiss Army knife and the community's lifeline as record levels of snow fell in recent weeks. But initially, there weren't enough.
"We had never encountered needing that many of them," Newcomer said. "It was conditions I've never operated in before."
After years of responding to increasingly deadly infernos, fire departments across California are now combating a ceaseless torrent of water as they grapple with the compounding challenges of staffing shortages and overworked service members. Like few places in the country, the state has had to reckon with the danger of weather whiplash – bone-dry conditions in the summer followed by pounding rain, deadly floods and dozens of feet of snow.
The wild swings are testing the capacity of first responders in emergency conditions. In San Bernardino County, at least 13 people died in their homes or the hospital during the latest bout of severe weather, authorities said. Some of their bodies were not recovered until days later. It's unclear whether any had dialed 911 for help.
Officials here acknowledged that they were not prepared for the historic storms, saying the snow fell in quick bursts that overpowered typical plows. On Tuesday, San Bernardino's chief executive, Leonard X. Hernandez, said the county "did not have the size and scale of plows" and other specialized equipment to quickly clear the snow.
The county will study its response, Hernandez said, to "understand whether adequate preparation was accomplished," especially in Crestline and Lake Arrowhead.
It has already been a taxing year for emergency responders. Since January, atmospheric rivers have brought severe storms that killed dozens, displaced thousands and rattled countless more in a state where winter usually provides rare relief from the threat of disasters. All that water has pulled much of California out of desperate drought conditions, but the catastrophic impact has been far reaching.
Last weekend, a levee in central California failed, plunging a small town underwater and forcing hundreds from their homes. The California National Guard rescued more than 50 people from the murky floodwaters. Earlier this month, the National Guard had deployed a firefighting unit to the San Bernardino Mountains, where they joined Newcomer's county fire team and a phalanx of first responders to clear roofs of snow and evacuate residents.
"On the scale of the state, it's never-ending," Newcomer said.
In Crestline, a mountain community of about 10,000 that's 60 miles east and a world away from Los Angeles, the snow began on Feb. 23. Whoever happened to be working out of Fire Station 25 that day found themselves stuck there.
The powder piled high, burying roads in several feet of snow and leaving both firefighters and residents stranded. Then came the calls for help.
Newcomer, a mustachioed 37-year-old who has spent nearly half his life in the fire service, and a handful of other trapped firefighters quickly realized the snowcats were their only option.
The county maintains a fleet of eight, and they're typically used on search and rescue missions when a hiker gets lost in the backcountry. But between the stations in Crestline and Lake Arrowhead, firefighters initially had access to just three, and they were running nearly 24 hours a day for the first week.
Yet even with the snowcats, responding to some calls – especially in remote mountain neighborhoods – was an arduous task. The firefighters were often carving the first paths through the blanket of snow, and on narrow roads with steep drop-offs, they moved slowly.
Some calls they might have responded to in 15 minutes under normal conditions took four times as long, Newcomer said. They sometimes worked 20-hour days and survived on naps.
But as they scrambled, some residents seethed.
The first storm was followed quickly by a second, a one-two punch that dumped more than 100 inches of snow on the mountains, trapping residents who were furious that authorities had not cleared roads faster.
This week, on a narrow street about a half mile from Crestline's main drag, David Neighbours was helping to dig out his 90-year-old friend, whose car and walkway were still blocked by snow piles some 18 days after the snowfall began. Melting snow had begun to seep into her home.
"The county was very slow in their reaction to all of this," said Neighbours, 72, who has lived in Crestline for 20 years. "I think they could have organized more resources earlier."
"The community mobilized magnificently, better than the government agencies," said Jeanine Paquette, the friend Neighbours was helping that day. "The county let us down like crazy."
It is not yet clear how many lives the blizzard claimed. The county coroner said last week that 13 people had been found dead since Feb. 23. Officials deemed just one of those deaths, a traffic collision, to be directly related to weather and said they were investigating eight of the other fatalities for blizzard connections. Four died in hospice care or at a hospital. Authorities have not said whether they are part of the review.
The sheriff's office, which houses the coroner, has not released any additional information in the days since and did not respond to requests for more details.
In the mountaintop's hard-to-reach neighborhoods, the most difficult places for emergency personnel to access, residents banded together. When someone ran low on food or firewood, a neighbor passed them provisions or took them in. Volunteer groups went door-to-door, ensuring those in need had medicine and supplies.
"I like to think we mountain folk are a little more self-reliant than most," said Stephen Liskey, the facilities director at Crestline's only grocery store, who slept in the building for five days in order to keep it open. "We have to put up with a lot. There's fires, there's snow, all the things that happen. And we try to take care of each other."
The grocery store, Goodwin & Sons, is a perfect example, Liskey said. The business stayed open for nearly a week until its roof caved in under the weight of feet of snow, forcing it to shut down indefinitely. The owners are hoping to repair the store within a year.
As roads began to reopen, reinforcements from across the state flooded in, including more snowcats. Firefighters from San Diego to Santa Barbara worked to free trapped residents, reinforced compromised buildings and responded to gas leak fires.
It wasn't until this week that officials felt they could start sending some of that backup home. But just when things seemed calm, forecasters projected another atmospheric river on the horizon, another whiplash.
At Fire Station 91 in Lake Arrowhead, the headquarters for the mountaintop's search and rescue efforts, Eric Sherwin examined a map of the area, looking for places that could be in trouble as the storm rolled in Tuesday afternoon.
"We're not through this just yet," said Sherwin, a fire engineer in nearby Fontana who has been working as a public information officer at the Lake Arrowhead station since the blizzard hit.
An earlier atmospheric river had brought downpours that devastated the small community of Pajaro in Monterey County and flooded a major Bay Area highway. In higher elevations like the Sierra Nevada and San Bernardinos, meteorologists warned that the rain could soak snow stacks and cause more building collapses, or could prompt so much snowmelt that the runoff could lead to flooding.
"We have not had a chance to take that deep breath and pause," Sherwin said. "We've had our eyes down on the objectives going on three weeks now. This remains a very active incident. I think this storm is going to test our response efforts so far."
In recent years, fire departments across the state have reported more cases of post-traumatic stress and depression. And without a chance to recuperate during the colder, wetter months, the situation could become even more dire as fire season begins, said Jeff Dill, the founder of Firefighter Behavioral Health Alliance, which advocates for greater awareness of mental health issues.
"It makes me worried because if we do get another season for wildland fires that is just as atrocious as past years, what will be the breaking point, physically and mentally, for our first responders?" said Dill, a retired fire captain. "Because you can only do so much."
Newcomer said he is proud of his crew's work during the storms, saying they did everything they could during a difficult situation.
As they braced for more bad weather – which finally relented Wednesday without causing major flooding in the mountains – the captain and his crew relished a couple hours of quiet. They smoked ribs on the station's balcony, caught up on backlogged incident reports and monitored the forecast while they waited for more calls to come in.
Newcomer, who signed up to fight fires when he was 21, thinks of his job in seasons, some busier than others. His team had just been through a grueling one, and they were looking forward to a respite, at least until temperatures warm and the threat of wildfires resumes.
"You know, being a firefighter," he said, "one thing that you can always hang your hat on is: It could always be worse."
Local journalism is essential.
Give directly to The Spokesman-Review's Northwest Passages community forums series -- which helps to offset the costs of several reporter and editor positions at the newspaper -- by using the easy options below. Gifts processed in this system are not tax deductible, but are predominately used to help meet the local financial requirements needed to receive national matching-grant funds.
Subscribe now to get breaking news alerts in your email inbox
Get breaking news delivered to your inbox as it happens.
---