Sports > Gonzaga basketball
Recap and highlights: Third-seeded Gonzaga surge past Grand Canyon 82-70 for first-round win
March 17, 2023 Updated Fri., March 17, 2023 at 9:54 p.m.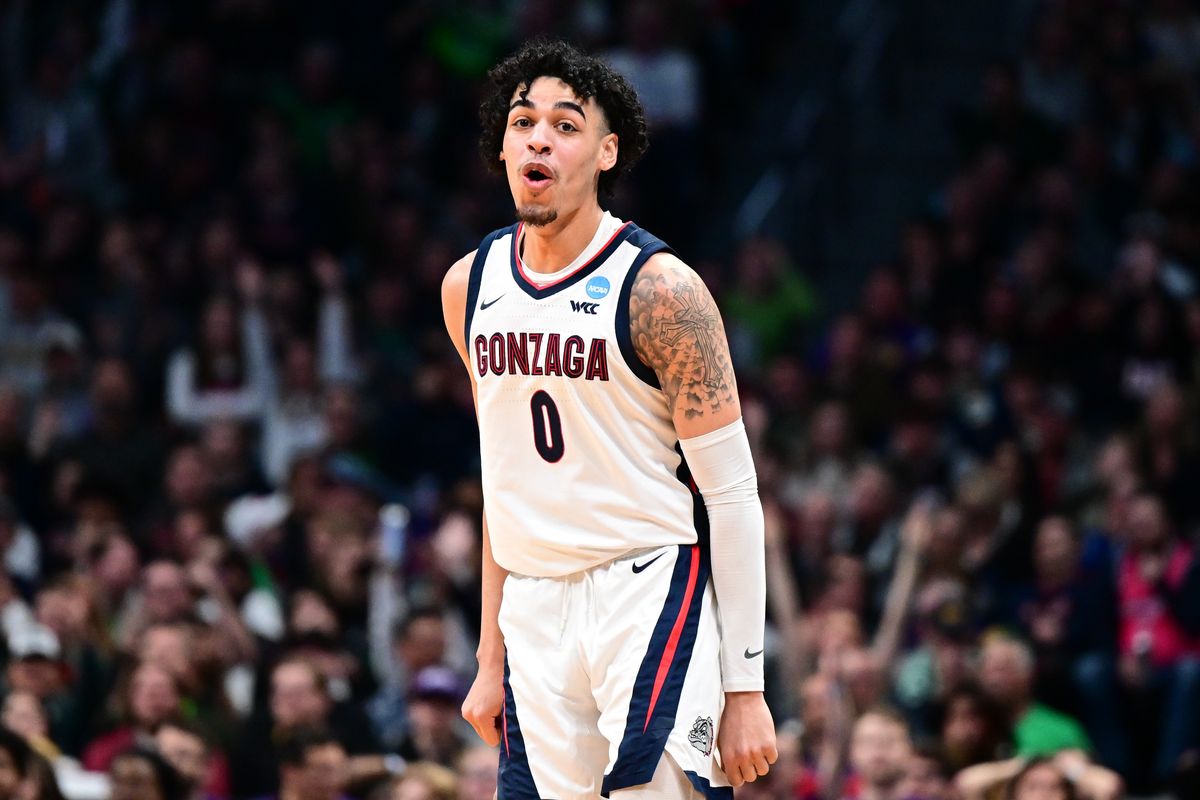 Gonzaga Bulldogs guard Julian Strawther (0) reacts during the second half of a first round NCAA Basketball Tournament game on Friday, March 17, 2023, at Ball Arena in Denver, Colo. Gonzaga won the game 82-70. (Tyler Tjomsland/The Spokesman-Review)Buy a print of this photo
DENVER – Gonzaga was on upset watch in the first half, but that wouldn't last.
The third-seeded Zags caught fire out of halftime and rolled to a 82-70 win over No. 14 seed Grand Canyon in the first round of the NCAA Tournament on Friday at the Ball Arena.
With many fans in attendance transfixed on the jumbotron, watching Fairleigh Dickinson beat Purdue to become the second No. 16 seed to win a tournament game, the Antelopes' hopes of their own upset faded.
The Bulldogs (29-5) were led by Julian Strawthers' 28 points and 10 rebounds, as the junior had his best performance in an NCAA Tournament game.
Anton Watson also contributed a double-double with 14 points and 10 rebounds and Drew Timme scored 19 points.
Gonzaga got out to a seven point run, but lulled offensively in the first half, allowing Grand Canyon to build a seven point lead.
The Zags turned things around and showed why they boast the nation's leading offense. GU shot 54% from the field, 47% on 3-pointers and 79% on free throws.
Gonzaga will await tonight's game between Texas Christian and Arizona State to learn its second-round opponent.
NCAA / Youtube
First half
19:42 – GU 2, GCU 0: Bolton gets a steal and passes to Watson for a dunk to get the scoring going early.
18:06 – GU 7, GCU 0: Perfect start for the Zags, as Watson knocks down a 3-pointer to capitalizes on the fourth Antelopes turnover in the first two minutes. GCU calls a timeout.
15:54 – GU 10, GCU 6: Antelopes settle in and get the points flowing at the first media timeout. Timme called for a travel for the Zags' second turnover.
14:43 – GCU 12, GU 10: Back-to-back 3-pointers gives the Antelopes a 10-0 run and their first lead. Timme called for an offensive foul. 
11:46 – GCU 12, GU 10: Strawther draws a foul at the U12 media timeout and will try and snap a 5-minute GU scoring drought.
Bulldogs making up for lack of offense and four turnovers on the defensive end, as Watson and Timme come up with consecutive blocks.
7:50 – GCU 23, GU 17: Strawther is fouled on a 3-point attempt at the U8 media timeout, as the Antelopes take their largest lead of the game.
McMillian leads GCU with seven points, as both teams are shooting around 40% from the field. Antelopes hold a 14-8 rebound advantage.
4:38 – GCU 28, GU 25: Timme get a put-back dunk and the Antelopes call a timeout. Strawther leads GU with nine points, Watson adds seven.
GCU shooting 40% on 3-pointers.
48.5 – GU 38, GCU 36: Strawther makes a 3-pointer to add to his team-high 16 points. Both teams trading shots toward the end of the half.
Halftime
Nolan Hickman made a late layup to give Gonzaga a 40-36 lead over Grand Canyon at halftime in the first round of the NCAA Tournament.
The Bulldogs trailed by as many as seven points in the half, but came back late, as both teams shot well from the field.
Gonzaga made 52% of its shots and went 3-for-7 on 3-pointers, while Grand Canyon shot 46% and made 4 of 12 3s. 
Julian Strawther has a team-high 16 points, while Anton Watson adds 11. The Zags blocked six shots and had five steals in the half. 
Second half
17:30 – GU 43, GCU 38: Bolton makes a 3-pointer early into the second half for his first points of the game.
15:33 – GU 52, GCU 42: Hickman makes a free throw line jumper to give the Bulldogs their largest lead of the game. Zags clicking early in the half, Strawther made a layup on the possession before.
12:07 – GU 60, GCU 42: Watson sinks a 3-pointer and the Zags are pulling away near the U12 media timeout.
9:54 – GU 64, GCU 42: Zags fully in control, as Timme makes a pair of free throws to extend GU's lead. Zags outscoring the Antelopes 24-6 in the second half.
Elsewhere, in a stunning upset, Farleigh Dickinson beat Purdue 63-58 to become the second No. 16 seed to win a NCAA Tournament game.
6:12 – GU 71, GCU 55: Antelopes chip into GU's lead with 3-pointers, but the Zags remain comfortably ahead at the U8 media timeout.
Strawther leads with 26 points with his best performance in an NCAA Tournament game, after struggling to score in last years' tourney.
Watson adds 14 points and nine rebounds and Timme has 13 points.
4:00 – GU 75, GCU 55: Bulldogs well on their way to the second round at the final media timeout. Timme quickly builds his point total to 17.
Strawther (26 points, 10 rebounds) and Watson (14, 10) both have double-doubles.
Pregame
The NCAA Tournament opened with multiple stunning upsets and high-seeded victories. Friday's games have mostly gone as expected … at least for now.
Third-seeded Gonzaga opens its tournament run in Denver against No. 14 seed Grand Canyon. Tipoff is scheduled for 4:35 p.m. on truTV.
The Bulldogs (28-5) are 15½-point favorites against the Antelopes (24-11). 
Grand Canyon finished fourth in the Western Athletic Conference, but won four games in the conference tournament to receive the auto-bid into the field of 68.
The Antelopes played two West Coast Conference teams this season, beating Pepperdine in overtime and losing to Loyola Marymount by four points.
Individual leaders
Game preview
More on the Zags
Local journalism is essential.
Give directly to The Spokesman-Review's Northwest Passages community forums series -- which helps to offset the costs of several reporter and editor positions at the newspaper -- by using the easy options below. Gifts processed in this system are not tax deductible, but are predominately used to help meet the local financial requirements needed to receive national matching-grant funds.
Follow along with the Zags
Subscribe to our Gonzaga Basketball newsletter to stay up with the latest news.
---