Sports > Gonzaga women
TV Take: Nothing goes right for the Gonzaga women in first-round loss to Ole Miss
March 17, 2023 Updated Fri., March 17, 2023 at 10:15 p.m.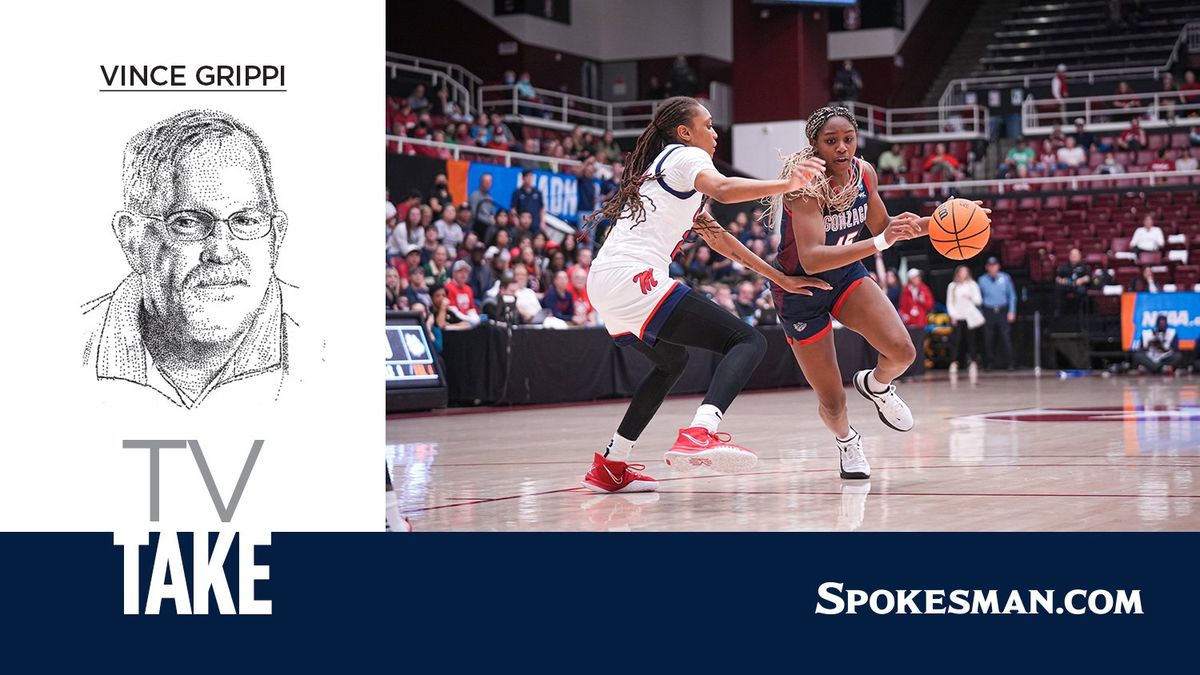 For much of the first half, the gap between ninth-seeded Gonzaga and eighth-seeded Mississippi seemed even thinner than one line on the bracket. By the time the teams headed to the locker room, it was an unbridgeable chasm.
The Rebels were too athletic, too efficient and too physical for Gonzaga, ending the Zags' season with a 71-48 wipeout in an NCAA Tournament first-round game from Stanford, California.
It was brought to us on ESPNU by play-by-play voice Roy Philpott and analyst Brooke Weisbrod.
• With 5 minutes, 35 seconds left Friday night, two Ole Miss players battled each other for a defensive rebound after another of Gonzaga's 41 misses. Both flailed at it and, falling out of bounds, tossed it back toward the Bulldogs' hoop.
Kayleigh Truong was standing next to the basket, no one else around. She accepted the gift and laid it up. It hit the front of the rim. And bounced off to Ole Miss.
Weisbrod gasped.
"And that was a microcosm of how it's gone tonight for Gonzaga," she said. And she was right.
So was her partner, Philpott, a minute later when he summarized the game.
"The two big stories," he said as Mississippi stepped to the line with a 24-point lead. "The foul trouble for (Yvonne) Ejim in the first half, picking up three personals before halftime. (And) the 3-point shooting, obviously."
Then he explained the last sentence.
"One of 16 from deep tonight for the top-shooting 3-point-shooting team in America."
"I'm really stunned," Weisbrod responded. "I would have thought, as good as Ole Miss is defending the 3, that Gonzaga would have found a way to maybe hit five to seven 3s."
• Ejim was the lone bright spot for the Zags, leading all scorers with 19 points on 8-of-14 shooting and eight rebounds. She also was the only Bulldog who seemed comfortable with the pressure. But she played just 8 minutes before halftime, picking up her third foul with about 4 minutes left. She finished with 23 minutes.
She also earned unbridled praise from the broadcasting duo.
• Mississippi's defensive strategy was obvious, from the opening tip. It was not going to allow the Bulldogs to shoot from beyond the arc. Or attack the rim without contact.
Ole Miss succeeded at both.
"This is stifling defense," said Weisbrod, a former college player and Chicago Sky analyst. "This is what-else-do-you-do defense."
On the perimeter, the Rebels switched defenders when necessary and fought through Gonzaga's ball-screen offense if possible. Either way, the Zags rarely had a clear look at the rim.
Especially West Coast Conference Player of the Year Kaylynne Truong.
The point guard was hounded by a variety of Mississippi guards and, when Ole Miss switched, she was unable to attack with impunity.
"You can't replicate the physicality you're going to get from Ole Miss," Weisbrod said, noting it took the Zags some time to get acclimated to the defensive pressure.
Still, with about 5 minutes left in the first half, the Rebels led just 17-16 – despite the Zags being 0 for 5 on 3-point attempts. That reached 0 for 7, and Ole Miss' lead reached 13 as it went on a 17-5 run to end the half.
Kaylynne Truong missed all five of her first-half shots and had one point. Brynna Maxwell was also 0 for 5 with two points. They finished 2 of 9 and 1 of 10, respectively.
"Gonzaga can't even find a clean look," Weisbrod said before the second half began. It wasn't exactly true – Maxwell had two – but it was close enough.
The offensive issues that plagued Gonzaga (25-5) in the WCC Tournament title game loss to Portland continued throughout this one, although the Mississippi defense helped it along in a different way. Still, Ole Miss' pressure turned the Zags tentative again.
The Zags, who shot 41.5 % from beyond the arc coming in, finished 1 of 17. They were 16 of 41 inside.
Local journalism is essential.
Give directly to The Spokesman-Review's Northwest Passages community forums series -- which helps to offset the costs of several reporter and editor positions at the newspaper -- by using the easy options below. Gifts processed in this system are not tax deductible, but are predominately used to help meet the local financial requirements needed to receive national matching-grant funds.
Subscribe to the sports newsletter
Get the day's top sports headlines and breaking news delivered to your inbox by subscribing here.
---