Sports > NCAA basketball
No. 12 seed Florida Gulf Coast catches fire in third quarter, upsets fifth-seeded Washington State in NCAA Tournament opener
March 18, 2023 Updated Sat., March 18, 2023 at 10 p.m.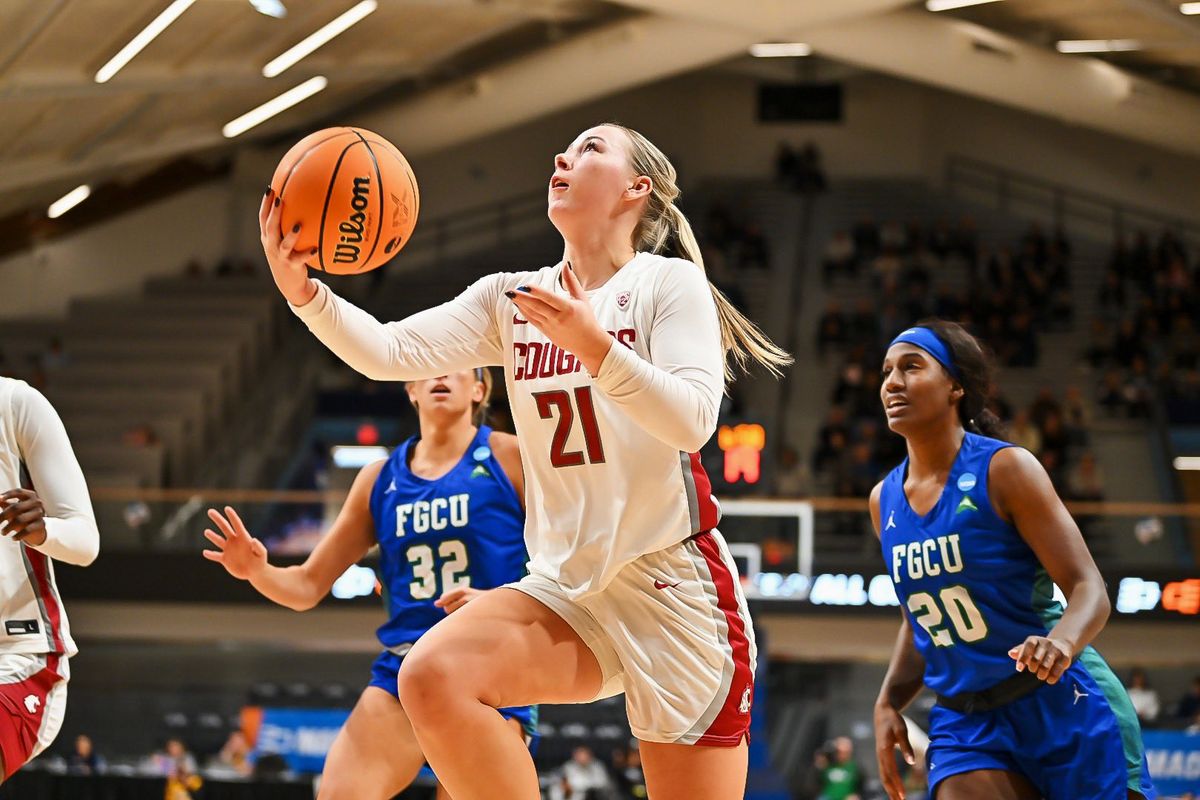 Washington State guard Johanna Teder goes up for a shot while Florida Gulf Coast defenders Emma List (32) and Sha Carter give chase on Saturday in Villanova, Pennsylvania. (Courtesy/WSU Athletics)
VILLANOVA, Pennsylvania – Washington State turned in a historic season and earned its best NCAA Tournament seed in program history.
Unfortunately for the Cougars, they were matched up against a team that seems perpetually underseeded at the tournament – a program that has a history of pulling upset wins .
The Cougars became the latest No. 5 seed to fall against 12th-seeded Florida Gulf Coast, which has claimed three 12-over-5 victories at the NCAA tourney since 2018. The Eagles caught fire in the third quarter and eliminated WSU 74-63 on Saturday afternoon at Finneran Pavilion.
"We get a lot of respect nationally," longtime FGCU coach Karl Smesko said. "Any time these brackets come out, a lot of people predict us to win. It's not like people are super surprised.
"It'd be interesting to see how many programs have as many wins as a 12 seed as we do. … Whoever they put us against, we feel like we have the opportunity to win."
The Cougars (23-11) came into the tourney riding a wave of momentum after claiming their first Pac-12 Tournament championship. But WSU's best season in program history concluded with another letdown in the Round of 64. Making their third consecutive appearance at the NCAA tourney, the Cougars remained winless at the event, dropping to 0-4 .
The Eagles (33-3), in the NCAA tourney for the sixth consecutive season, improved to 4-8 historically . FGCU extended its winning streak to 15 games.
"This isn't a one-off. This is what (Smesko) does every year," WSU coach Kamie Ethridge said. "He wins 30 games, comes in underseeded and plays an unbelievably tough, seasoned game."
FGCU used the third quarter to separate from a tight game. The Eagles shot 11 of 14 from the field in the period and outscored the Cougars 30-16. Eagles guard Maddie Antenucci made three straight 3-pointers midway through the quarter, including one that produced a reaction online. The ball bounced high off the rim twice and hit the top of the backboard before falling into the net.
"That pretty much summed it up for us in the third quarter," FGCU guard Sha Carter said of the shot. "Our defense was on fire, and we were being rewarded on the offensive end."
The Cougars shot 4 of 13 from the floor during the same quarter and fell into a 13-point hole. Charlisse Leger-Walker, WSU's star guard, picked up her fourth foul late in the quarter, and the Cougars' offense couldn't close the gap in the final 10 minutes.
"The third quarter did us under a little bit," Ethridge said. "Giving up 30 points, it's a credit to them, their style of play and the toughness they have as a team. We just couldn't quite match them. We didn't guard them good enough to give ourselves a chance."
The Cougars had a significant advantage in height, but the Eagles had a considerable edge in quickness at the perimeter. FGCU ball-handlers often beat WSU defenders off the dribble and slashed inside for layups. The Eagles, the nation's top 3-point shooting team in makes and attempts, scored 50 points in the paint.
"As much as we worked on it, I thought we would be a little better," Ethridge said. "They got some downhill angles. Our bigs were out there trying to guard 1-on-1 from the 3-point line to the rim. It's just not their comfort zone. It was a competition of styles, and we couldn't get to our advantage with the size we had in the post. They took advantage of our bigs on the perimeter with the ability to get by us."
FGCU had a 13-0 run in the first quarter and took a four-point lead after scoring 14 points in the paint. The Cougars responded in the second with a 13-2 run over 3 minutes. WSU guard Johanna Teder got hot from 3-point range, and the Cougars took a 32-31 lead into halftime. The Eagles dominated the third quarter and stayed ahead comfortably .
"We had a really good defensive effort, limited touches for their best player (Leger-Walker)," Smesko said.
WSU standouts Leger-Walker and center Bella Murekatete got in foul trouble in the second quarter and combined for four points on 1-of-10 shooting from the field in the first half. Murekatete scored 10 points. Leger-Walker had five points – matching a season low – and shot 2 of 10 from the floor before fouling out midway through the fourth quarter.
"There's so many things I need to work on individually, especially in these big games, big moments," said Leger-Walker, a three-time All-Pac-12 player. "I just feel horrible about my performance tonight. … I'm obviously very, very hungry to come back and help this team get past the first round. The last three years, we haven't managed to do that, so that's definitely something personal for me."
Sophomore guard Tara Wallack led WSU with 16 points and 12 rebounds. Teder had nine of her 11 points in the first half. Freshman guard Astera Tuhina made her first three shot attempts and totaled nine points and six assists.
The Cougars shot 39% as a team and 7 of 26 (27%) from 3-point range. FGCU went 55.6% from the field but tied a season low in 3-point makes, hitting 5 of 14. The Eagles finished 25 of 40 (62.5%) inside the arc.
"They're a very unique team," WSU forward Ula Motuga said. "I don't think anyone in the Pac-12 plays the way they do. They spread you out and force you to guard 1-on-1. And they're a tough matchup because they can shoot the 3-ball really well."
Carter scored 24 points, shooting 9 of 10 inside the arc. Guard Tishara Morehouse, the ASUN Player of the Year, chipped in 16 points. Antenucci and forward Kierra Adams combined for 23 points on 9-of-11 shooting from the field.
The Eagles advance to face fourth-seeded Villanova on Monday at Finneran Pavilion – Villanova's home court. WSU's season ended, but the Cougars will return four starters next season and again set their sights on an NCAA tourney victory – one of few accomplishments that has eluded them during Ethridge's successful build of the program.
"(Returning players) get another chance to put yourself in the game, put yourself in the arena and if you do that enough times, you're going to knock through some doors," Ethridge said. "We did that at the Pac-12 Tournament this year. We have some work to do to get further in the NCAA Tournament."
Local journalism is essential.
Give directly to The Spokesman-Review's Northwest Passages community forums series -- which helps to offset the costs of several reporter and editor positions at the newspaper -- by using the easy options below. Gifts processed in this system are not tax deductible, but are predominately used to help meet the local financial requirements needed to receive national matching-grant funds.
Subscribe to the sports newsletter
Get the day's top sports headlines and breaking news delivered to your inbox by subscribing here.
---