Sports > Gonzaga basketball
Gonzaga anticipates familiar challenge from Big 12 foe TCU in NCAA Tournament Round of 32 clash
March 18, 2023 Updated Wed., March 22, 2023 at 3:57 p.m.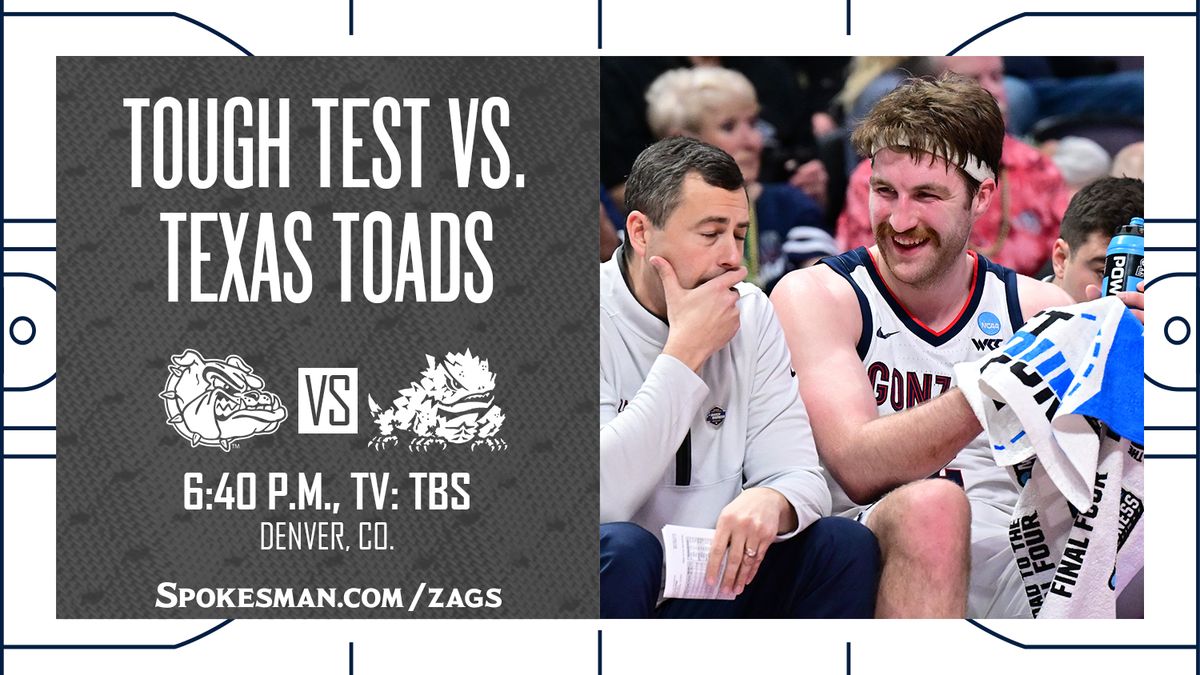 DENVER – Strong. Fast. Physical. Explosive in the backcourt. Athletic in the frontcourt.
That description could probably apply to any number of teams Gonzaga's played from the Big 12 Conference over the years.
In this case it applies to TCU, the team standing in GU's way of an eighth consecutive trip to the Sweet 16. The Bulldogs (29-5) will also be seeking their eighth 30-win season when they tip off with the Horned Frogs (22-12) at 6:40 p.m. Sunday at Ball Arena with a trip to Las Vegas on the line.
"This team, TCU, I knew when the matchup popped up on the board Sunday that, like, it's going to be tough," Gonzaga coach Mark Few said. "I mean, I really feel like when they're at their highest end, it's as high as anybody in this tournament when you look at some of the things they've done."
The Bulldogs have tapped into that a few times this season and they enter Sunday's matchup on a 10-game streak, winning seven of those games by double figures – including Friday's opening-round 82-70 NCAA game against Grand Canyon.
"You know, when we're at our highest end, we can go on the road and beat Alabama at Alabama basically in Birmingham," Few said, referencing GU's 100-90 win over the NCAA Tournament's top overall seed in mid-December. "So hopefully, it'll be a great game."
Gonzaga's high end still hasn't coincided with a game against the Big 12, though.
In 2021-22, the Bulldogs routed Texas at home and beat Texas Tech at a neutral site, but this year's group is 0-2 against the conference with a 93-74 road loss to Texas and a 64-63 loss to Baylor in a neutral-site game at the Sanford Pentagon in Sioux Falls, South Dakota.
Those games were helpful for TCU while preparing for Gonzaga. Coach Jamie Dixon's staff watched both on Friday night, hours after edging Arizona State 72-70, and went back through the tape again Saturday morning.
"That was November, December. I think they've had some guys play a lot of minutes during that time and get a lot of confidence through that," Dixon said. "… We tried to watch teams that have done some of the things we would try to do and incorporate that into our plan, game plan.
"We've watched a lot of tape, and we recognize that they're still No. 1 in the country in offensive efficiency, so nobody has quite figured it out."
TCU players are confident they can disrupt Gonzaga's dynamic offense, averaging 87.5 points per game, with their size, pressure and physical play.
"Big 12 is a different intensity on the defensive end, and I think that bothered Gonzaga," TCU's Chuck O'Bannon said. "I believe they were 0-2 (or) 0-3 against Big 12 teams. We're going to try to pressure them all game, make them uncomfortable and hopefully, come out with the win."
Fifth-year senior guard Rasir Bolton is Gonzaga's resident Big 12 expert, playing two years in the conference while at Iowa State. That included an 81-79 overtime loss to TCU in 2020, a 65-59 win over the Horned Frogs later the game season and two losses in 2021 decided by a combined seven points.
Bolton said the Horned Frogs are bigger across the board than they were two years ago, citing O'Bannon, the team's 6-foot-6 senior forward, as an example.
"O'Bannon was at the 4 when I played them, now he's at the 3, so I think they got bigger," Bolton said. "But I think they're the same team, same coach, same dog mentality. They're going to crash the glass, get to the rim."
The Horned Frogs were fifth in the Big 12 standings with a 9-9 record, but they've commanded Gonzaga's respect playing in a conference that sent 60% of its teams to the NCAA Tournament.
TCU bagged a handful of impressive victories, winning at No. 2 Kansas, at No. 19 Baylor and at home against No. 11 Kansas State and No. 9 Texas.
"You just don't see teams going into Phog Allen Fieldhouse and win by 30 or whatever they did," Few said. "And so they play with great pace, and they'll be a handful. But we'll rest these guys up, and we've seen everything this year, and these guys have always responded. They have championship pedigree. Then, who knows?"
How will Gonzaga counter TCU's pace?
"We like to run, too," senior forward Drew Timme said. "We love to run."
Timme, who grew up in the Dallas suburbs not far from TCU's campus in Fort Worth, has a 5-3 career record against the Big 12. He anticipates the Horned Frogs will deploy a defensive strategy similar to the one used by Texas, Texas Tech and Baylor that's designed to limit the All-American's touches in the post.
"All the teams kind of overload the middle on defense, no middle. They try to keep you on one side of the court," Timme said. "They really try to load up and also they like to double from the baseline on post catches, which is pretty much what all of them do. So they've kind of all adopted that style."
The Horned Frogs have a few sturdy options in the frontcourt to match up with Timme, who's coming off a 21-point game against Grand Canyon. Those include O'Bannon, 6-7 Emmanuel Miller, 6-9 Xavier Cork and 6-7 reserve forward JaKobe Coles, who ended Timme's high school career when his Guyer High team beat the Gonzaga signee and Pearce High 75-57 on Feb. 22, 2019.
"Big body, got good moves, got good footwork, but I don't think it's nothing we can't handle," Coles said. "Me and X (Xavier Cork) have guarded plenty of bigs this year who have just as good a footwork as any other big in the country, and I think we'll do a good job of that."
Local journalism is essential.
Give directly to The Spokesman-Review's Northwest Passages community forums series -- which helps to offset the costs of several reporter and editor positions at the newspaper -- by using the easy options below. Gifts processed in this system are not tax deductible, but are predominately used to help meet the local financial requirements needed to receive national matching-grant funds.
Follow along with the Zags
Subscribe to our Gonzaga Basketball newsletter to stay up with the latest news.
---