Sports > High school sports
2023 Spring Sports Preview: Gonzaga Prep goalie Noah Jordan brings fearlessness, leadership to back line
Sun., March 19, 2023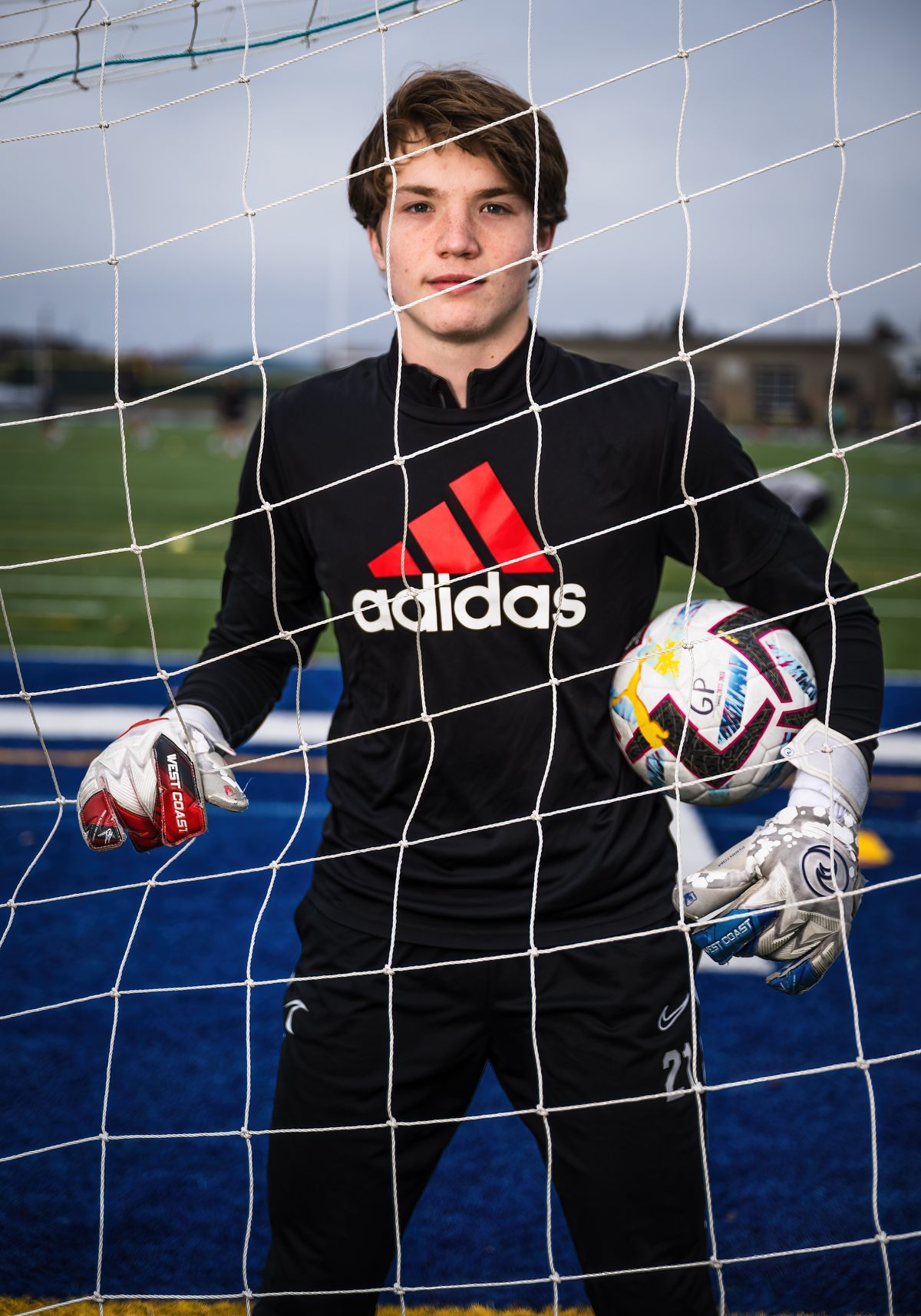 Gonzaga Prep goalie Noah Jordan poses during practice at the school on Monday. (COLIN MULVANY/THE SPOKESMAN-REVI)
A freak accident in a game against Mt. Spokane in 2022 left Gonzaga Prep goalkeeper Noah Jordan having to overcome an injury that he caused to an opponent.
A teasing through ball sent Jordan off his line to break up the attack.
That led to a collision on the ball as Jordan had one thing in his mind: clear the ball to safety and prevent the Wildcats from a golden scoring chance.
But sports are sports, and bang-bang plays that lead to injuries unfortunately make up some of the action .
"When passes are coming in, in my mind, I'm just thinking about getting the ball," he said. "Basically, just do anything I can to make sure that they can't score."
Bullpups head coach Johnny Petrinovich-Bartich sat Jordan for their next game to make sure the then-sophomore goalie was mentally ready to get back between the sticks.
"He really handled it in stride," the fifth-year coach said.
For Jordan, his spot of sanctity is inside his 6-yard box, so a return to the field after a one game hiatus made the most sense.
Jordan has been a soccer player since he was 5 and a goalie for almost the entirety of his career.
He tried almost every sport – his dad was a football player, and his mom played volleyball – but it was the pull of being a soccer player, and specifically a goalie, that pushed him to the pitch.
Neither parent had a soccer background to lean on, so Jordan gravitated toward Eric Lewis when he was on the Spokane Surf. Lewis helped build – brick by brick – the foundation that Jordan's new skills are constructed on.
When Jordan was younger, he was pretty short for a goalie, so he had to learn how to jump and how to reach the corners where taller goalies naturally could.
Lewis also instilled in Jordan how to be courageous and to own the 18-yard box.
Jordan's next mentor was Bryan Hernandez, the goalkeeping coach for the Gonzaga men's team who also works with the Spokane Sounders, Jordan's former club team.
And unlike most burgeoning players, the thrill of putting the ball in the back of the net turned out to be more of a repellent for Jordan early on.
"I just enjoy saving shots," he said. "Taking shots and being a striker, I never was really keen on."
Jordan has had his own share of injuries to overcome. He has dealt with two concussions, and one of his pinky fingers is forever bent due to a fracture that he hasn't had time to get surgically repaired.
"I don't want to sit out (for the recovery)," he said.
It's the willingness to sacrifice one's body and a mental fortitude that seems inherent in goalies.
Being able to reach each corner of the net and having the reflexes to be a premier shot-stopper are important. A lot of athletes have those innate abilities in some capacity.
Jordan is able to prepare for a shot with next-level positioning and has the leadership to align the defense in front of him. It's a combination of factors that makes him special – on top of the plethora of athletic skills he possesses.
"He's a competitor," Petrinovich-Bartich said. "He pushes our defense; he pushes everybody. His skill set is just really, really well-rounded. And he's just never satisfied. He's always asking me how we can get better. He's always worked on his game, watching film, sending me stuff. He's a student of the game, no doubt."
That level of dedication has led him to the next few phases of his development.
The Sounders switched leagues, which dropped them down a level in competition.
He made the decision to join Crossfire Premier in Seattle where he will be spending a couple days a week on the west side, honing his craft against the best players in the state.
Jordan has clearance from G-Prep for these cross-state trips. It helps that his teachers trust that he will continue to excel in the classroom.
The junior has a 3.9 GPA in honors and AP classes on top of being active in the community.
"I'm ecstatic for him," Petrinovich-Bartich said. "Playing in Seattle to get top-level coaching is huge. And just to brush shoulders with ex-pros and college players."
Stepping up to play on one of the best youth clubs in the country won't be his first time going up against the best of the best.
In January, Jordan was invited to play for the ECNL (Elite Clubs National Level) National Selection Game in Florida, which pits the best players of the ECNL from the West Coast against those of the East Coast. He was then named a captain of that team.
Crossfire currently leads the ECNL Northwest Conference standings with a 19-1-0 record.
During spring break, Jordan will head to Barcelona to join the International Development Academy for an MICFootball tournament.
Lionel Messi and Marcus Rashford played in this tournament when they were younger.
"It's a surreal experience," Jordan said. "Basically, I'm playing against people all over the world. And the team I'm on, I've heard we have three different languages on my team. I can't wait to go over and play."
The ultimate goal playing in this tournament is to leave enough of a mark to hear from the IDA or any other academies from around the world.
But first, he has the Greater Spokane League season to continue.
The Bullpups are 2-0 with wins against two teams, Mt. Spokane and Mead, who are expected to finish toward the top of the table.
G-Prep is expected to be one of the better teams in the GSL with eight starters returning and 13 total letter-winners.
Jordan said that cohesiveness has bonded the team, making the whole squad affable.
"It's a lot of the same terminology, a lot of the same kind of philosophy and playing model," Petrinovich-Bartich said.
There will be a lot of egos to manage with an experience-laden roster, though, Petrinovich-Bartich said. But having that extra depth is worth it, especially at the high school level.
"I think Prep has a good chance of taking the GSL and then making a great state run," Jordan said.
The entire front attacking line returns, but the two starting centerbacks from a season ago graduated. That puts more pressure on Jordan to utilize his voice to keep his backline organized.
"It starts with him, his voice and as a goalkeeper, you see the whole field so you know the more you can communicate with that backline to shift or to step, to drop all those things just you know make a really strong, cohesive unit," Petrinovich-Bartich said. "He is definitely going to keep us in a lot of games this season."
When a team knows Jordan is in goal, Petrinovich-Bartich says it puts that ounce of fear in the minds of the Bullpups' opponents knowing that even on their best night, beating Jordan is a tall task – something his teammates experience every day in practice.
"The coaching staff jokes about if we can score against him, we should be able to score against anybody in this league," Petrinovich-Bartich said. "He's a top, top keeper."
Local journalism is essential.
Give directly to The Spokesman-Review's Northwest Passages community forums series -- which helps to offset the costs of several reporter and editor positions at the newspaper -- by using the easy options below. Gifts processed in this system are not tax deductible, but are predominately used to help meet the local financial requirements needed to receive national matching-grant funds.
Subscribe to the sports newsletter
Get the day's top sports headlines and breaking news delivered to your inbox by subscribing here.
---