Sports > Gonzaga basketball
Recap and highlights: No. 3 seed Gonzaga steps up on defense to rally past TCU 84-81 into Sweet 16
March 19, 2023 Updated Sun., March 19, 2023 at 11:18 p.m.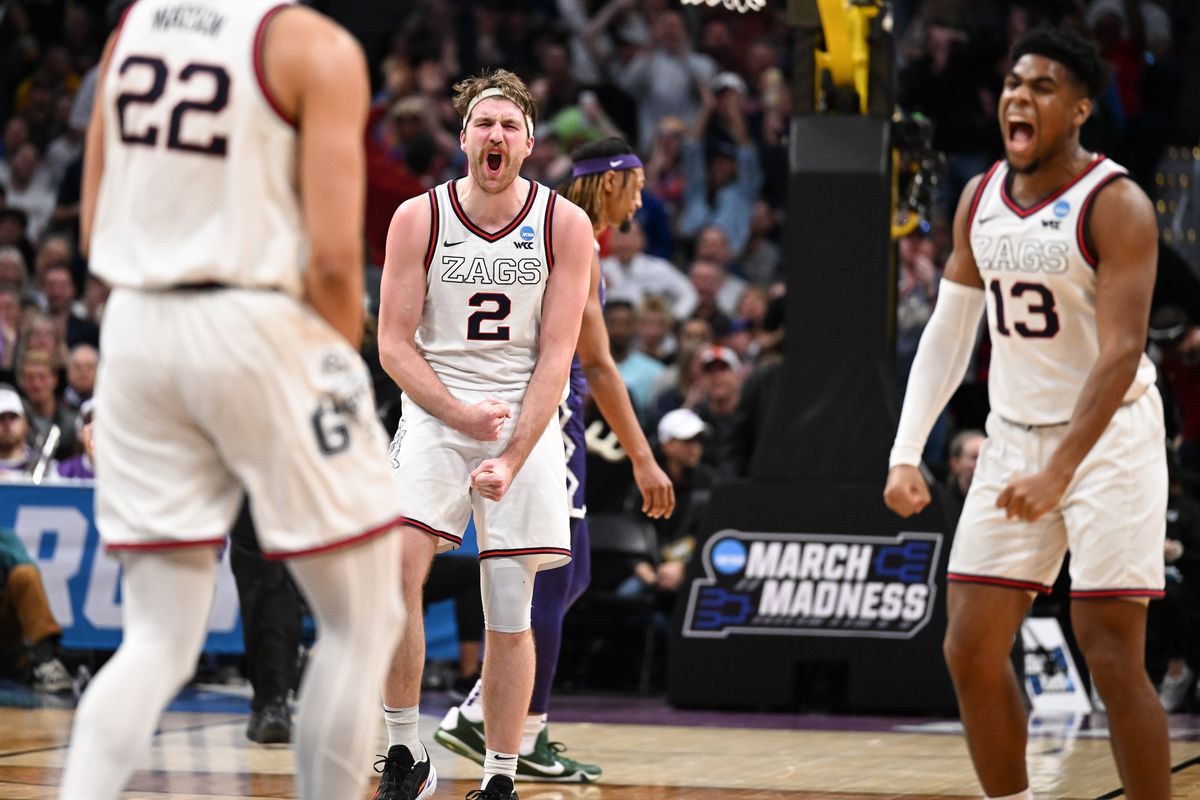 Gonzaga Bulldogs forward Drew Timme (2) and guard Malachi Smith (13) celebrate after forward Anton Watson (22) dunked the ball against the TCU Horned Frogs during the second half of a second round NCAA Basketball Tournament game on Sunday, March 19, 2023, at Ball Arena in Denver, Colo. Gonzaga won the game 84-81. (Tyler Tjomsland/The Spokesman-Review)Buy a print of this photo
DENVER – The setup felt familiar.
Gonzaga started cold from the field and Texas Christian took advantage, jumping out to a double-digit lead, while playing a physical and energetic game.
Early in the first half Mike Miles Jr. ripped the ball from the hands of Anton Watson, giving him a bump and a flex. It was a taunt to say West Coast finesse is no match for Big 12 might.
That may have been true five months ago.
Third-seeded Gonzaga relied on its defense to earn a hard-fought 84-81 win over TCU in the second round of the NCAA Tournament on Sunday at Ball Arena.
The Bulldogs (30-5) had six steals and five blocks in the win, keeping them in contention despite opening 1 of 10 on 3-pointers.
"I thought we were very tentative in the first half," Gonzaga coach Mark Few said. "And they were definitely really up into us. And much like the first half of the first game, we just were not being who we are."
Each early miss brought more confidence in the Horned Frogs (22-12), who led for over 23 minutes and by as many as 10 points.
"I really challenged them, listen, this isn't how we've been playing and who we are and it's not why we've made this run this last month and a half." Few said. "We've got to get back to being the aggressor and playing our style of basketball."
The post pairing of Drew Timme and Watson matched the tenacity.
Timme scored a game-high 28 points and grabbed eight rebounds. Watson added nine points to go with 12 rebounds, three steals and a block.
The Zags took control with a a 13-0 run midway through the second half. It was punctuated by a Timme 3-pointer – his third of the season – and a breakaway dunk by Watson.
"It was huge, late clock, two-point game, just kind of launched one up there and it went in," Timme said of the shot. "All you can do is smile and laugh."
The Bulldogs shot 53% from the field and made 6 of 11 3-pointers in the second half. They had key contributions from Rasir Bolton (17 points), Malachi Smith (10 points) and Julian Strawther (10 points, nine rebounds).
Still, the Horned Frogs wouldn't go away. TCU pulled within two points with 7 minutes left and three points with 2:11 to go.
Each time the Zags had an answer.
Timme's layup with 1:43 left gave Gonzaga a firm lead and its eighth consecutive berth to the Sweet 16.
Another familiar feeling. And it will be a familiar foe.
Gonzaga advances to play second-seeded UCLA on Thursday – the victim of Jalen Suggs' buzzer-beater in 2021 and the cause of Adam Morrison's heartbreak in 2006.
NCAA / Youtube
First half
Intros – Gonzaga and TCU about to tip off from the Ball Arena in Denver.
19:34 – TCU 2, GU 0: Bolton misses a 3-pointer and Miller makes a layup to get the Horned Frogs on the board first.
15:16 – TCU 9, GU 6: Timme makes a pair of post shots, but TCU answers with a 3-pointer from O'Bannon and a layup at the first media timeout.
Bolton and Strawther both have two missed 3-pointers, as the Zags start 0 of 4 from deep.
11:36 – TCU 17, GU 11: Horned Frogs taking full advantage of a slew of missed 3-point attempts from the Zags. Build a six-point lead and will have a free throw attempt after the U12 media timeout.
Gonzaga is 1 of 8 on 3-point attempts and 4 of 6 on inside field goals.
8:11 – TCU 23, GU 15: Hickman goes down with an apparent head injury, as the Zags try to match the pace and intensity of the Horned Frogs.
Gonzaga shooting 35% from the field and 11% on 3-pointers.
5:36 – TCU 29, GU 24: Strawther finally hits from deep to snap the Zags' shooting slump. Timme is carrying the load with 11 points. 
3:26 – TCU 33, GU 26: Bolton drives inside and is fouled at the U4 media timeout. Zags hanging despite woeful shooting is the half. GU is 37% from the field, 15% on 3s and 50% on free throws.
Halftime
Gonzaga cut a 10 point lead to three, but trail TCU 38-33 at halftime.
The Bulldogs will be happy the lead isn't more, shooting 36% from the field and 14% on 3-pointers in the half. TCU shot 45% and converted 8 of 11 attempts from the free throw line.
Mike Miles Jr. leads the Horned Frogs with 10 points, while three others have seven apiece. 
Drew Timme leads GU with 11 points on 5 of 10 shooting. Timme, Anton Watson and Ben Gregg each have two fouls apiece.
Second half
15:50 – GU 46, TCU 45: Strawther nails a transition 3-pointer and the Zags go back in front after trailing by as many as 10 points.
14:22 – TCU 50, GU 48: Miles makes a 3-pointer and Peavy picks up his third foul at the U16 media timeout.
Horned Frogs have four players with three fouls apiece.
11:57 – TCU 55, GU 52: Miles is sizzling, scores five straight and gestures to the crowd, before Bolton answers with a jumper through contact on the other end.
Bolton will have a free throw shot after the U12 media timeout.
8:39 – GU 63, TCU 55: Timme makes a 3-pointer, just his third of the season, and Watson nabs a breakaway steal for a dunk on the other end. TCU calls a timeout, as the Zags are on a 13-0 run.
 7:58 – GU 63, TCU 56: Bolton whistled for an offensive foul at the U8 media timeout. That's the Zags' first turnover in the second half.
4:34 – GU 68, TCU 61: Strawther called for a foul after Timme makes a layup to give the Zags their largest lead.
TCU is on a 2:46 minute scoring drought and made just 2 of their last 10 attempts.
3:47 – GU 70, TCU 64: Timme makes a layup through contact at the U4 media timeout. He has a game-high 24 points.
2:56 – GU 73, TCU 66: Miles makes a jump shot and Gonzaga takes a timeout. 
1:14 – GU 76, TCU 70: Strawther makes 1 of 2 free throws.
45.0 – GU 77, TCU 73: Coles makes a 3-pointer and the Horned Frogs refuse to go away. 
00:00 – GU 84, TCU 81: Gonzaga advances and will face UCLA in the Sweet 16.
Pregame
Gonzaga fans will be familiar with the setup.
The offensive-minded Bulldogs match up with a physical Big 12 opponent in the NCAA Tournament.
This time its in the second round, with the third-seeded Zags taking on the sixth-seeded Texas Christian Horned Frogs. Tipoff is set for 6:40 p.m. from the Ball Arena in Denver. The broadcast is on TBS.
The Bulldogs (29-5), with the nation's leading scoring offense, surged past Grand Canyon in the first round 82-70.
The Horned Frogs (22-11) edged No. 11 seed Arizona State in the opener 72-70, with Jakobe Coles making the go-ahead with 2 seconds left.
TCU played two NCAA Tournament teams in its nonconference schedule, beating Iowa 79-66 on Nov. 26 and Providence 75-62 on Nov. 30. Both those teams lost in the first round.
The Frogs finished 9-9 in the Big 12 Conference, earning notable wins at Baylor and Kansas, and at home over Texas and Kansas State. TCU lost to Arizona in overtime during the Round of 32 during last year's tournament.
Gonzaga played two Big 12 teams this season, losing at Texas 93-74 on Nov. 16 and losing at a neutral site to Baylor 64-63. GU was 2-0 against Big 12 teams last season 3-1 the previous year, losing to Baylor in the National Finals.
Team stats
Individual leaders
Game preview
More on the Zags
Local journalism is essential.
Give directly to The Spokesman-Review's Northwest Passages community forums series -- which helps to offset the costs of several reporter and editor positions at the newspaper -- by using the easy options below. Gifts processed in this system are not tax deductible, but are predominately used to help meet the local financial requirements needed to receive national matching-grant funds.
Follow along with the Zags
Subscribe to our Gonzaga Basketball newsletter to stay up with the latest news.
---