Sock it to 'em: 25,000 pairs of socks donated to local charity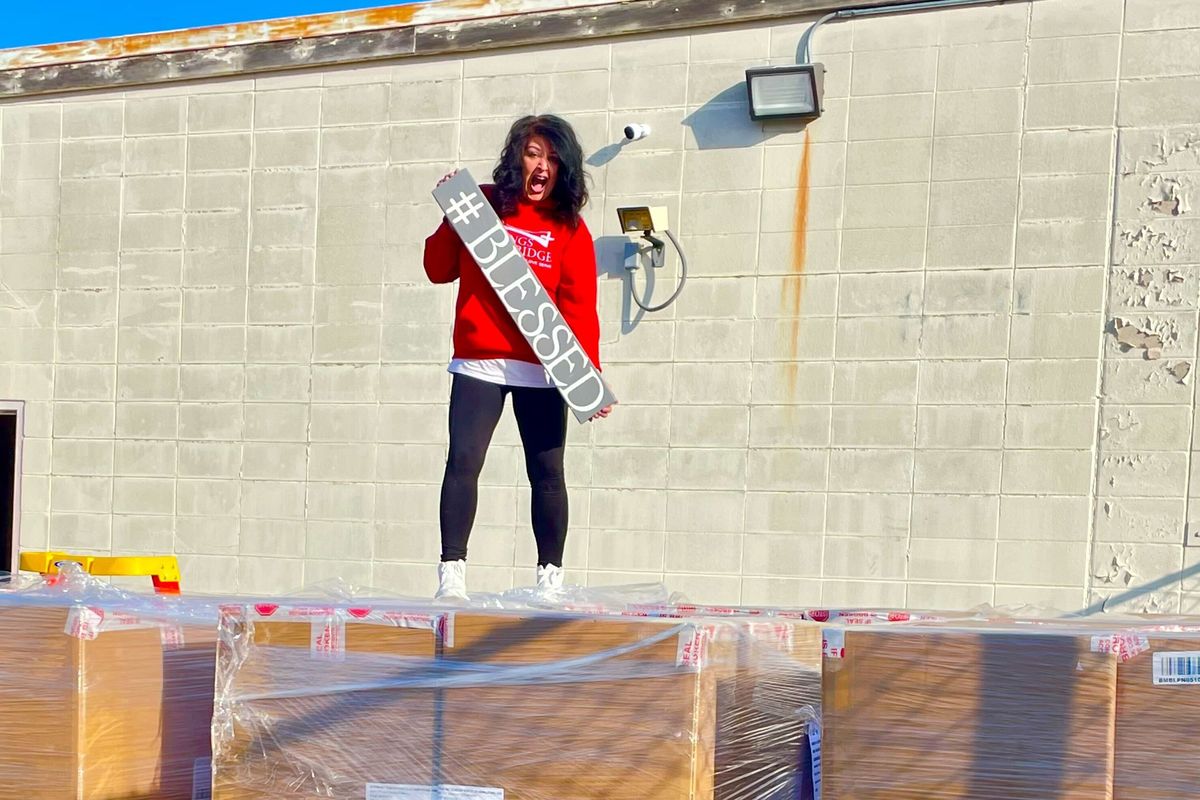 Jessica Kovac got more than she bargained for when a semitruck delivered 25,000 pairs of socks to her charity organization, Blessings and Beyond, in Spokane Valley last week.
Kovac, the founder and director of the organization, applied for a donation of 10,000 pairs from Bombas socks in New York this year to be distributed to people in need. But after a meeting with the company's staff, the donation size was more than doubled, Kovac said.
"They asked if we could use more socks, and I said we could always use more," Kovac said. "I wasn't expecting 15,000 more."
Nine pallets of socks arrived at Blessings and Beyond's doorstep on Friday. Kovac said she had to get a ladder to climb to the top of the pallets, where she "looked like an ant" in comparison.
Those socks, which come in a variety of shapes and sizes, are like "gold" for people experiencing homelessness, especially during the colder months, Kovac said. Not only do new clean socks provide warmth, they also reduce foot infections, she said.
"People will trade their backpack or food or anything they have on them for socks," she said. "The Bombas socks are really nice, too."
Kovac began her outreach program as Blessings Under the Bridge, delivering 40 meals in brown paper bags in 2007 under the Interstate 90 overpass downtown, near the old skate park. For 15 years, she provided one meal a week. Her organization, recently rebranded as Blessings and Beyond, has grown to include a dining service, a mobile medical clinic, an office and more. This year, the organization expanded its role in the community as the meal provider at the Trent Resource and Assistance Shelter, which is operated by the Salvation Army.
"Those 40 brown bags have multiplied Blessings into what it is today," Kovac said. "I don't think I intended to get this large, but the community had a place to serve.'
Her organization has provided about 1,200 meals per day at the facility since Feb. 1, she said. By her estimate, Blessings and Beyond has provided more than 35,000 meals as of March 19.
Those meals include taco Tuesdays, burger bars on Fridays and, recently, a meal of corned beef and carrots for St. Patrick's Day.
Blessings took a short hiatus at the beginning of the year after Kovac's mother died. Looking back at her work since her passing, Kovac said she owes much of her success to her mother.
"Where I grew up, I didn't always have lunch," she said. "My mom was sick, so she didn't always have time to make us meals."
But her mother would frequently show up to school with a brown paper bag filled with sandwiches and snacks, she said.
"For all the times we felt forgotten, it made up for that," Kovac said. "I want everyone to know that they're worth that cherry on top."
---