News > Nation/World
Robert Smith, man of the people, finds a cure for Ticketmaster's ills
March 20, 2023 Updated Mon., March 20, 2023 at 2:33 p.m.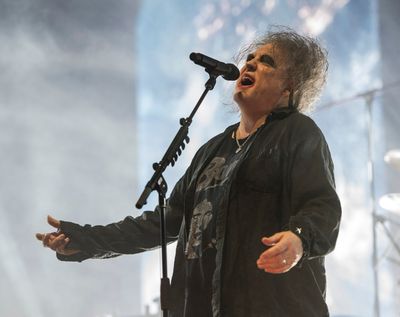 An unlikely hero has emerged in the great war on Ticketmaster fees, effecting change which could reverberate throughout the concert industry.
Robert Smith, lead singer of legendary British rock outfit the Cure, put his foot down on those frustrating fees fans have gotten used to paying when buying tickets to see their favorite artists in concert. And in a shocking turn of events, Ticketmaster responded, agreeing to give a small cut of cash back to the people.
The money will come in $5 and $10 reimbursements to those who bought tickets to the Cure's upcoming summer tour. It's not going to drastically alter anyone's finances. But it's the principle that matters, and Smith accomplished what artists such as Bruce Springsteen and Taylor Swift and scores of others who have complained about concert biz ticketing practices over the years have not yet been able to do: he got Ticketmaster to budge. And that's significant.
Wars are not won in a single battle. Well maybe they are, but I'm not an expert on wars. The point is this: there has been a lot of talk on all sides of the Ticketmaster debate, but Robert Smith — Goth icon, emo OG, international treasure — is the first artist to take a stand and get the ticketing giant to cede some ground on the battlefield. Maybe your favorite artist is next.
It started with the announcement of the Cure's 2023 tour, the band's first North American trek since 2016, which includes the Rock and Roll Hall of Famers' first Metro Detroit concert since 2004. In the announcement of the tour, the band indicated it had worked closely with Ticketmaster to get tickets into the hands of fans, not resellers, and said in a statement it was taking steps to keep prices low, and to avoid the "Platinum" and "Dynamically Priced" ticketing models that have been employed by artists on high profile tours in recent years.
So-called dynamic pricing was put under a microscope last year when Springsteen announced his 2023 tour, walloping fans with ticket prices that fluctuated wildly depending on in-the-moment demand, with some tickets going for as high as $5,000.
It happened again with Swift's tour, demand for which overwhelmed Ticketmaster's online systems, and Swift spoke out against the ticketing giant, saying the situation "pissed me off." Taylor Swift, for the record, is not a person anyone wants pissed off.
A group of Swift's fans filed suit against Ticketmaster, accusing the ticketing giant of fraud, misrepresentation and anti-trust violations. In January, Taylor Swift fans swarmed Washington, D.C., as the Senate Judiciary Committee held hearings on the Swift ticketing fiasco, arguing whether the Live Nation-owned Ticketmaster has a monopoly on the ticketing industry. It was a different kind of gathering than the one in Washington two Januarys ago, but it was noteworthy nonetheless.
That set the table for this week's events, but no one expected the Cure — the cult band behind sunshiny radio hits such as "Friday I'm in Love" and "Just Like Heaven," as well as the beautifully gloomy "Love Song" — to be the ones to get Ticketmaster to change their ways. But that's how these things go, they were the right ones at the right time, and it's why no one has actual, real life "bingo cards" they use to predict life's unforeseen events. (It would be fun if they stop pretending like they do, maybe Robert Smith can make that his next pet cause.)
As tickets went on sale this week for the group's tour, fans on social media shared screengrabs of their transactions and blasted the add-on fees tacked onto the tickets, with one particularly viral post showing how four $20 tickets to the band's June 13 Pine Knob show turned into a $172.10 transaction. That breaks down to $92.10 in bonus fees: $11.65 per ticket in service fees ($46.60 total), a $10 per ticket facility charge ($40), and a $5.50 processing fee on the order. (The mobile delivery on the tickets, alas, was free.)
Smith, for his part, wasn't having it.
"I AM AS SICKENED AS YOU ALL ARE BY TODAY'S TICKETMASTER 'FEES' DEBACLE," Smith tweeted on Wednesday. "TO BE VERY CLEAR: THE ARTIST HAS NO WAY TO LIMIT THEM. I HAVE BEEN ASKING HOW THEY ARE JUSTIFIED. IF I GET ANYTHING COHERENT BY WAY OF AN ANSWER I WILL LET YOU ALL KNOW."
And then on Thursday, he let everyone know — again, in all caps.
"AFTER FURTHER CONVERSATION, TICKETMASTER HAVE AGREED WITH US THAT MANY OF THE FEES BEING CHARGED ARE UNDULY HIGH, AND AS A GESTURE OF GOODWILL HAVE OFFERED A $10 PER TICKET REFUND TO ALL VERIFIED FAN ACCOUNTS FOR LOWEST TICKET PRICE ('LTP') TRANSACTIONS," he tweeted, loudly. "AND A $5 PER TICKET REFUND TO ALL VERIFIED FAN ACCOUNTS FOR ALL OTHER TICKET PRICE TRANSACTIONS, FOR ALL CURE SHOWS AT ALL VENUES."
A success, a triumph, a cure, if you will, for the many ills of the ticketing world.
Ticketing fees are annoying to anyone who buys tickets, because they're unpredictable and they're treated as a surprise at the end of a transaction. It's like if you put $40 worth of gas in your car, and were charged $82 as you pulled away. They wouldn't be as pesky if they were just baked into the price in the first place; it's their sneakiness, the gotcha at the end ("oh, just one more thing!") that makes them so maddening.
The lack of transparency is a huge part of the issue, and the fact that fans don't understand "facility charges" (isn't the facility already there? What's the charge?) and processing fees and the like, and how the money is split. And when they're doled out as the clock is ticking on an order and if you don't accept and pay them immediately you risk not going to the show you really want to go to, it's a hard pill to swallow.
And it's still a hard pill to swallow, but Smith made that pill a little easier to swallow. Maybe others will follow. And that's the little victory, the glimmer of hope, that fans need as the great war continues to be fought.
Local journalism is essential.
Give directly to The Spokesman-Review's Northwest Passages community forums series -- which helps to offset the costs of several reporter and editor positions at the newspaper -- by using the easy options below. Gifts processed in this system are not tax deductible, but are predominately used to help meet the local financial requirements needed to receive national matching-grant funds.
Subscribe now to get breaking news alerts in your email inbox
Get breaking news delivered to your inbox as it happens.
---