Sports > Gonzaga basketball
'A positive entity with a big smile.' Zach Norvell Jr. has experienced game from different lens during return to Gonzaga
March 21, 2023 Updated Tue., March 21, 2023 at 8:39 p.m.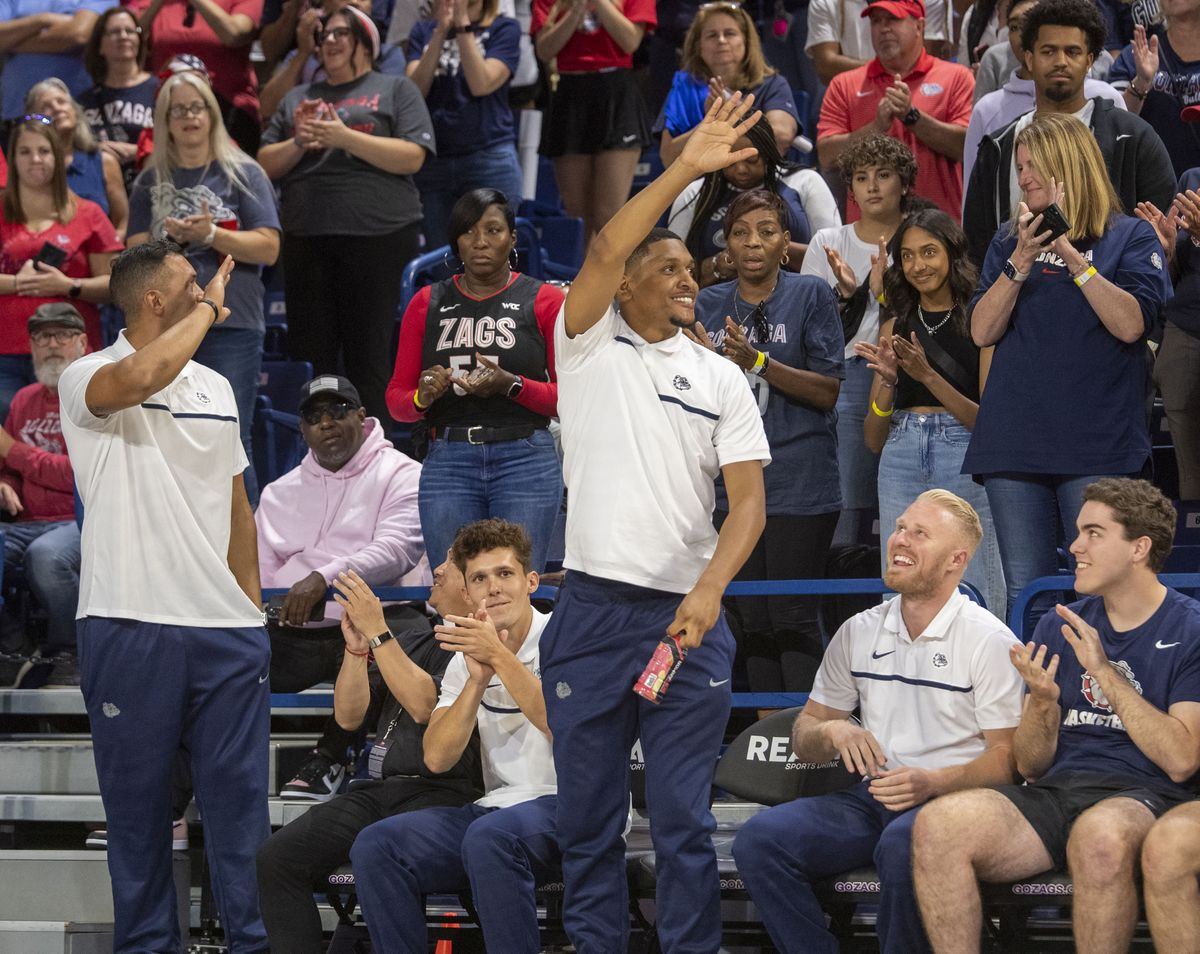 Former Gonzaga players J.P. Batista, left, and Zach Norvell, right, acknowledge the standing-room-only crowd after they were announced as part of the team's coaching staff at Kraziness in the Kennel night at Gonzaga University Saturday, Oct. 8, 2022. (Jesse Tinsley / The Spokesman-Review)Buy a print of this photo
It's become a popular route for Gonzaga players upon checking out of games. They'll trade words with Mark Few. They'll go down the line of folding chairs exchanging high-fives and fist bumps with teammates. Finally, they'll stop at the end of the bench and pull up a seat next to the team's first-year student assistant.
Zach Norvell Jr. reads the situation and scenario to determine his next move. Whether he's offering sympathy or the hard truth, the message always means more coming from the former Gonzaga guard who's always commanded a high level of respect around the program – for three years as a standout player and now as a member of Few's staff.
"He's been great. He brings a lot of great energy," fifth-year senior guard Rasir Bolton said. "Always upbeat, he'll tell you the truth, let you know if you're doing good, doing bad, what you need to adjust. He's just been a great help."
Norvell has turned an unlucky chapter of his professional basketball career into a positive situation, returning to Gonzaga to complete his undergraduate degree in sports management and accepting a coaching role with Few's staff while he continues to rehabilitate from an injury setback.
The 25-year-old, who's had NBA and G League stints with the Golden State Warriors, Los Angeles Lakers and his hometown Chicago Bulls, weighed his options last summer and decided to put a brief pause on professional basketball to complete a knee procedure.
"Choosing to have to sit out again," Norvell said, "I was like, I might as well come back to Gonzaga, get my degree in the process, come back healthy and helping the guys out along with it was good timing as well."
Norvell returned home to Chicago on Nov. 1 to get cartilage removed from his injured right knee. But with the exception of a five- to six-week stretch during nonconference play, he's been on Gonzaga's bench all season, offering perspective and insight that 18- to 22-year-old college players aren't always able to get from Few or his assistants.
"He's just such a positive entity with a big smile on his face," Few said. "He's just gregarious and he's just great to have around. I think the guys look at him as a guy that's gotten in NBA games. Obviously had success at our level here. Kind of brings that swag and confidence. It's fun to have him around."
Norvell 's experience is especially advantageous this week as the Zags prepare to play UCLA in the Sweet 16 – a stage the guard was on twice during his college career. Affectionately known as "Snacks" during his time at Gonzaga, Norvell was part of the 2018 team that lost to Florida State in the Sweet 16 and the 2019 team that watched its NCAA Tournament run end with an Elite Eight loss to Texas Tech.
Gonzaga fans pleaded for Norvell to return Spokane for his junior season in 2019-20, but he ultimately declared for the NBA Draft, landing a free-agent opportunity with the Lakers.
Norvell decided to give the Zags another season after all, just in a different capacity than the one he had for Few's teams from 2017-19.
"It's been easy having a good team," Norvell said. "A lot of talented guys that want to learn and are eager to get better as well."
Norvell 's taking a small dip into the world of coaching this year, but it could be a full-time endeavor once his playing career is over. The concept was planted a long time ago, when Norvell would shadow his father Zachary, a former collegiate basketball player who coached for more than a decade, at practices and games in the Chicago area.
"It was kind of being around him and after games and long days of being at practice we'd kind of have conversations," Norvell said. "I kind of understood what the grind looked like a little bit, but obviously this level it's just a little bit different. But it's still just dealing with guys and players, people and relationships, so it's kind of natural."
The guard who averaged 13.8 points over two seasons with the Zags said it's been rewarding to learn under Few, who recruited him in 2015 out of Chicago hoops powerhouse Simeon High, and listed a few of his main takeaways from seven months on the job.
"Everything's a grind, a day-by-day process," he said. "… Just being consistent with the work, trusting the plan, the process. Adjusting on the fly and stuff like that, too. We've had a lot of ups and downs in the season, but seeing how the core has stuck together and figured things out is pretty cool and unique to see from a different side of things."
Norvell 's story is relatable for current Bulldogs players hoping to follow his track from Gonzaga to the NBA.
"He's like my big brother. I talk to 'Snacks' all the time," Bolton said. "I've asked him about the NBA, what that experience was like and things like that. … Coach Few will get on you sometimes and you kind of start thinking too much and he'll let you know, it's OK, everybody kind of went through the same thing. It's normal, you'll be fine, it won't change the outcome of your career or nothing like that."
When Gonzaga's current season ends, Norvell will shift his priorities again and begin seeking out his next professional opportunity once he's fully recovered from knee surgery.
The 6-foot-4 guard made five appearance in the NBA – three with Golden State, two with Los Angeles – and played 36 games with the G League affiliate of both franchises.
What did Norvell learn during what he hopes is the first of multiple NBA stints?
"Just how to approach the game, be a pro at all times and if you're not at the gym still taking care of your body, watching film," Norvell said. "The work that goes into it, those guys that become all-stars and high-level players, they don't get there just by the heck of it."
Norvell 's time at the top flight of pro basketball coincided with COVID-19 lockdowns, but he did his best to consume information and learn tips and tricks from future Hall of Famers such as LeBron James and Steph Curry.
"I would say they were both competitive," Norvell Jr. said. "LeBron competes in everything he'd do. Then I'd say Steph is a workhorse, so he's always competing in drills or whatever the thing they would be. So I think they're both just competitive, crazy dudes."
Norvell 's confidence hasn't waned since his playing days at Gonzaga. Asked how he'd fare against Curry in a 3-point competition, Norvell responded, "I feel like I could give anybody a run."
During his stint with the Warriors, Norvell had an opportunity to play alongside close friend Jeremy Pargo, another former Gonzaga guard who hails from Chicago.
While attending Gonzaga's exhibition against Tennessee last October, Pargo said he was delighted to see Norvell get an opportunity with Few's staff.
"He can tap me on the shoulder anytime he needs some pointers," Pargo said. "I can help him out a little bit. But he's under the right umbrella to learn about coaching."
Local journalism is essential.
Give directly to The Spokesman-Review's Northwest Passages community forums series -- which helps to offset the costs of several reporter and editor positions at the newspaper -- by using the easy options below. Gifts processed in this system are not tax deductible, but are predominately used to help meet the local financial requirements needed to receive national matching-grant funds.
Follow along with the Zags
Subscribe to our Gonzaga Basketball newsletter to stay up with the latest news.
---