A&E > Food
Bethany Jean Clement: Here's the real best-ever beans recipe. They're dinner-party delicious
Wed., March 22, 2023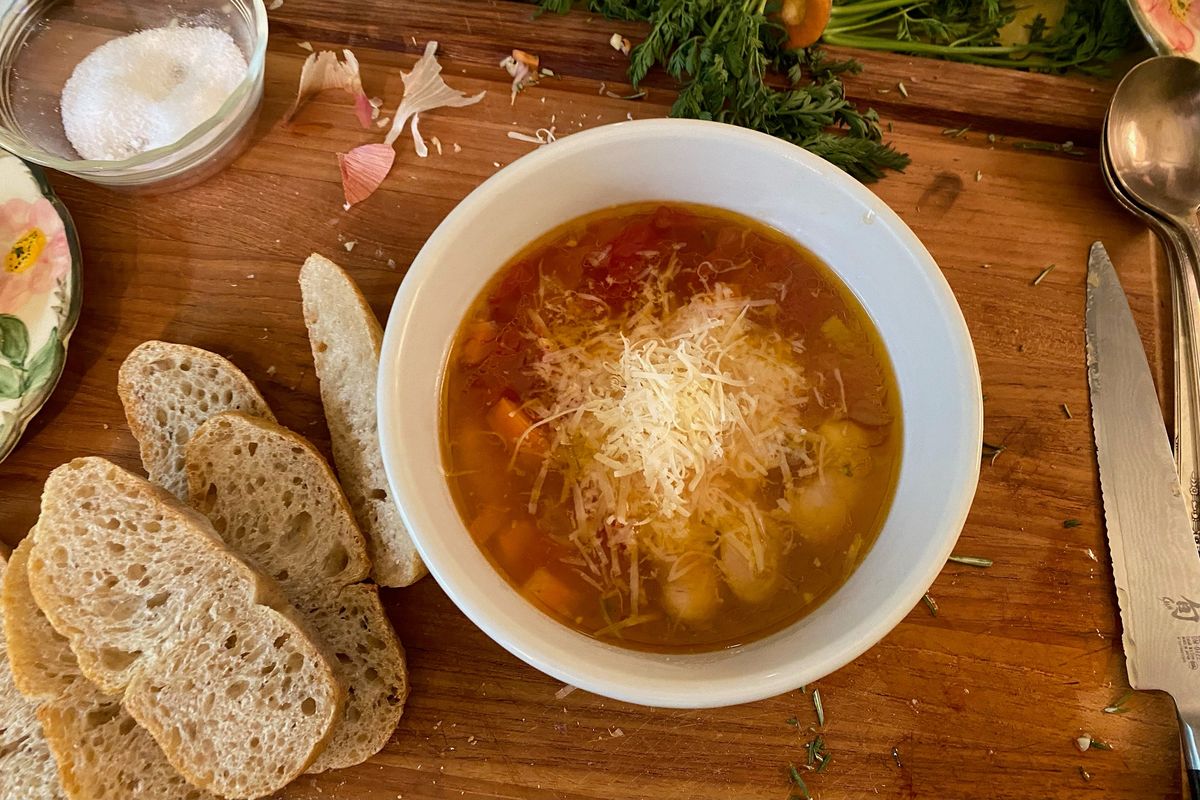 Serve Bradley Sweek's Best-Ever Beans with lots of grated Parm, some good bread and a simple salad for dinner-party-worthy greatness. (Jack Bennett/TNS)
Approximately 1,001 bean-related articles came out over the past few years. Topics included which dried beans were optimal to order online in packages you'd wipe down with antiseptic upon arrival, in what way to soak said beans for hours whilst trapped in your own home, and how to then cook those beans in the best possible manner so that the eating of them might momentarily stave off your feeling of impending doom. Now, at last, all of our sourdough starters are dead, and we've got stockpiles of beans looking at us with their millions of beady little eyes from the cupboard. It's beautiful!
Several recipes for The Best-Ever Beans that I tried out during the pandemic turned out sturdily good – a fine side dish or light supper, nothing superlative about them. Leaving beans behind for a bit seemed all right, cupboard side-eye notwithstanding.
Then our friends Bradley and Gillian had us over for dinner, and Bradley made beans, and they were, truly, The Best Beans Ever. These were main-dish-dinner-party-worthy beans: Richly savory, they were somehow possessed of both a deeply satisfying simplicity and, if you thought about the beans while engulfing them, a little tantalizing complexity. These beans had an I-AM-COMPELLED-TO-EAT-THESE-BEANS quality that seems rare among beans.
Gillian and I went from kindergarten all the way through high school together, and then we worked at the same alt-weekly newspaper for a while, and she is wonderful. (Also, fun fact: When we were growing up, her mom was a chimney sweep.) Gillian then brought the wonder that is Bradley into our sphere: Bradley founded Seattle's AMIGA Light and has designed lighting for local restaurants including Phnom Penh Noodle House and the Butcher's Table, and he is known as a friend to all, and he is also known as a next-level home cook.
Bradley graciously accepted my raving praise and offhandedly noted that while he used to make his beans with ham hock, this method involving a lot of olive oil came out even better. Additionally, he mentioned tomato and anchovy and shallot. He also served the beans with his good-and-garlicky homemade sourdough focaccia, because Bradley kept his sourdough starter alive. There was lots of Parmesan to sprinkle into the beans and a nice simple green salad, and it was a tremendously great dinner, with Gillian's lovely Granny Smith apple crisp baked prettily in a cast-iron skillet for dessert.
Pestered for the recipe the next day, Bradley messaged me a methodology prose-poem with the kinds of rough amounts that grandmas give. He also kindly offered to come make his Best-Ever Beans (my title) with me anytime. I took him up on that, and he entertained my efforts to measure things like how much a Bradley-sized palmful of salt is as we went along, in order to bring this traditionally formatted recipe to you. Due to my overenthusiastic water-adding, my version of Bradley's Best-Ever Beans turned out soupier than his, but Bradley said that was just fine – he is nothing if not forgiving, as is his recipe, for the beans were still magically good.
Bradley Sweek's Best-Ever Beans
Ahead-of-time-note: You'll want to soak your beans – see step 1.
Bradley calls this recipe Tuscan- or Perugian-adjacent, but he got the idea to add vinegar after seeing that usage in Cuba. Choose any kind of dried beans you favor: Bradley gets his locally at Big John's PFI ("But they are not always fresh, so soaking overnight is important"), from Rancho Gordo ("always fresh") or Fiesta brand from US Foods CHEF'STORE ("from Eastern Washington and always fresh! The best black beans anywhere"). I would submit that a larger-caliber bean, such as a scarlet runner or corona, adds to the grandeur here. Bradley also recommends Mutti brand canned tomatoes. He credits the plethora of olive oil deployed for the transcendent end result, but I'd say the umami from the anchovies (or their veg friend strong-and-salty olives) does a lot of lifting, too.
1 pound dried beans (see note above and step 1)
Around 3 teaspoons salt (aka 1 Bradley's palmful)
1 tablespoon-ish vinegar – red wine, apple cider or whatever you have kicking around
About 11/2 cups decent-quality extra-virgin olive oil
1 (2-ounce) tin of anchovies, roughly chopped, with all their extra oil (for vegetarian/vegan friends, substitute about 4 ounces pitted and chopped oil-cured olives with their extra oil)
1 large shallot, minced
3-4 cloves garlic, minced
1 (28-ounce) can of tomatoes
2-3 medium-to-large carrots, quartered and sliced
Freshly ground black pepper
About 1 tablespoon-plus fresh rosemary or sage (or use fresh basil in summertime)
Grated Parmesan, to garnish
If you can, soak the beans overnight in water with a couple inches extra to cover (and even 4 to 6 hours is good, too). Whether they are fresh dry beans or old ones, it won't hurt and will always help.
Drain the beans and put them, the salt, the vinegar and almost a cup of olive oil – this is the key to the beans being really yummy and savory – in a large pot.
Add water to about 2 inches above the top of the beans, bring them to a boil for 10 to 15 minutes, then turn down to a simmer and cover with a lid. Check them every so often – you might need to add a little water here and there if the level is dropping below the beans. Use hot tap water or water from a simmering kettle, and it won't drop the temperature too much.
Start checking after 40 minutes for tenderness, and meanwhile, keep going with the steps here. Your beans will take an hour or two, or possibly a little longer – they should be holding together but buttery-soft inside.
To a medium skillet over medium-high heat, add 1/4 inch of olive oil, the anchovies and their oil and the shallot, then cook for about 2 minutes. Add the garlic and cook until aromatic. Add the tomatoes, carrots, your herb of choice and about 20 grinds of black pepper. Sauté over medium-high until bubbling, turn down to medium and cook for about 15 minutes until everything gets to know each other nicely, then take off the heat.
Just as your beans are ready, dump in your skilletful of goodness. Stir into the beans. Add another glug of olive oil. You can let this go on a simmer while you do other things – it will only get better.
Serve with lots of grated Parm.
Yield: 4 servings
Local journalism is essential.
Give directly to The Spokesman-Review's Northwest Passages community forums series -- which helps to offset the costs of several reporter and editor positions at the newspaper -- by using the easy options below. Gifts processed in this system are not tax deductible, but are predominately used to help meet the local financial requirements needed to receive national matching-grant funds.
Subscribe to the Spokane7 email newsletter
Get the day's top entertainment headlines delivered to your inbox every morning.
---