Sports > Gonzaga basketball
How the Bulldog moms and dads found new family in each other through supporting their kids
March 22, 2023 Updated Wed., March 22, 2023 at 9:48 p.m.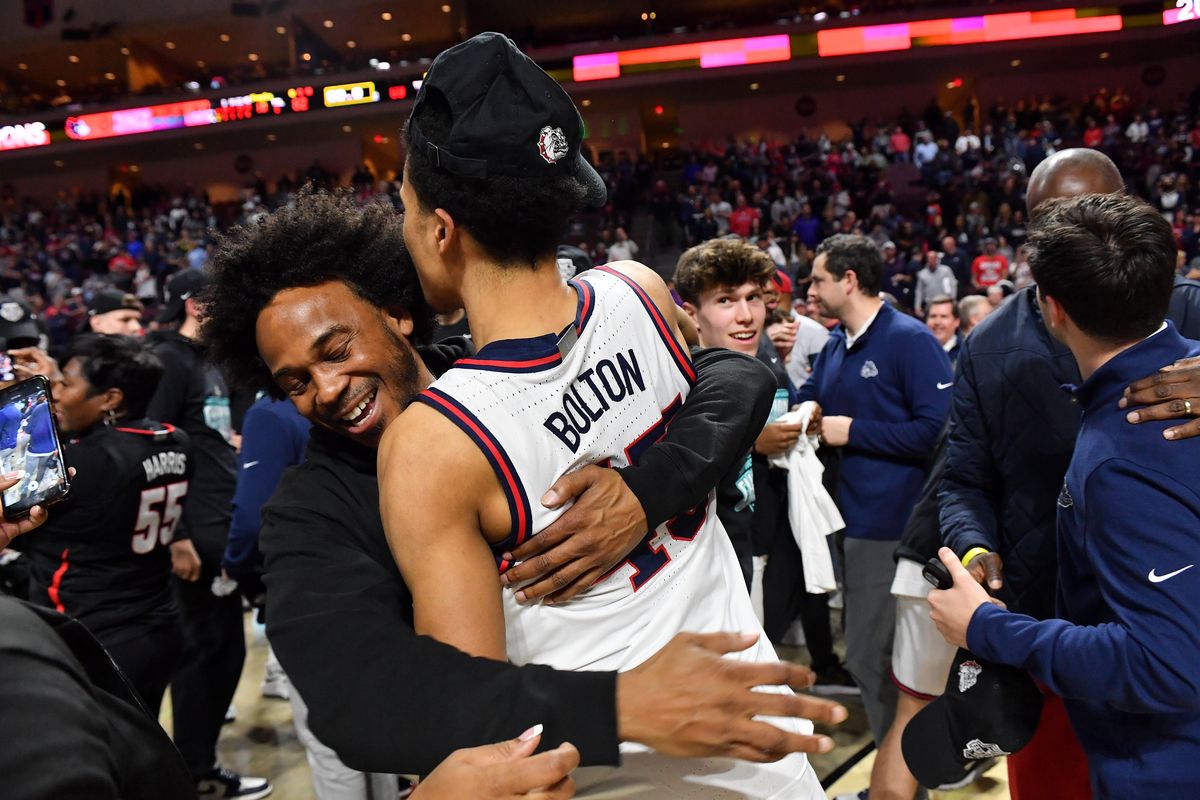 Ray Bolton embraces his son, Gonzaga Bulldogs guard Rasir Bolton (45), after GU's 2022 defeat of the St. Mary's Gaels in the Men's WCC Championship basketball game on Tuesday Mar 8, 2022, at the Orleans in Las Vegas, Nev. Gonzaga won the game 82-69. ORG XMIT: SR2203082155400138 (Tyler Tjomsland/The Spokesman-Review)Buy a print of this photo
LAS VEGAS – When it's your kid on the court, every moment matters just a bit more.
With every bucket, every turnover, the butterflies in your stomach flutter out of control – and that's in November.
Now it's March, and Gonzaga's in the Sweet 16 – all the better to have someone who knows what you're going through.
This year's Zags have thousands of fans, but only a few moms and dads. They are a team unto themselves, supporting one another with texts and hugs and tears.
"We really have come to enjoy each other as friends, not just parents," said Ray Bolton, father of senior guard Rasir Bolton. "We try not to talk about basketball in between games.
"It also allows kids to bond. At this level, a lot of times the competition rolls over the team and affect how parents interact."
Their ringleader won't be in the stands Thursday night because of a conflict with … basketball.
Matt Gregg, father of sophomore forward Ben Gregg, is the athletic director at Warner Pacific University in Portland. This week he's interviewing three candidates to replace himself as women's basketball coach.
"So I'll be missing the UCLA game," Gregg said. "But if they win, I'll be there on Saturday."
Being there, that's what matters most. Jessica Livingston, mother of sophomore Hunter Sallis, lives in Spokane and has made all but a few games this season. More remarkably, Ray Bolton lives in Virginia, yet has missed only three.
Gregg was limited by his commitments at Warner Pacific and made just a few games, but wasn't going to miss "the aircraft carrier game."
That was in November, when the Zags beat Michigan State in San Diego aboard the USS Abraham Lincoln.
Not surprisingly, parental bonds have been formed mostly on the road.
"That's when we try to get together," Gregg said of a group that includes the parents of almost every player.
"It's harder when you're by yourself," Ray Bolton said. "The game can be stressful, but it's a game, so let's enjoy it."
There's much to enjoy. Gonzaga has been a national power since the current players were just picking up their first basketball.
"There's never a dull moment," Livingston said. "Being able to be with some of the other families is really special, knowing that we share the same experiences."
For Gregg, it's the reassurance other kids also trash their bedrooms. For Livingston, it was comforting to hear that Sallis isn't the only player who "wastes money on Door Dash."
They also share the pressure of the moment, whether it comes from within or without.
"Gonzaga has been so good for so long, the expectations for everybody are high," said Gregg, who doesn't want this group, or his son, remembered as the group that dropped the ball.
That won't happen this year, partly because of the leadership of senior Drew Timme. Much as his teammates lean on Timme, so do the moms and dads lean on his parents, Matt and Megan.
Call it senior leadership.
"Just as Ben is learning from Drew, I'm learning from the Timmes," Gregg said. "They handle it so well."
Livingston is thankful to live in that shadow.
"I will say we don't have the pressures of what the Timmes go through," she said. "They're always hounded by the media for interviews, and we haven't had to do any of that stuff."
Everyone, however, has been forced to deal with social media.
"You see some bad, nasty things," Gregg said. "That's when my wife gets emotional about it – when she reads the message boards."
The issue is especially frustrating for Livingston, a mental health therapist.
"We love our kids," she said. "In my field, I see kids really struggling with their mental health, and it's really tough for these student-athletes to perform at a high level.
"It just crushes me, and I'm tempted to say something, but they just want a response, and that just lets them win."
Bolton tries to follow the advice coach Mark Few gives his players: Don't read the comments.
"I'm happier for that, but I didn't handle it the same a few years ago," Bolton said.
That was five years ago, to be exact. Now the Boltons are moving on, their bright shining moments down to a few.
"We talked about it last week in Denver, that we as parents understand the finality of some of this," Bolton said. "Because even as a parent, when this part of it is over, it won't be the same."
Local journalism is essential.
Give directly to The Spokesman-Review's Northwest Passages community forums series -- which helps to offset the costs of several reporter and editor positions at the newspaper -- by using the easy options below. Gifts processed in this system are not tax deductible, but are predominately used to help meet the local financial requirements needed to receive national matching-grant funds.
Follow along with the Zags
Subscribe to our Gonzaga Basketball newsletter to stay up with the latest news.
---