A&E > Entertainment
Movie Review: 'John Wick: Chapter 4' is longer, bloodier and better than ever
March 22, 2023 Updated Thu., March 23, 2023 at 2:57 p.m.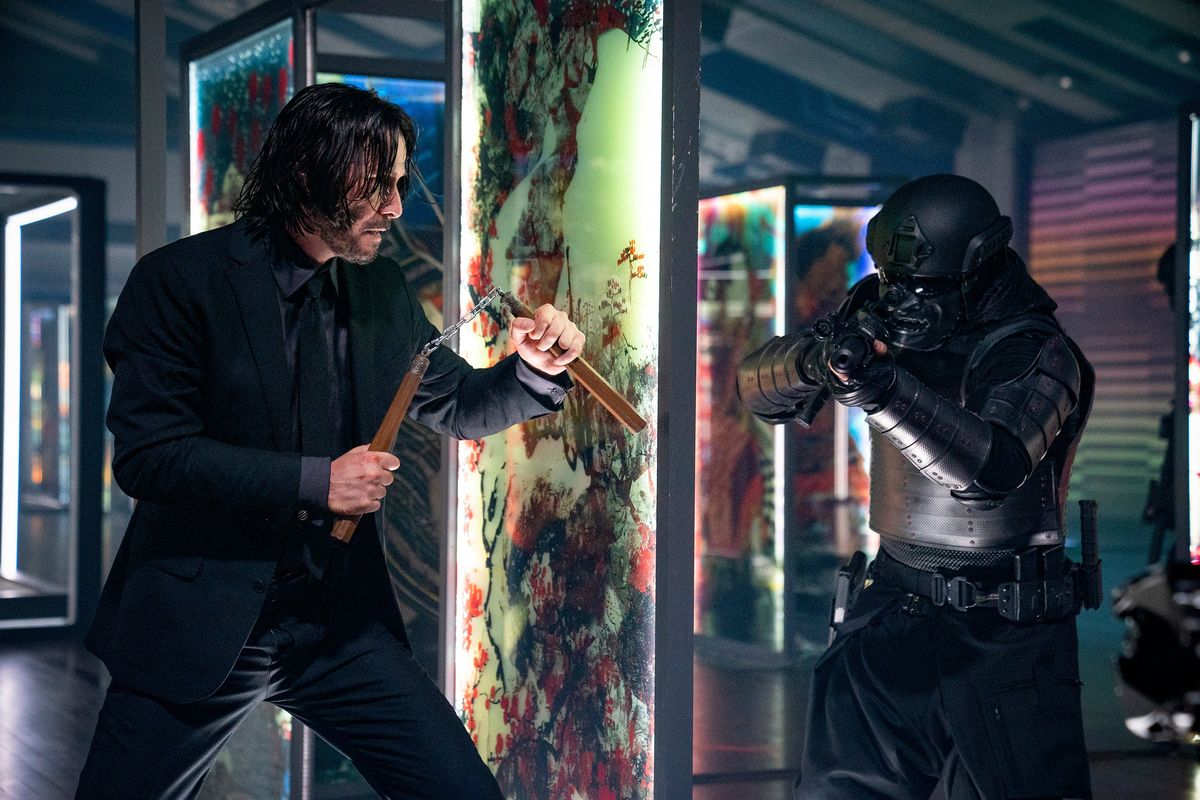 Keanu Reeves as John Wick in "John Wick: Chapter 4." (Lionsgate)
Is "John Wick: Chapter 4" the best John Wick movie in the franchise, as early reviews suggest?
Quite possibly. But what does that even mean? Readers who have never seen Keanu Reeves as John Wick, who don't even like violent action movies – especially not ones about an elite assassin in a fantastical hierarchy of three-piece-suited assassins that is run like an efficient corporation, on the run from his co-workers, and with a multimillion-dollar bounty on his head – won't understand why the film deserves the star rating I've given it. They might even assume that it is great (and it is pretty great) by the same metric that "The Quiet Girl" is great.
That would be a mistake. Apples, as they say, must be not be compared to oranges, and certainly not blood oranges, which is perhaps the better analogy for this tart, tangy and juicily sanguineous offering. But fans of the films will understand. They will even accept – nay, demand – the repetition of the series' formulaic plots, which involve both flight and pursuit.
Triggered by the killing of the titular professional hit man's dog and the theft of his car, the first "John Wick" was essentially a revenge thriller centering on John, or Mr. Wick as he is just as commonly known, and a Russian crime lord (Michael Nyqvist). John's pursuit of Viggo Tarasov is slightly counterbalanced by the antihero's efforts to avoid being killed.
Over time, the mix of fight and flight has shifted, with John fully becoming the quarry by the end of "John Wick: Chapter 2," in the wake of his killing of a Neapolitan Mafioso (Riccardo Scamarcio). As "John Wick: Chapter 3 – Parabellum" gets underway, John is being hounded by a lethal Adjudicator (Asia Kate Dillon), along with nearly every hired gun in the world, having been declared "excommunicado," or excommunicated, for the murder of Santino D'Antonio on the "sanctified" grounds of a New York City hotel catering exclusively to killers. (Come to think of it, the society to which John belongs – and under whose arcane rules he operates – is more like a religion than a company.)
The point is, these plots are all the same, or at least similar: John wants someone dead, and someone – or a lot of someones – wants him dead in return. In "Chapter 4," the main someone is the effete Marquis de Gramont (Bill Skarsgard), the French representative to the High Table, the governing body of the international crime syndicate for which John works. At nearly three hours long, it's the most John Wick-ian of all the John Wick films, by virtue of the simple fact that there is more time to lavish on the films' fans exactly what they want, in spectacular fashion.
And boy, is it spectacular. Would that all action films were so well and cleanly choreographed. (Are you listening, Marvel and DC?) To be sure, the Wick films are not for everyone. But returning director Chad Stahelski, a former stuntman and stunt coordinator, knows one thing: If you're going to do something, do it right.
Stahelski ups the ante from the previous three films with one amazing set piece after another – a chase scene set in the desert, on horseback; a bloodbath in a discothèque decorated with waterfalls; visits to Osaka and Berlin – each sequence outdoing the one before. The most talked-about fight scenes will surely be two staged in Paris: the first taking place in the traffic roundabout encircling the Arc de Triomphe, known as the Étoile, or star, for its 12 radiating avenues; the second taking place on the 222 steps of the Rue Foyatier leading up to the Sacré-Coeur cathedral, where a climactic duel takes place at dawn between John and the Marquis.
Also in attendance: two secondary antagonists, a killer known only as the Tracker (Shamier Anderson) and a blind assassin named Caine, beautifully brought to life by Chinese martial arts legend Donnie Yen. (According to Yen, the actor requested a change to the character's stereotypically Asian name – originally "Shang or Chang," he says, in the screenplay by Michael Finch, Shay Hatten and Derek Kolstad. Intentionally or not, his character now suggests an homage to David Carradine's Kwai Chang Caine from the 1970s TV series "Kung Fu.")
Clearly, Stahelski is a fan of martial arts lore and its elaborate – one might even say perverse – codes of chivalry, ethics and honor among rogues. (The call letters of a radio station in the film are, notably, WUXIA.) He is not alone. If you are also an acolyte in the church of chopsocky, samurai swordplay and gunslinging gangsters, you could do a lot worse than "John Wick: Chapter 4." In fact, you'd be hard-pressed to do better.
Why not four stars? Because I want to save room for improvement, in case there's a "Chapter 5."
Local journalism is essential.
Give directly to The Spokesman-Review's Northwest Passages community forums series -- which helps to offset the costs of several reporter and editor positions at the newspaper -- by using the easy options below. Gifts processed in this system are not tax deductible, but are predominately used to help meet the local financial requirements needed to receive national matching-grant funds.
Subscribe to the Spokane7 email newsletter
Get the day's top entertainment headlines delivered to your inbox every morning.
---