100 years ago in Spokane: The city's police chief issued an offensive warning for residents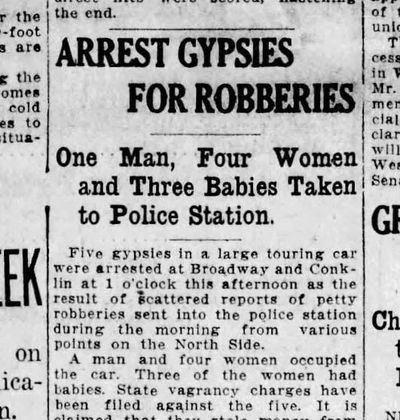 Then-Spokane police Chief William Weir issued a warning that, to modern ears, sounds like a gross generalization at best and thoroughly prejudiced at worst.
"People should have nothing to do with gypsies," he told the Spokane Daily Chronicle, using a pejorative term for the Romani ethnic group. "Gypsies are nearly always thieves. They should not be permitted to remain at all in any house or any store."
He alleged a band of 50 people had "swarmed over the residence section north of the river" and stole money from stores in the district.
Five people "in a large touring car" were arrested. The police chief said other members of the band were "escorted out of the city."
"Each year we have an epidemic of gypsies, but this year the gang seems to be larger and more daring in their operations than ever before," he said. "We will make every effort to keep them out of town."
From the justice beat: Irving Whitehouse, a Spokane stockbroker, lost his final appeal on grand larceny charges and was headed to the state prison at Walla Walla to serve four to 15 years.
Whitehouse had formerly been head of his own brokerage firm. When the firm failed, an investigation revealed he had stolen money from investors. He was charged with five counts of grand larceny.
He was tried three times and eventually found guilty on all counts. He appealed all the way to the State Supreme Court, but his request for a new trial was denied.
The Chronicle reported him to be in "ill health," saying he had been housed in the sick ward of the county jail pending appeal.
---