News > Crime/Public Safety
Adult seriously injured in 'suspicious' Garland District fire, arson suspected
March 23, 2023 Updated Thu., March 23, 2023 at 9:08 p.m.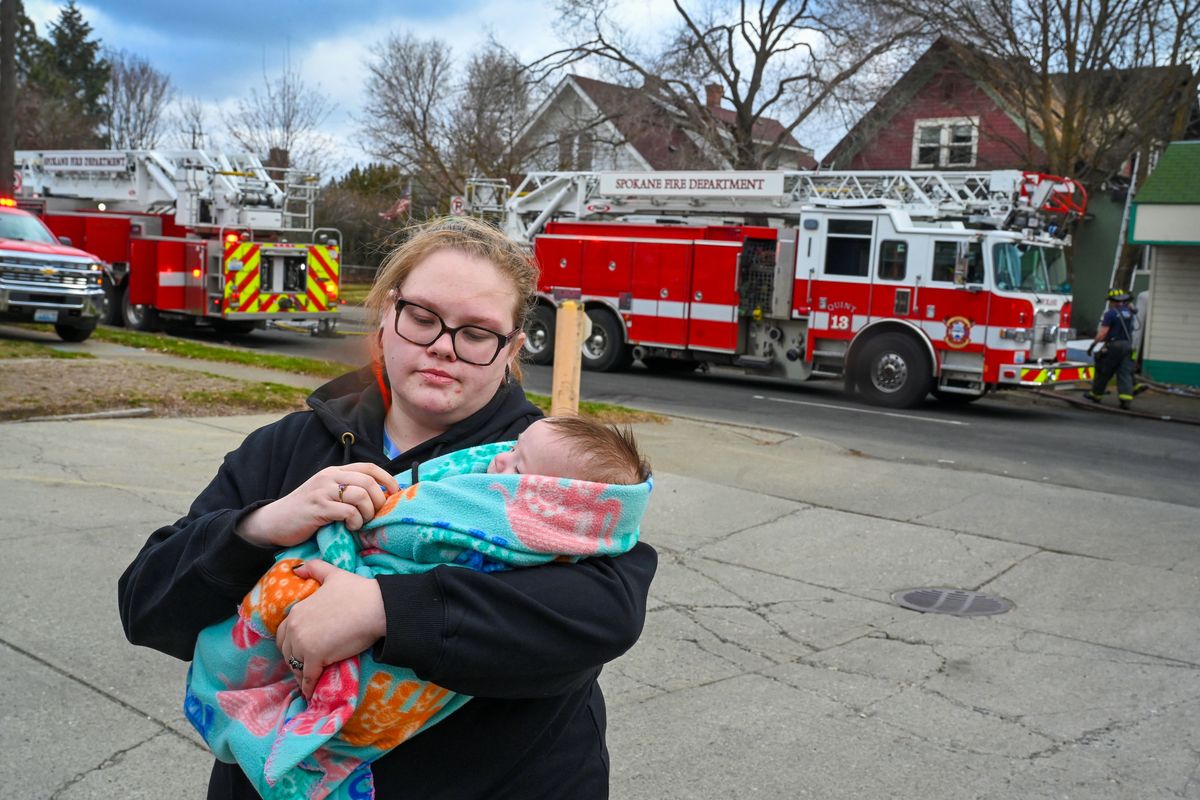 Heather Hall comforts her son, Owen McFarlane, 3 months, after a fire broke out in the house she resided in, far right, Thursday in Spokane's Garland Business District. (DAN PELLE/THE SPOKESMAN-REVIEW)Buy a print of this photo
A woman was seriously injured Thursday morning in the Garland Business District in a house fire believed to have been intentionally set.
Spokane police are looking to arrest 36-year-old Jennifer Barden on suspicion of first-degree arson, according to a news release.
Barden is white, about 5-foot-2 and 120 pounds. The nature of Barden's alleged criminal conduct indicates she is a danger to the public, police said.
Anyone who knows Barden's whereabouts is urged to call 911 and reference incident No. 2023-20054303. People with information related to the investigation are asked to contact Detective Wayne Downing at wdowning@spokanepolice.org.
Heather Hall, a resident of the home, said all her family's belongings were destroyed by smoke and everyone in the five-unit apartment structure was displaced by the fire.
"We're just going to try to pick up from there, but we totally lost everything with smoke damage alone," Hall said.
Spokane police and fire units responded to the blaze around 8:30 a.m. at 3910 N. Wall St., according to police. Initial information indicated an occupant was trapped inside the dwelling and the fire was intentionally set.
Fire crews removed a woman from the residence, and she was taken to a hospital.
Hall, who lives in the second story with her fiancé and two sons, said she dropped off one of her sons at school and returned home around 8:25 a.m. to see one of the studio apartment units fully engulfed in flames. She said her fiancé, who was at home at the time with the other son who is 3 months old, used a fire extinguisher to try to put out the flames but the fire was too big.
Hall said she ran upstairs to grab her 3-month old, and her fiancé started banging on doors to try to get everybody out as the fire spread.
She said smoke had already seeped into their unit, which is the entire second floor, when she entered, and that her focus was to grab her infant son and a blanket and get outside.
"I was absolutely terrified," Hall said.
She said she and her family are OK, aside from the lingering effects from smoke inhalation. Hall said she and her family are staying with other family members and that she has been in contact with the American Red Cross. She said she has renter's insurance and filed a claim.
Spokane firefighters gather in the front yard after a suspicious blaze near the corner of Wall Street and Garland Avenue sent a woman to the hospital, Thursday, March 23, 2023, in Spokane. (DAN PELLE/THE SPOKESMAN-REVIEW)Buy a print of this photo
Down the street, Kristine Paoli said she smelled an electrical burning smell and thought it may have been coming from her parked car.
"I was getting a cup of coffee and I looked out the window and saw smoke coming out (of the home)," Paoli said.
Kelton Paoli, Kristine's son, said he went to the fire when he heard sirens down the street. He said his mother said, " 'Oh my god,' so I had to go see what was going on."
Kelton Paoli said the neighborhood is typically quiet.
"It just breaks my heart," Kristine Paoli said. "It really does. I love my neighborhood."
Hall said there has been a "significant influx" of homeless people recently around the apartment building, and that residents on Wednesday found three transient people squatting in a basement storage unit.
Local journalism is essential.
Give directly to The Spokesman-Review's Northwest Passages community forums series -- which helps to offset the costs of several reporter and editor positions at the newspaper -- by using the easy options below. Gifts processed in this system are not tax deductible, but are predominately used to help meet the local financial requirements needed to receive national matching-grant funds.
Subscribe now to get breaking news alerts in your email inbox
Get breaking news delivered to your inbox as it happens.
---