Sports > Gonzaga basketball
Recap and highlights: Julian Strawther hits winner in final seconds to send Gonzaga past UCLA 79-76
March 23, 2023 Updated Thu., March 23, 2023 at 11:21 p.m.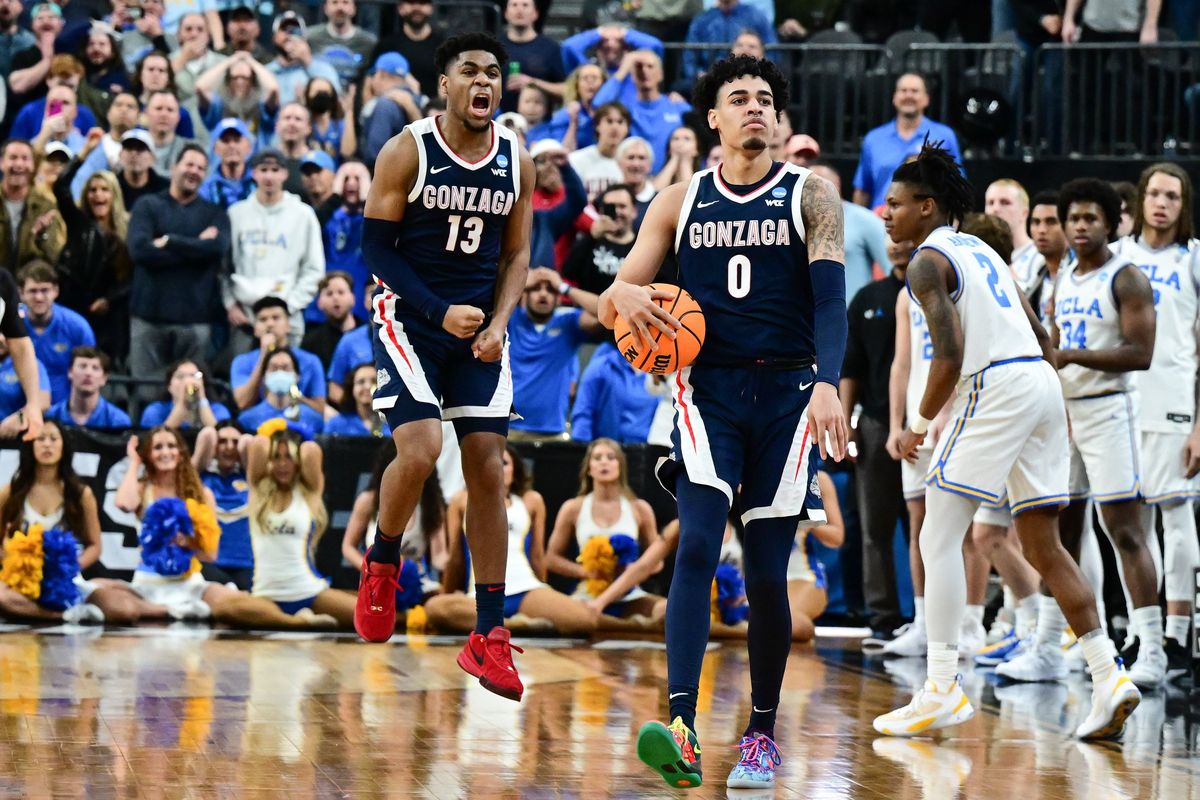 Gonzaga Bulldogs guard Julian Strawther (0) struts after hitting a game-winning shot against the UCLA Bruins as guard Malachi Smith (13) erupts in celebration during the second half of an NCAA Tournament Sweet Sixteen basketball game on Thursday, March 23, 2023, at T-Mobile Arena in Las Vegas, Nev. Gonzaga won the game 79-76. (Tyler Tjomsland/The Spokesman-Review)Buy a print of this photo
LAS VEGAS – Julian Strawther has made a lot of shots in Las Vegas. He may never hit one bigger than his last.
Strawther pulled up from the top of the 3-point line and made the go-ahead shot with 6 seconds remaining to send Gonzaga over UCLA 79-76 in a classic West Regional semifinal at T-Mobile Arena.
Thursday's winner saved the Zags from heartbreak city, Part II.
The second-seeded Bruins erased a double-digit deficit in the final 2 minutes to retake the lead on a 3-pointer from Amari Bailey with 14 seconds left.
The third-seeded Bulldogs (31-5) held on with Strawther's shot, after Tyger Campbell's final heave bounced off the rim.
Drew Timme scored early and often, totaling 36 points on 16-of-24 shooting from the field.
But it was Strawther (16 points) and Malachi Smith (14 points) who made seven of GU's final eight baskets. And it was Strawther, a Las Vegas native, saving the day after Timme missed a pair of free throws down the stretch.
"I am the No. 1 Julian Strawther fan on the planet," Timme said in a postgame interview. "No one is a bigger fan of him than me, man."
Strawther added 10 rebounds to GU's total of 50, which it turned into 20 second-chance points.
This Gonzaga team is known to take advantage of chances.
Gonzaga rallied from a double-digit deficit for the second consecutive game and won after trailing in the second half for the ninth time this season.
The Bruins (31-6) shot 51% in the first half, scoring 15 points off turnovers to take a 46-33 lead at halftime.
If not for an 11:20 second-half stretch without a field goal, UCLA could be the team moving on to the Elite Eight.
Instead, the Bulldogs will take on No. 4 seed Connecticut on Saturday at 5:49 p.m. The Huskies rolled past Arkansas earlier in the day 88-65.
NCAA / Youtube
First half
19:11 – UCLA 3, GU 0: Singleton makes a 3-pointer for the Bruins to open the scoring and Timme misses an open shot on the other end.
15:55 – GU 9, UCLA 7: Zags makes four straight and then miss a pair leading into the first media timeout. Timme taking over on the offensive end, scoring seven points and finding Watson with an assist.
Timme opens 3 of 6 from the field an makes a 3-pointer – his fourth of the season and second in as many games.
11:10 – UCLA 22, GU 19: Smith is called for a travel at the U12 media timeout.
Timme doing everything for the Zags, leading with 15 points on 7 of 10 shooting from the field. Bailey taking over for the Bruins, with a team-high nine points. Campbell adds six for UCLA.
10:01 – UCLA 29, GU 21: Campbell beating Gonzaga on the drive. He finds Jaquez for an easy basket and the Zags call a timeout, as UCLA is on a 9-2 run. 
6:59 – UCLA 31, GU 26: Sallis makes a layup and Watson hits a 3-pointer as the Zags cut back into the lead at the U8 media timeout.
Bulldogs trying to trap the ball in the halfcourt to stop Campbell from finding open looks. UCLA misses its last four attempts. 
3:05 – UCLA 40, GU 31: Bruins on a run at the U4 media timeout.
Jaquez up to 12 points, four rebounds and three assists. Campbell adds 11 points and five assists.
1:02 – UCLA 44, GU 33: Timme makes a layup to snap the Zags' slump. He has 19 points in the half.
Halftime
UCLA took care of the ball on offense, converted open shots and took advantage of turnovers to take a 46-33 lead over Gonzaga at halftime.
The Bruins shot 51% from the field and made 4 of 7 3-point attempts, only turning the ball over once, while scoring 15 points off nine Zags turnovers.
Amari Bailey and Tyger Campbell scored 13 points apiece, while Jaime Jaquez added 12.
Gonzaga relied on Drew Timme, who leads with 19 points, but cooled off later in the half.
Second half
17:56 – UCLA 46, GU 36: Strawther makes a 3-pointer, as the Bruins miss their first four shots of the half.
15:26 – UCLA 54, GU 44: Watson makes a layup through contact and will have a free throw attempt to cut the lead to single digits after the U16 media timeout.
13:59 – UCLA 54, GU 50: Timme keeps on scoring, as the Zags go on an 8-0 run and the Bruins call a timeout.
Timme leads with 29 points. He set the NCAA record for most tournament games with over 20.
11:29 – UCLA 59, GU 54: Both teams flying in for multiple rebounds, the Zags keep coming away with the ball, until Watson is fouled at the U12 media timeout. Gonzaga unable to cut the lead to less than four points yet, but will have possession when play resumes.
7:46 – GU 61, UCLA 59: Smith makes a layup and Gonzaga is on a 9-0 run, taking its first lead since the first half at the U8 media timeout.
Smith has been stellar off the bench, scoring nine points with five rebounds. Gonzaga has 12 offensive rebounds and 15 second chance points in the second half.
4:07 – GU 68, UCLA 62: Strawther makes a 3-pointer, capitalizing on another offensive rebound and the Zags have their largest lead of the game.
1:48 – GU 72, UCLA 63: Gonzaga calls a timeout and it can almost taste the Elite Eight.
25.8 – GU 75, UCLA 73: Jaquez doesn't let the Bruins go away, scoring five straight points. Strawther calls a timeout.
12.2 – UCLA 76, GU 75: Timme misses both free throws and Bailey makes a 3-pointer to take the lead.
1.1 – GU 78, UCLA 76: Strawther. Unbelievable. The Las Vegas native makes a 3-pointer to put GU in front. The Zags get a stop on the other end.
0:00 – GU 78, UCLA 76: Campbell's heave misses and Gonzaga wins it. 
Pregame
It's nearly time for another March Madness meeting between these West Coast powers turned postseason rivals.
No. 2 seed UCLA and No. 3 seed Gonzaga face off in the Sweet 16 of the NCAA Tournament tonight at the T-Mobile Arena in Las Vegas. Tipoff is set for 6:45 p.m. on CBS.
The Bulldogs (30-5) edged Texas Christian 84-81 in the Round of 32, while the Bruins (31-5) held off Northwestern 68-63. The winner of tonight's game advances to face either Arkansas or Connecticut in the Elite Eight.
Gonzaga and UCLA have played seven times, with three in the NCAA Tournament. The Bruins scored the final 11 points to snatch a victory from the Zags in the 2006 Sweet 16. GU beat UCLA in the 2015 Sweet 16 and then again in the 2021 Final Four on a buzzer-beater from Jalen Suggs.
Both teams lost in the Sweet 16 of last year's tournament. 
Gonzaga, the co-West Coast Conference regular-season champion and WCC Tournament champion, enters Las Vegas on an 11-game win streak.
UCLA, the Pac-12 regular-season champion, has won 14 of its last 15, only losing to Arizona 61-59 in the Pac-12 Tournament final. The Bruins are banged up, however, with Pac-12 Defensive Player of the Year Jaylen Clark is out for the season. Adem Bona, Kenneth Nwuba and David Singleton are questionable.
Team stats
Individual leaders
Game preview
More on the Zags
Local journalism is essential.
Give directly to The Spokesman-Review's Northwest Passages community forums series -- which helps to offset the costs of several reporter and editor positions at the newspaper -- by using the easy options below. Gifts processed in this system are not tax deductible, but are predominately used to help meet the local financial requirements needed to receive national matching-grant funds.
Follow along with the Zags
Subscribe to our Gonzaga Basketball newsletter to stay up with the latest news.
---