World Athletics votes to ban transgender athletes from women's events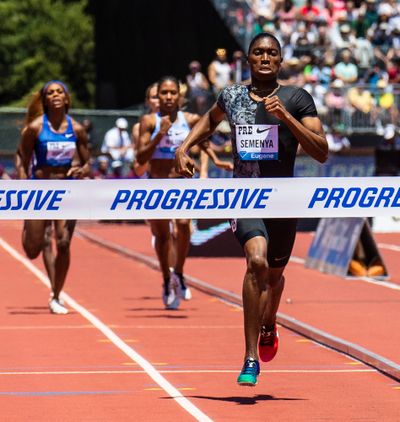 The World Athletics Council voted Thursday to ban transgender women from female events in elite track and field competitions.
World Athletics, which oversees all international track and field, also announced that it is cutting in half the testosterone level allowed for athletes with differences in sex development to compete in female events. The new rules, which go into effect March 31, could impact athletes such as South Africa's Caster Semenya, a two-time Olympic 800-meter champion who is believed to have an intersexed condition that causes her body to produce testosterone at a higher rate than in most women.
The ban on transgender athletes follows one adopted by other sports, including swimming, that bars any male-to-female athlete who have been through male puberty.
In its announcement, World Athletics said the policies came after consultations with individual countries' track federations as well as the Global Athletes Coaches Academy, the IOC and "representative transgender and human rights groups," though it did not identify the groups.
"We continue to take the view that we must maintain fairness for female athletes above all other considerations," World Athletics president Sebastian Coe said in a statement. "We will be guided in this by science around the physical performance and male advantage which will inevitably develop over the coming years."
He added that the policy will be reviewed "as more evidence becomes available but we believe the integrity of the female category in athletics is paramount."
Over the past two years, as more elite athletes identifying as transgender have entered competitions, the bodies overseeing international sports have been trying to devise policies for transgender athletes. Not long after University of Pennsylvania swimmer Lia Thomas became the first known transgender athlete to win an individual national championship by taking the 500-yard women's freestyle event at last March's NCAA Division I championships, FINA, which oversees international swimming, voted to restrict transgender athletes, effectively barring most transgender women.
The International Olympic Committee does not have a policy for transgender athletes in the Olympics, leaving that decision to the individual sports.
The World Athletics Council also voted Thursday to lift its seven-year doping ban of Russia's track and field federation but said that Russian and Belarusian athletes remain suspended for the country's involvement in the Ukraine War.
---