100 years ago in Spokane: A crew member claimed to know why 'The Grub Stake,' filmed locally, flopped at the box office
Fri., March 24, 2023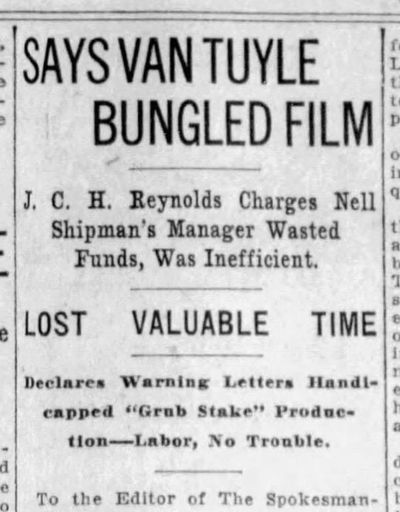 A letter to the editor in The Spokesman-Review shed some light on why the locally filmed Nell Shipman feature, "The Grub Stake," failed to become the national blockbuster that Spokane had eagerly expected.
The letter was written by J.C.H. Reynolds, the treasurer of the Nell Shipman Production Syndicate. He listed the following problems, most of which he laid at the feet of Bert Van Tuyle, Shipman's manager.
Insufficient funds were available to complete all of the scenes as planned, because "of the extravagant and useless expenditure of funds by Mr. Van Tuyle." Reynolds said his hardest job throughout the filming was trying to rein in Van Tuyle and his numerous "mistakes," which resulted in lost time.
The company had been handicapped from the beginning in raising the necessary funds, because local investors in Spokane had "received warning letters from Los Angeles." These letters apparently advised utmost caution in getting involved with Van Tuyle.
These "California aspersions" eventually made it impossible for "The Grub Stake" to obtain "a recognized national agency" to distribute the film. In the end, poor distribution proved fatal to "The Grub Stake," and prevented it from opening widely throughout the U.S. and Canada.
From the school beat: Lewis and Clark High School students threatened a walkout over a new rule that prevented them from leaving campus at lunchtime to eat at "dog houses," that is, hot dog stands.
They were incensed that they were forced to eat school cafeteria food, which they said was "not palatable."
The principal was able to quell the walkout by suggesting a committee look into the issue. Still, about 150 boys defied the new rule and ate at lunch off campus .
Local journalism is essential.
Give directly to The Spokesman-Review's Northwest Passages community forums series -- which helps to offset the costs of several reporter and editor positions at the newspaper -- by using the easy options below. Gifts processed in this system are not tax deductible, but are predominately used to help meet the local financial requirements needed to receive national matching-grant funds.
Subscribe now to get breaking news alerts in your email inbox
Get breaking news delivered to your inbox as it happens.
---