Sports
A Grip on Sports: One play may not win a game – unless it's a long shot – but it can change the tone and show another change
Fri., March 24, 2023 A GRIP ON SPORTS • Hindsight isn't perfect, no matter what the clichés say. But, like vision corrected by progressive lenses, it is better than just sitting, staring at fuzzy images while a game goes on. And it also helps us remember important elements of any contest we noticed in passing.
•••••••
• Early in the second half last night, one small play that only appeared in the scorebook due to a whistle, caught our eye. A footnote in the multitude of big plays by both teams during Gonzaga's thrilling 79-76 win over UCLA in Las Vegas?
Yes. But only because we ignored the star we put by it in our notebook.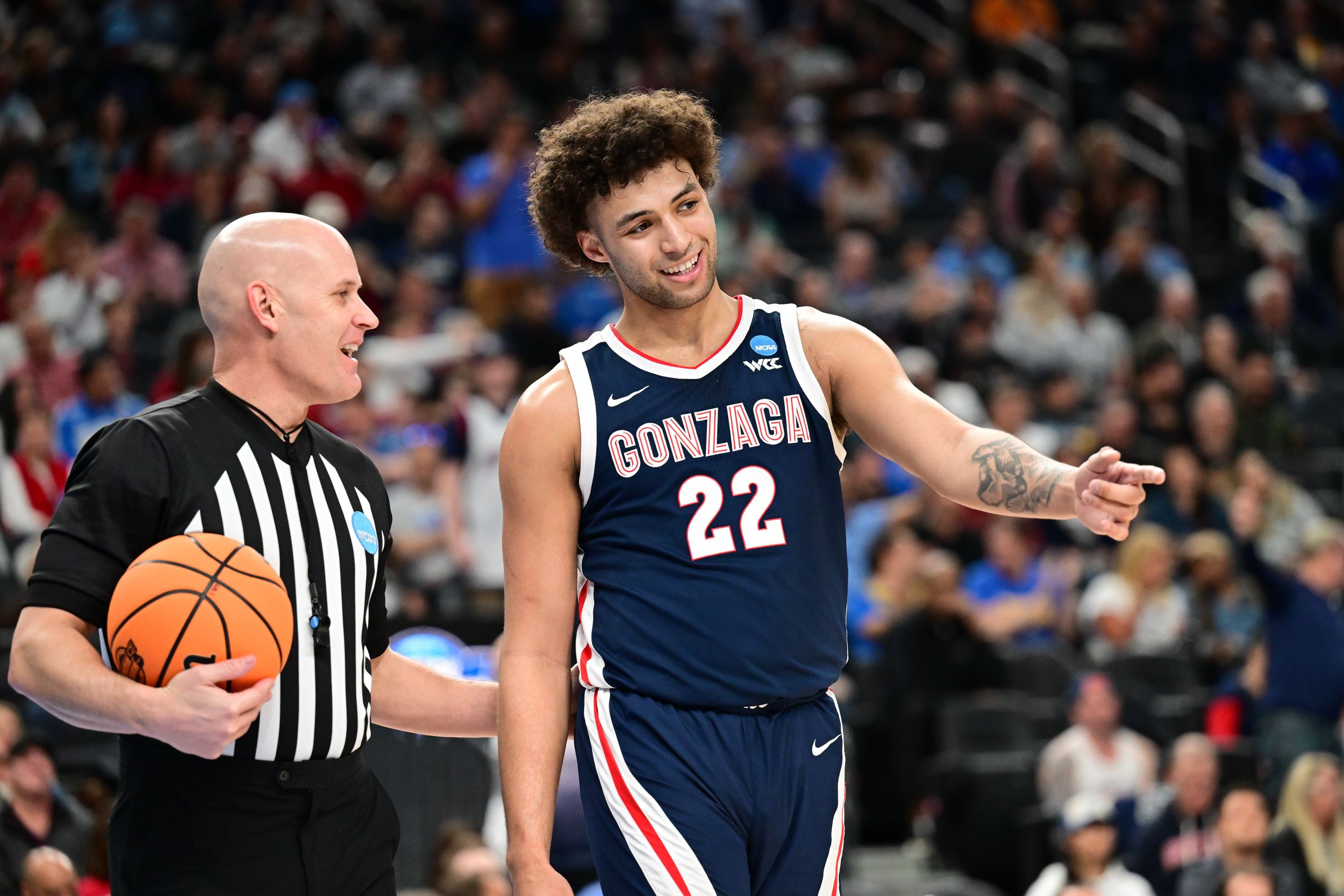 The scene was simple. UCLA dominated the first half. Led 46-33. A big part of it was the Bruins defense, which generated nine Gonzaga turnovers, seven of them by steals – while only be whistled for two fouls. It was so unusual, even Kevin Harlan, doing the play-by-play for CBS pointed it out, though Stan Van Gundy added the Bruins only yield 15 free throws a game, which is on the lower end among college teams.
UCLA was defending well without fouling. Winning the physicality battle. Everywhere, including holding its own on the boards.
All that was happening despite the injury-caused absence of the Pac-12 freshman of the year and a member of the conference's all-defensive team Adem Boma. Oh, and the Bruins didn't have Jaylen Clarke, the Pac-12 defensive player of the year, whose season ended with an Achilles tear. Clarke and Boma are two-three in season rebounding for the Bruins, respectively.
Something had to change for the Zags. Someone had to step up.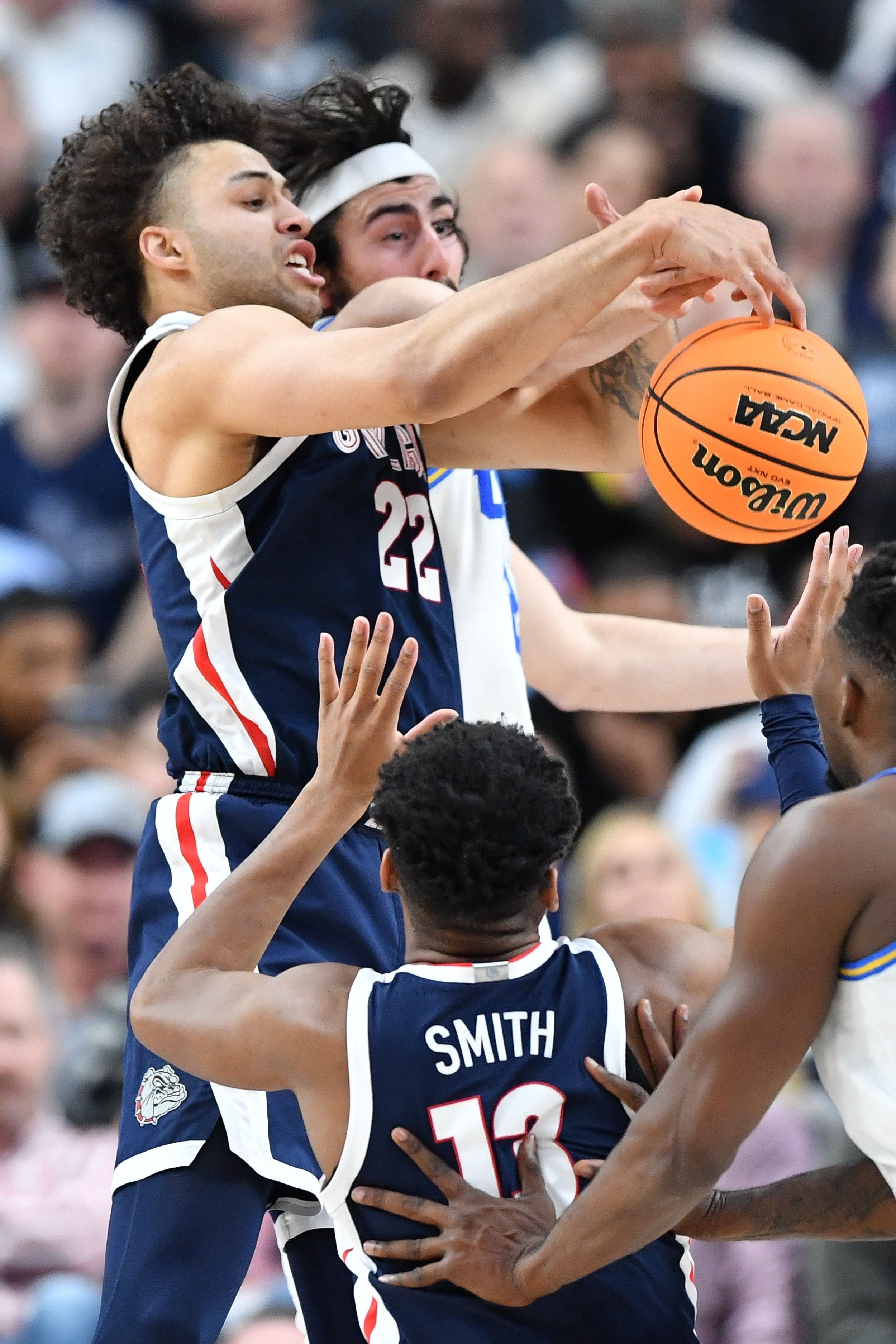 Anton Watson did. After a five-point, two-rebound, two-rebound and two-foul first half, the senior needed to. More importantly, his teammates needed him to. He did.
Not with a rebound. Not with a big shot. Not even with a hard foul, though it could have been ruled that way.
With 17 minutes, 56 seconds possibly left in the Zags' season, still trailing by double digits, Watson drove baseline from the right side. He had done that once in the first half, had been knocked around like a pinball by two Bruins and had missed a close-in shot. He looked at the official after, as if pleading for help.
Not this time.
As he attacked the rim, UCLA center Kenneth Nwumba, playing in Boma's spot, came over to cut him off. He tried to plant, hoping to earn a charge call, something that seemed inevitable in the first half. But not in the second. Not this time.
Watson sought out the contact. Lowered his left shoulder a bit and exploded into Nwumba, knocking the 6-foot-10, 255-pound senior to the ground. And out of the game, albeit for just a few minutes, holding his chest. A bang-bang play in which, for once, a Bulldog was delivering the bigger bang. It was as if Watson was saying the Zags were not going out without a fight.
From there, the Bruins were on their heels for the next 15 minutes or so. Gonzaga, with Drew Timme (eight), Watson (seven), Julian Strawther and Malachi Smith (six each) grabbing every rebound, used a 34-11 edge on the glass to power its comeback. Eighteen second-chance points. All because the Zags were more aggressive on every possession – until the final 150 seconds. And that aggression had an ancillary effect. The whistles went in their favor – as is usually the case for the more aggressive team. The total in the second half: UCLA 13 fouls, Gonzaga 10. After a first 20 minutes of no calls against the Bruins, the end-game totals were even.
It wasn't all because of one play. But Watson's drive, and the ensuing block call, set the second-half tone in a couple ways. And helped the Bulldogs bulldoze their way into another comeback in a season full of them.
• What's on tap this weekend? More NCAA basketball, for sure. Today there are final Sweet Sixteen games on CBS and TBS, starting with Alabama and San Diego State at 3:30 p.m. The women's Sweet Sixteen also is on ESPN, starting at 11 a.m. and finishing at 7:30, when Ole Miss, which defeated Gonzaga in the opening round, facing Louisville and Cashmere's Hailey Van Lith at 7:30 from Seattle.
Saturday brings us the men's Elite Eight, with Gonzaga facing Connecticut on TBS at about 6 p.m., depending on when Florida Atlantic and Kansas State finish. That game, also on TBS, begins at 3:30. The last of the Elite Eight games are Sunday on CBS, starting at 11 a.m.
The women continue through the weekend as well, with all the games on either ABC, ESPN or ESPN2.
If that isn't your thing, then there is match play golf on NBC and the Golf Channel, XFL football (Seattle plays at Orlando on Saturday, starting at 10:30 a.m. on ABC), NBA, NHL and, as always, a NASCAR race.
•••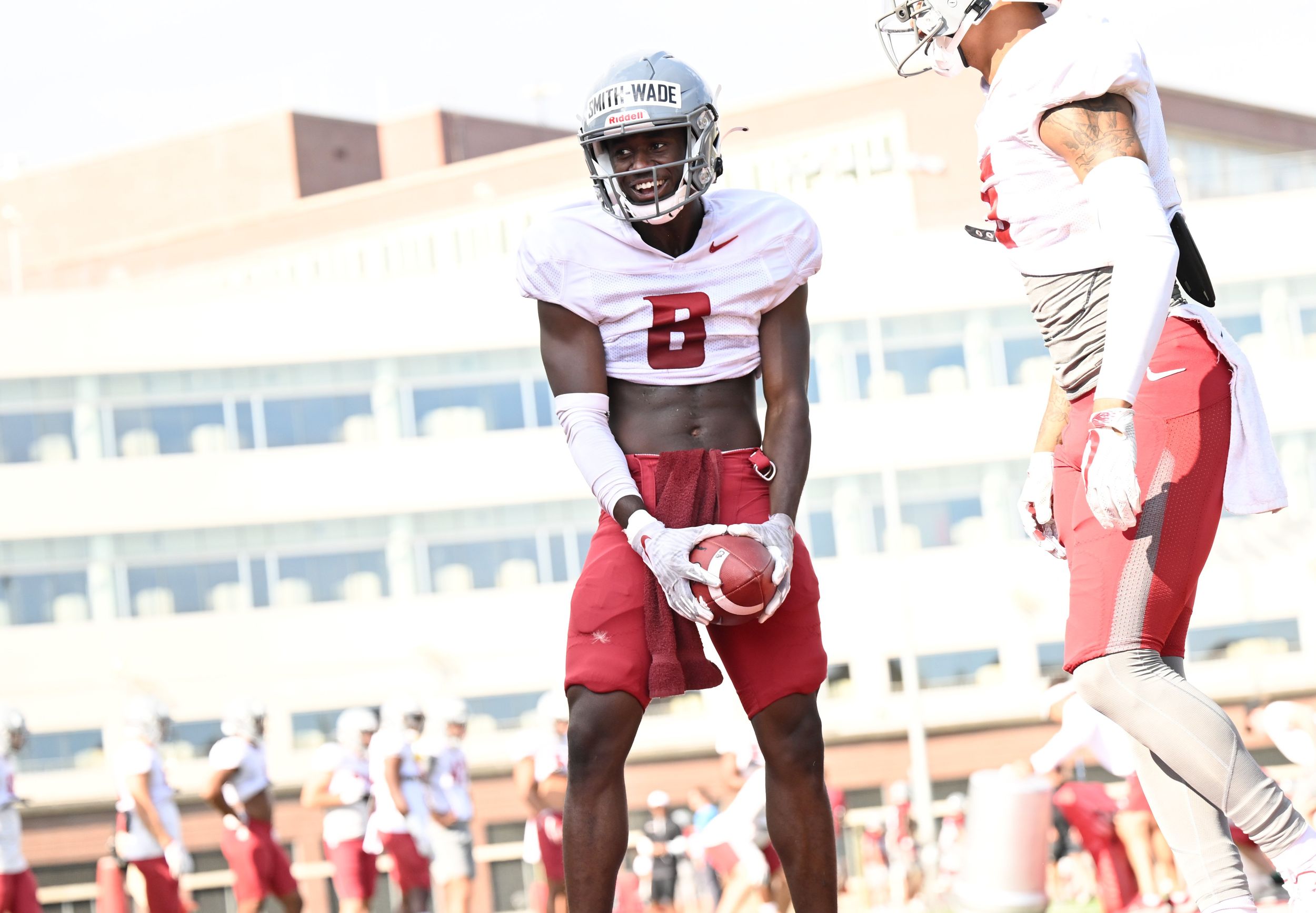 WSU: Spring football practice can be about separating the wheat from the chaff. Appropriate, we guess, for a school on the Palouse. That's what the Cougars are doing among the multitude of receivers and defensive backs competing for not just the starting spots but for playing time. Colton Clark delves into how that is going with this notebook from the second practice. … Elsewhere in the Pac-12 and college basketball, former Oregon State players made their mark elsewhere this season. … Colorado has more players in the transfer portal. … A key Utah player is testing the draft waters. … Among the women, one player is helping to keep Washington in the WNIT. … It was a team effort in Eugene as Oregon blew out San Diego 81-61. … Today in Seattle, Colorado will try to continue its NCAA run with a game against Iowa. … Utah is highly seeded in the tournament. But the Utes are playing the underdog card. Why not? … In football news, Jon Wilner asks (and answers) a good question in the Mercury News. Does SMU move the needle in the media world? … There will be a two-way player for Colorado this season. … Arizona State was able to entice three defensive linemen to return from the transfer portal. … Arizona's spring practices continued Thursday. … A USC defensive lineman wants to step up. … Finally, investigations are all the rage these days, including this one from California and this odd one from our alma mater.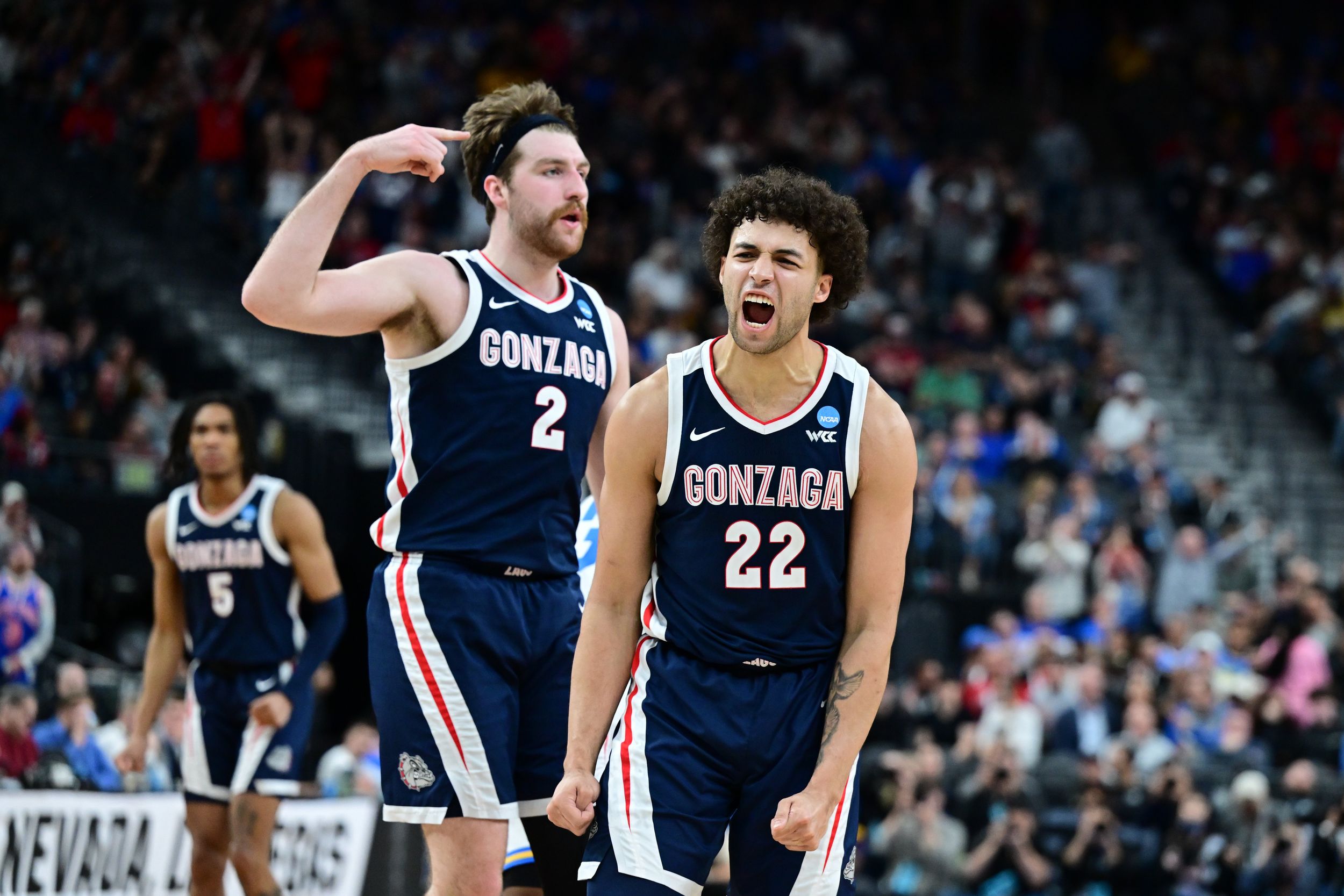 Gonzaga: We have a lot to pass along, of course. And not just from the S-R. But we start with Jim Meehan's game story from another classic between the schools in the NCAA tourney. … Then we move to the columns, one from Dave Boling, who was in Vegas, and the other from some guy sitting in his living room, pounding out a TV Take. … Theo Lawson focuses on the defense, which keyed the second-half comeback, and points out the obvious difference makers. … Tyler Tjomsland has a photo gallery from T-Mobile Arena. … The folks in the office put together the recap with highlights. … Jim Allen touches on the newest aspect of college sports: legal betting. In Las Vegas, that's big business of course. … We can pass along this Matt Calkins column about Timme running in the S-R. … There are multitudes of stories from around the nation, with Yahoo and CBS and Sports Illustrated and The Athletic and so many national outlets throwing their two-cents into the discussion. Also, there are a bunch of stories from Los Angeles about the Bruins' defeat. Mick Cronin didn't take it well. … UConn had no trouble with Arkansas, the school that knocked GU from the tournament last season. … Kansas State took out Michigan State, though MSU coach Tom Izzo thought they were lucky.
EWU and Idaho: Around the Big Sky, Northern Colorado lost a basketball player to the portal. … Northern Arizona added an assistant football coach.
Preps: We can pass along this roundup from Thursday.
Mariners: The pitch clock is in the rules. That's not changing. But how it works might. Even with opening day just a week away.
Seahawks: Why did Seattle make such a big deal of watching quarterbacks at pro days? It is all misdirection. …The Hawks need Bobby Wagner. Why isn't a deal done? Like every question in life, it is about the money. … We have a mailbag to pass along.
Kraken: A shootout loss in Nashville allows the Predators to hang around the playoff hunt, something for which Seattle should be preparing.
•••       
• We wrote, and deleted, about another 1,000 words last night. First about UCLA's blowout win, then about Gonzaga's astounding comeback, then switching to another Adam Morrison heartbreak ending against the Bruins and finally what you can read today. We're getting too old for this – should we channel our inner Drew Timme? Nah – crud. Until later …
Local journalism is essential.
Give directly to The Spokesman-Review's Northwest Passages community forums series -- which helps to offset the costs of several reporter and editor positions at the newspaper -- by using the easy options below. Gifts processed in this system are not tax deductible, but are predominately used to help meet the local financial requirements needed to receive national matching-grant funds.
Subscribe to the sports newsletter
Get the day's top sports headlines and breaking news delivered to your inbox by subscribing here.
---