A&E
'It's My Party': Lesley Gore's life and career was so much more than a teen anthem
Fri., March 24, 2023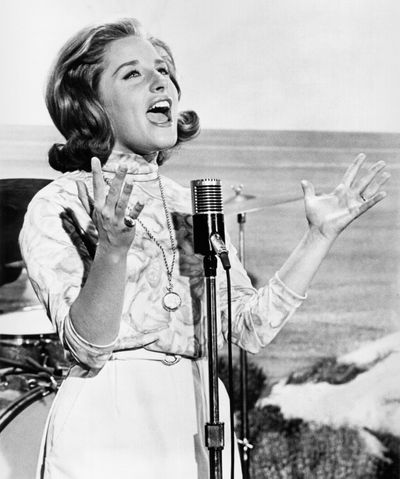 The Lesley Gore story often ends less than a year after her career began.
The underheralded New Yorker with the pristine voice enjoyed incredible success at 17 with four top-10 hits. However, there's more to Gore than such teen anthems as "It's My Party," "Judy's Turn to Cry," and "She's a Fool."
Gore's massive hits were part of the first chapter of a fascinating career. And she deserves much more than being a footnote in music history.
With an assist from Quincy Jones as her producer, Gore was a chart force at the start of the British Invasion. She battled the Beatles on the charts during the early days of the Fab Four.
However, her run at breathing such rarefied air was fleeting. But Gore continued as a recording artist, who was a regular on the cabaret circuit.
"Sunshine, Lollipops and Rainbows" and "California Nights," both co-written by Marvin Hamlisch, hit the Top 20, the former in 1965 and the latter in 1967.
Not much was made of Gore's unlikely pairing with soul producers Kenny Gamble and Leon Huff. The match between Gore and the architects of the Sound of Philadelphia yielded a pair of terrific singles "I'll be Standing By" and "Take Good Care (Of My Heart)" in 1969.
However, Gore's label, Mercury, failed to support the tunes. The justifiably dissatisfied Gore left Mercury for Krewe Records and released the catchy "Why Doesn't Love Make Me Happy," which was a minor Adult Contemporary hit.
Gore didn't write her early hits but she became a songwriter during the '70s.
"She Said That," co-written with her brother, Michael Gore, scored some airplay in 1972.
Gore composed songs for the soundtrack of the 1980 film "Fame" and received an Academy Award nomination for "Out Here on My Own," which was written with Michael Gore.
Gore co-wrote the song "My Secret Lover" for the 1996 film "Grace of My Heart." The film includes a subplot about a young singer whose character is based on Gore and was played by Bridget Fonda. The character, a closeted lesbian, performs "My Secret Love" in the film. Gore came out as a lesbian a decade later and noted what it was like growing up in a homophobic music industry.
"I just kind of lived my life naturally and did what I wanted to do," Gore said at the time. "I didn't avoid anything. I didn't put it in anybody's face."
Gore's "You Don't Own Me," was an early feminist anthem and it became her calling card. Gore was an uncompromising singer-songwriter, who failed to receive the credit she deserves.
Her 2005 album, "Ever Since," was full of reflective grown-up songs in cabaret style, along with a moody remake of "You Don't Own Me." Television shows picked up some of her tracks. "Better Angels was heard on "C.S.I.," and "Words We Don't Say" was played on "The L Word."
Gore headlined the "She's Got the Power" show at New York's Lincoln Center, which was devoted to the girl-group era. In 2012, "You Don't Own Me" returned during the presidential election to encourage women to vote.
Gore was working on a memoir and a Broadway show based on her life when she died of lung cancer in 2015. Gore's unfinished memoir, family photos, scrapbook pages, annotated music and lyrics and business files were donated to the New York Public Library for the Performing Arts in 2022.
There are myriad female pop vocalists who emerged and disappeared, such as Meredith Brooks, Natalie Imbruglia and Jennifer Paige, but Gore endured despite dealing with adversity. Musical styles changed and there was the lack of support from labels, but Gore continued to write songs and made a difference in the arts.
Gore did it her way. Not long after becoming a star she opted to study literature at Sarah Lawrence College. Gore toured during the summer but was focused on her studies.
In college she became an activist and volunteered for Robert Kennedy's Presidential campaign, noting that his political run was more important than her career as a pop singer.
Bella Abzug, a groundbreaking feminist and member of the U.S. House of Representatives, changed Gore's life.
"She kind of mentored me as to what's important for women and where to put my energies in terms of gay women, and what I could better do to help women in our community and children," Gore said in the memoir. "That's what I live by now."
Gore morphed from weepy teenager to strong independent woman. Upon her death, rapper G-Eazy and singer Grace covered "You Don't Own Me." At the time, Grace stressed Gore's career inspired her and wanted to focus on the Gore classic.
"It's so important to go after what you want," Grace said at the time. "Lesley's generation paved the way, so I felt like this was a way to say thank you and to keep that momentum going."
Local journalism is essential.
Give directly to The Spokesman-Review's Northwest Passages community forums series -- which helps to offset the costs of several reporter and editor positions at the newspaper -- by using the easy options below. Gifts processed in this system are not tax deductible, but are predominately used to help meet the local financial requirements needed to receive national matching-grant funds.
Subscribe to the Spokane7 email newsletter
Get the day's top entertainment headlines delivered to your inbox every morning.
---