News > Pacific NW
The Tulip Festival is almost here. Where are the flowers?
March 24, 2023 Updated Fri., March 24, 2023 at 8:52 p.m.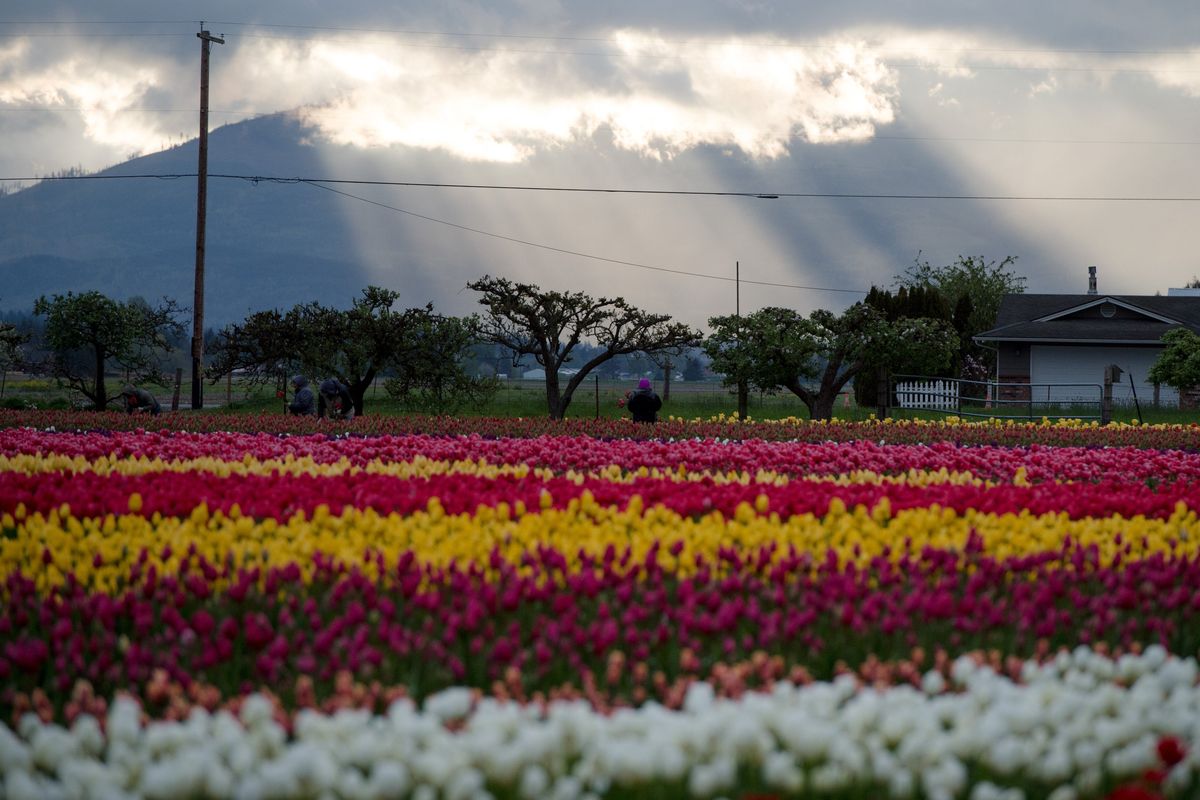 The sun rises and catches a distant rain storm in 2017 over Skagit Valley Bulb Farm near Mt. Vernon, Wash. (Tyler Tjomsland/The Spokesman-Review)Buy a print of this photo
The 2023 Skagit Valley Tulip Festival officially starts on April 1 but local growers are anticipating a late bloom that may not coincide with the festival's start date.
"It's just been cold," said Tulip Valley Farms CEO Andrew Miller in a telephone interview with the Bellingham Herald. "We've seen a lot of cloudy days so the soil doesn't get the warmth from the sun that it needs and tulips are 100% temperature driven."
The slow bloom means the plants are very healthy, according to Miller. But people planning to visit the farm the first week in April may not see as much color as they expect.
The bloom is likely to be more full in color in Skagit Valley by the second weekend in April, according to Miller. But each farm and tulip variety is a bit different.
"We are definitely trending a little later on the timeline this year," said RoozenGaarde tulip grower Brent Roozen in a statement to the Herald. "It is possible we may have a variety or two blooming in the field at the turn of the month, but I also wouldn't bet on it."
Roozen said the bloom will depend on the temperatures over the next week.
"Uncertainty is just part of this game," Miller told the Herald.
To accommodate visitors who have already made their plans, Tulip Valley Farms will give a free bouquet of tulips to ticket holders who visit on April 1 and April 2.
"We just know that people make plans," Miller said. "Some people book their tickets months in advance to come out and see the Skagit Valley Tulip Festival and, frankly, we just don't have a lot of color other than green to share with them."
Miller is calling the bouquet gift "walking color."
"Wherever they go, there will be color. But they'll just have to carry it with them," Miller said.
Tulip Valley Farms will also offer an evening light show experience and cow cuddling for visitors to bottle feed and take pictures with calves
As for RoozenGaarde, most of the farm's daffodils will be in full bloom at the first of the month, so visitors will still be able to enjoy color there in the ground.
Skagit Valley art shows and nurseries will also be open for visitors, according to Skagit Valley Tulip Festival Executive Director Cindy Verge. Early attendees can also take advantage of the festival's free Passport Program to explore the valley and earn prizes.
Local journalism is essential.
Give directly to The Spokesman-Review's Northwest Passages community forums series -- which helps to offset the costs of several reporter and editor positions at the newspaper -- by using the easy options below. Gifts processed in this system are not tax deductible, but are predominately used to help meet the local financial requirements needed to receive national matching-grant funds.
Subscribe now to get breaking news alerts in your email inbox
Get breaking news delivered to your inbox as it happens.
---