News > Pacific NW
Weathercatch: From 22,000 miles above, newest U.S. satellite monitors our weather
Fri., March 24, 2023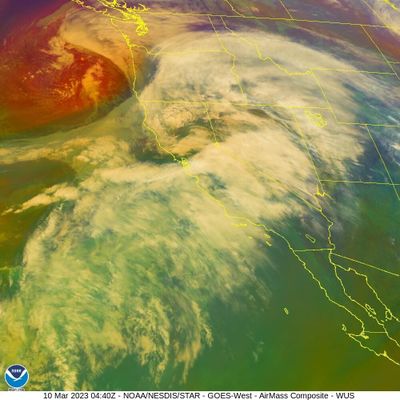 During the late-night hours of March 9, high-tech eyes in space tracked a winter storm approaching the Inland Northwest.
The storm was fueled by a potent "atmospheric river" that had blown into California earlier that day. As moisture from the system's fringes streamed northeast and collided with our region's cold air, a satellite more than 22,000 miles overhead captured the action in real time.
GOES-West, the National Oceanic and Atmospheric Administration's newest weather satellite, was launched last March and became fully operational three months ago. The satellite oversees the U.S. West, Alaska, Hawaii, Central America and the Pacific Ocean, according to NOAA. It records high-resolution images and sends the data back to earth.
The satellite's continuous observations made it possible for meteorologists to follow the tendrils of moisture emanating from the atmospheric river in California toward the Pacific Northwest. So when the storm began unloading snow in the Spokane area on the morning of March 10, alerts issued well in advance by the National Weather Service in Spokane ensured that few residents were surprised when they saw a late-season snowstorm. The storm dropped 4.8 inches of snow in Spokane, shattering the previous daily record of 2.8 inches that fell on March 10, 1950.
GOES-West is NOAA's most advanced fleet of geostationary satellites that "orbit 22,236 miles above Earth's equator, at speeds equal to the Earth's rotation," the agency states on its website. This enables GOES-West to maintain a fixed position in space where it can provide constant coverage of our part of the globe. It also monitors the sun and detects hazardous space weather that could disrupt satellite communications, GPS signals and technology here on earth.
As we draw closer to summer, there will be fewer atmospheric rivers and snowstorms for GOES-West to observe. Instead, it will track environmental events and atmospheric phenomena including landslides, dust storms, brewing thunderstorms and tornadoes, wildfires and wildfire smoke. It will also capture real-time images of lightning strikes and measure the distance they travel. Lightning detected in dry, remote areas will put scientists on high alert for wildfires ignited long before they can be spotted on the ground.
The satellite works in concert with GOES-16, which is positioned over the Atlantic Ocean.
As you read this, GOES-West is hovering nearly a 10th of the way to the moon and capturing wide-scale images every five minutes, according to NOAA. And the next time it detects a hazard – whether giant flares on the sun or a severe weather outbreak here in the Inland Northwest – it will scan detailed images as quickly as every 30 seconds.
Nic Loyd is a meteorologist in Washington state. Linda Weiford is a writer in Moscow, Idaho, who's also a weather geek.
Local journalism is essential.
Give directly to The Spokesman-Review's Northwest Passages community forums series -- which helps to offset the costs of several reporter and editor positions at the newspaper -- by using the easy options below. Gifts processed in this system are not tax deductible, but are predominately used to help meet the local financial requirements needed to receive national matching-grant funds.
Subscribe now to get breaking news alerts in your email inbox
Get breaking news delivered to your inbox as it happens.
---