News > Health
100 years ago in Spokane: The city was home to one of the trials that would pave the way for insulin to become a miracle diabetes treatment
Sat., March 25, 2023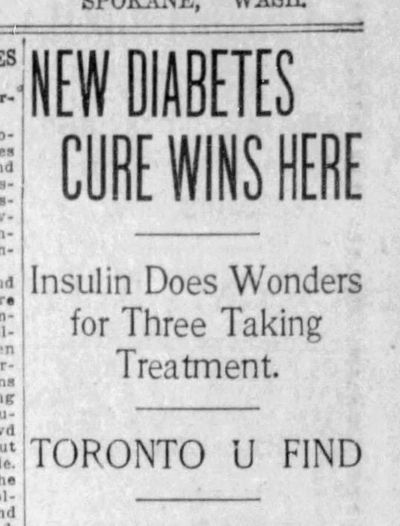 Three Spokane patients were participating in an experiment for a new diabetes treatment: insulin.
"The three patients have recovered enough in three weeks to indicate that this new diabetic remedy is a success," reported The Spokesman-Review.
The story said that insulin was discovered a year earlier by researchers at the University of Toronto, and clinical trials were underway to test its effectiveness.
Dr. Frederick Epplen of Spokane was conducting the Spokane trials. One of his patients was his fellow physician, Dr. George Libby.
"There was a marked change in the first 48 hours," Libby said. "I had diabetes for 15 years, controlling it with diet, and, although I was active and attended my work, I was getting into a serious condition. I was suffering from neuritis, and blood chemistry showed a dangerous quantity of sugar in my blood, almost one-tenth of 1%, indicating the late stages of diabetes. My blood sugar was reduced to practically normal and I was relieved of the neuritis in the first 48 hours. My strength and vigor have returned."
The two other patients reported similar results. One said his weight had dropped to an alarming 75 pounds, but had already gained back 15 pounds and was feeling better than he had in six years.
Libby called insulin "one of the greatest medical discoveries in the last 10 or 20 years."
Also on this day (From onthisday.com)
1807: British Parliament abolishes slave trade throughout British Empire.
Local journalism is essential.
Give directly to The Spokesman-Review's Northwest Passages community forums series -- which helps to offset the costs of several reporter and editor positions at the newspaper -- by using the easy options below. Gifts processed in this system are not tax deductible, but are predominately used to help meet the local financial requirements needed to receive national matching-grant funds.
Subscribe now to get breaking news alerts in your email inbox
Get breaking news delivered to your inbox as it happens.
---