Sports > Seattle Seahawks
All-Pro linebacker Bobby Wagner will return to Seattle on 1-year contract with Seahawks
March 25, 2023 Updated Sat., March 25, 2023 at 8:31 p.m.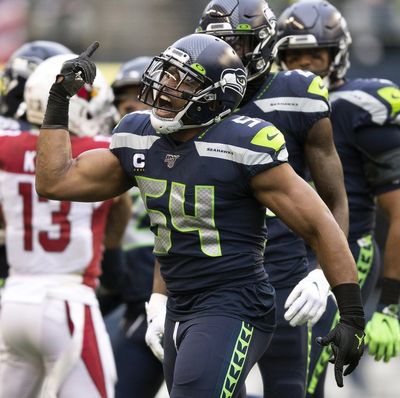 SEATTLE – The reunion is on.
According to defensive teammate Quandre Diggs and ESPN's Adam Schefter on Saturday afternoon, the Seahawks have agreed to terms with Bobby Wagner to bring back one of the team's most iconic, influential – and simply best – players in franchise history.
The contract was reported to be a one-year, $7 million deal.
And with that, the Seahawks will be hoping that Wagner, who turns 33 in June, is still the same player he was during his first decade with the team, counting on him to fill in at middle linebacker for as long as it takes Jordyn Brooks to recover from an ACL injury suffered Jan. 1.
Or, possibly, to retake the role even when Brooks returns and team with him as the inside linebackers in Seattle's 3-4 scheme.
It is the injury to Brooks and the departure via free agency of Cody Barton that helped create the need to bring back Wagner.
The opportunity came when it was revealed last month that Wagner and the Rams had mutually agreed to part ways.
Because of guaranteed money he had in his contract for the 2023 season, however, his release could not become official until Wednesday.
Wagner was released with four years remaining on a five-year contract worth up to $50 million with the Rams in a retooling mode after going 5-12 in 2022, the worst record for a defending Super Bowl champion. Cutting Wagner saved $5 million against the cap in 2023.
But Wagner, who is serving as his own agent, had been given permission to begin talking to other teams.
One of those conversations came recently with the Seahawks, as revealed by general manager John Schneider on his radio show on Seattle Sports 710 last Thursday.
Schneider said that he and coach Pete Carroll had "a great, awesome, frank conversation" with Wagner and that "he knows where we are, and we know where he's at. We have so much respect for him personally and professionally, so we were able to talk through some things and, yeah, we know where it's going."
Schneider added that they would be "in communication as we go along throughout free agency now."
In those conversations, Schneider indicated the sides had also worked through any lingering hard feelings from Wagner's release last March 8, after which Wagner said he was told first of the impending move from others and not from the team.
"Crazy part about all this," Wagner tweeted last March. "I played there for 10 years and I didn't even hear it from them that I wasn't coming back."
Carroll and Schneider later apologized for the misunderstanding saying it was borne in part out of their desire to exhaust every option and use every available minute to somehow try to make it work to keep Wagner, who was released to save $16.6 million against the salary cap.
But in this case, time truly did appear to heal old wounds. Wagner indicated in just about every interview since last spring that he had moved on, calling Seattle "my second home" before a return game against the Seahawks in January.
"They accepted me, they showed a lot of love, so I'm forever grateful," Wagner said then of Seattle.
Wagner and Carroll hugged and talked after his first game against the Seahawks in Los Angeles in December.
"I felt really grateful that I had a chance to sit down with Bobby for a while and hang out," Carroll said after that game. "That's just kind of what we did.
"It was a really meaningful exchange. I saw him with a few of the guys that were in my room back there and had passed by late. Every exchange was exactly as you would think it would be. It was heartfelt. It was warm. It was close."
And maybe it helped set the stage for a reunion barely a year after his departure.
The question will loom, of course, if Wagner can still be the same player he was.
Wagner surely will have no doubts. And in the eyes of many, Wagner was the same player in 2022 he'd always been – he was named as a second-team All-Pro and played in all 17 games, including 99% of the snaps, with 140 tackles. He also had two interceptions – one against the Seahawks in L.A. in December and another against former teammate Russell Wilson – and a career-high six sacks.
Wagner was also rated as the top middle linebacker in the NFL by Pro Football Focus, which wrote: "Wagner playing as well as he did this season in his first year with a new team would be remarkable enough, but doing so given the injury disaster in Los Angeles and still looking like the best linebacker in the game is truly outstanding."
All of that figured to mean Seattle would have lots of competition for Wagner. But his age and what was a somewhat loaded linebacker free agent class contributed to him remaining unsigned through the first few days.
Dallas and the Chargers were each said to have been interested in Wagner with the Cowboys likely showing the most interest due in part to the presence of defensive coordinator Dan Quinn, who held the same position with the Seahawks during the Super Bowl seasons of 2013 and 2014. And the Chargers would have meant Wagner could stay in his hometown of L.A. which had been a big allure of signing with the Rams.
But the Cowboys re-signed Leighton Vander Esch and the Chargers signed former Vikings standout Eric Kendricks, filling their holes at linebacker.
So Wagner and the Seahawks are back together, hoping for one final act as good as all of those that came before.
This story will be updated.
Local journalism is essential.
Give directly to The Spokesman-Review's Northwest Passages community forums series -- which helps to offset the costs of several reporter and editor positions at the newspaper -- by using the easy options below. Gifts processed in this system are not tax deductible, but are predominately used to help meet the local financial requirements needed to receive national matching-grant funds.
Subscribe to the sports newsletter
Get the day's top sports headlines and breaking news delivered to your inbox by subscribing here.
---